In 1980, Afrobeats pioneer Fela Kuti teamed up with Black American musician Roy Ayers to record "Africa Center of the World," a love song like no other. "Before I die I want to die without eagerness, and be a fan of my people before being a rockstar," Fela sang with the knowledge that music could be a tool of rebellion. Although Africa is the cradle of humankind, over the past five hundred years imperialists have exploited its natural resources, denigrated its native cultures, and left the continent in shambles.
After the Ethiopians defeated the Italians during World War II, a new era was born. During the mid-20th century, the African Independence Movement took root as nation after nation rose up, driving European imperialists from the continent. But even after the foreign powers were expelled, a new form of oppression emerged in the form of neocolonialism. French philosopher Jean-Paul Sartre first described the phenomenon in 1956, observing how the West employed capitalism, globalization, and cultural imperialism to control and exploit developing nations.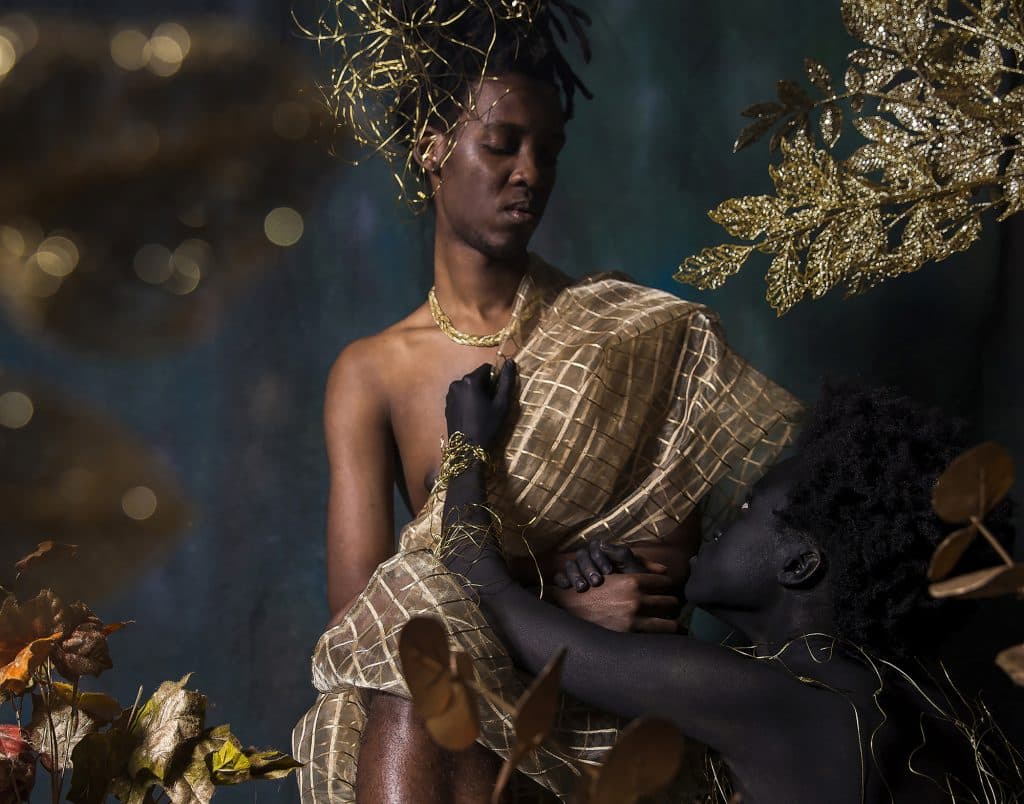 For decades, Africans across the continent have used art as a form of resistance and a means to honor and preserve their heritage. Like Fela, Gabonese-Canadian photographer Yannis Davy Guibinga uses art to uplift the people, honor ancestral traditions, and challenge neocolonialism. "The African continent has been victim of the colonial agenda, which has had as one of its main pillars the systematic and thorough destruction of the traditions, histories, and cultural artifacts in order to replace it with their own," says Guibinga. "I believe that it is important to honor these elements that are now almost completely gone to keep them alive in a world that has tried to effectively erase them."
In the Beginning
Origin stories — both fable and fact — have long nurtured humanity's shared need for a deeper understanding of who we are and how we came to be. In the new series "Tales of the First Sunrise" selections from which are now on view in the exhibition "Perspectives from Within: Our Cultures Through Fashion", Guibinga reimagines the first day on Earth through an African lens. "Origin stories are important in any culture across the globe," he says. "It makes us feel better as humans to think about where we come from and how this all started."
For "Tales of the First Sunrise," Guibinga draws inspiration from his earliest encounters with traditional African art, where the silhouettes of sculptures were positioned in contrast to a strong and colorful background. The work helps Guibinga, who now lives in Montréal, maintain a strong connection to his African roots.
"Color has always been an important part of my work and one of the main elements in my images," he says. "I have always been interested in the influence colors can have on one image but that interest grew to include the cultural meaning of colors as well. Colors have social significance all over the world that differs depending on the context. Exploring the different meanings of color in different parts of the African continent through photography allows me to learn more about these different traditional communities."
In a New Light
As a child growing up in Gabon, Yannis Davy Guibinga remembers paging through his mother's copies of Vogue Paris. Drawn to the way the photographers use images to create their own worlds and tell stories, Gubinga decided to do that for himself. Inspired by the work of Mert & Marcus, Malick Sidibé, Seydou Keïta, and J.D Okhai Ojeikere, Guibinga developed a style of portraiture and fashion photography that embraces African aesthetics at its core.
"These photographers have all created their own visual universe that they have been able to grow into throughout their respective careers," says Guibinga, who admires their ability to couple fashion and culture to create distinctive visual languages.
After graduating high school in 2013, Guibinga moved to Toronto. Although Canada purports to embrace tolerance, a cursory glance at their treatment of Native populations reveals the country to be anything but welcoming. With the move, Guibinga felt the shock of being othered. Seeking community, he found people who shared his experience of being Black in Canada and began working with them on photography projects as a way to ease the transition to his new life.
It was only by virtue of living in Canada that Guibinga began to see and think about his culture and identity in a new light. He observes, "I am grateful that traveling and being outside of my comfort zone allowed me to be more aware and critical of the different intersections that create my identity and influence the way I show up in and am experienced by the world."
An Authentic Vision
Throughout his photography, Yannis Davy Guibinga fuses his love for color and symbolism with the language of the human form to create a world liberated from Western cultural hegemony. "Photography is a tool that has been introduced to the African continent by Europeans who had a very specific colonial agenda in mind. Because of said agenda, the images of Africa were ones driven by stereotyping the continent as a whole as well as its people and cultures," says Guibinga.
"Today, African photographers are able to use this same tool to create their own narratives and counter the stereotypes that are still dominant in Western media about Africa. It is a way to assert the perspective, opinions and views of Africans about their own cultures and heritage to give a new and more authentic perspective on what it is like to be African."
"Perspectives from Within: Our Cultures Through Fashion" is on view at Brick at Blue Star in San Antonio, Texas.