Back in the 90s, photographer Angela Cappetta was walking around her neighborhood on New York's Lower East Side early one morning when she saw a large family piling into their car. Struck by the scene unfolding on Stanton Street, Cappetta felt at home amid what she describes as a "cacophony of family happening on the curb" and asked if she could shoot a few photos. In that moment of serendipity, the seeds of connection were planted and continued to grow as Cappetta regularly traversed the streets of her adopted hometown.
At the start of her photography career, Cappetta had limited funds and moved to Alphabet City long before it was gentrified, when it was still a primarily Black and Latino community. With clients like Marie Claire, Cosmopolitan, and the London Times Magazine, she was always on the go. "I was working so much during that period that I was basically on the go and my anchors weren't set," she recalls. "I had just gone to Mexico and was shooting bullfighters. I was working all the time. I'm the kind of photographer who always needs to have a couple of personal projects going, otherwise I feel a little rudderless."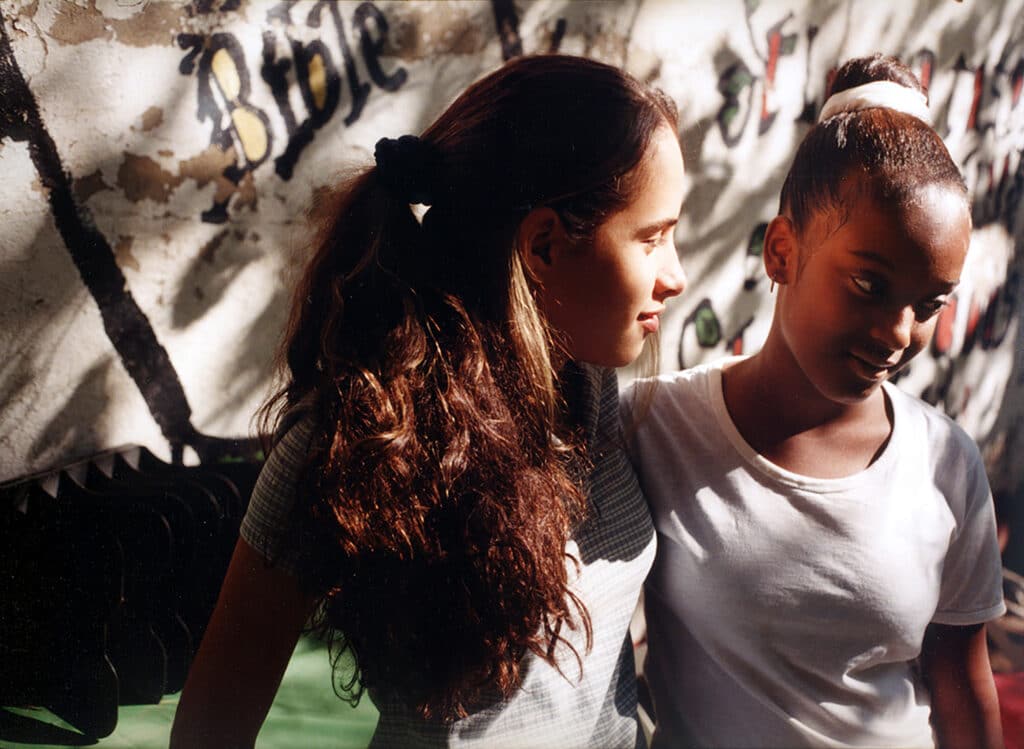 To create a sense of stability and continuity, Cappetta took to the streets with her camera whenever she was home, moving intuitively in search of a connection that would keep her grounded. "I was walking around with a Fuji 6×9 because nobody believed it was a real camera. People thought it was a Fisher Price toy and nobody was going to mug me for it," says Cappetta, who is from New Haven, Connecticut, one of the most racially and economically segregated cities in America.
As the youngest child growing up in a multi-generational family, Cappetta felt a profound sense of independence as a result of the age gap between herself, her brother, and her parents, all of whom were much older than she was. "I basically raised myself. I was a feral Gen X kid," she says. "It was a huge family and 90% of the time, nobody even knew I was there. But I had no privacy and was sent off to another house where none of my stuff was for weeks, then ended up back in my room where I was stuck."
One in a Million
"It was rough being a kid in New Haven. You had to figure out all the tricks to get home. If you were being followed you had to ditch them and walk around the block or get on another bus," says Cappetta, who brought that knowledge with her when she moved to New York's Lower East Side.
"I would get up in the morning when I knew the streets were safe. Nobody was awake and you could shoot whatever you wanted," says Cappetta, who recognized a world she knew when she encountered the bustling Latino family on Stanton Street. "I found this lovely moment, asked if I could photograph them, and they said yes. They lived in the neighborhood and I bumped into them again—and the whole multigenerational aspect reminded me of my own family. It was a different interpretation but it was the same."
Cappetta continued to run into the family on the street, and made plans to visit them and take photos in their home. "The family lived in a tenement building on Stanton Street: the grandma had one floor, the father had another, and the mother lived on top with the girl," she recalls. "I would hear the mother say, 'Glenda you have to see your father,' and she would say, 'I want to see grandma first.' After she saw her abuela, her father would 'pick her up' and they'd go up one flight of stairs. Then someone else would collect her and she would go home. That's how I was raised."
Naturally matter-of-fact Cappetta and Glendalis were both straightforward, confident, and comfortable going about their lives together. Feeling an innate connection between Glendalis's family and her own, Cappetta would spend the next decade documenting the young girl's life as she came of age in 90s New York. Whether she was photographing Glendalis getting her hair done, hanging on the street, or going to quinceañeras and Sweet Sixteens with friends, Cappetta created a multi-layered chronicle of intimate scenes of daily life set amid the chaos and calm of a multigenerational home.
It wasn't until Cappetta began the editing process that she began to see a larger story emerging. "It didn't hit me for a few years, and then I saw myself in the way Glendalis related to her role in the family," she says. Initially, the project was more sprawling, as Cappetta envisioned documenting the lives of every member of the family in an epic saga. Then a colleague at the Museum of Modern Art suggested she focus on the young girl, allowing all the other stories to be told in relation to it. In that moment, Glendalis: The Life and World of a Young Latina was born.
New York State of Mind
Glendalis's story unfolded over a period of years, new chapters revealing themselves every time Cappetta secured the money to purchase what she describes as "a boatload of film." Then she would call Glenda's mother, who would give her permission to visit and spend time photographing her daughter going about her daily life.
"It was like a drug," Cappetta says of the heady days she spent making this work. "Shooting was the best part; that's the ongoing dopamine hit you get. A roll is only eight frames — it's exhausting changing the roll every five seconds. But there's something about it when you've got that alchemy showing itself to you. It doesn't belong to me, I'm just the person who put herself there to look at this little world and document it. Every single time I went to shoot them, there was always a surprise and the revelations came."
From the outset of the project, Cappetta knew she was exactly where she needed to be and continued along the journey until it was complete. "I remember when she was very little, maybe 9 or 10 years old, I followed the family like a trail of ducks," she says.
"Glenda's best friend, Christie, lived around the corner and I would walk over too with the girls. Christie's dad was the superintendent of the building and they had an apartment for the family and an apartment across the hall that was just a playroom for the kids because he had three children. I remember Glenda introduced me to Christie's parents and said, 'Oh, this is Angela. She takes my picture.' And that was the end of it."
Glendalis: The Life and World of a Young Latina is on Kickstarter through November 19, 2022.