Despite the claims that generative AI should have rendered them obsolete, photojournalists remain as vital as ever. For three and a half decades, Visa pour l'Image has been a window onto the world—a gathering place for photography professionals, bridging the old guard and the new generation, connecting the public, students, and photographers.
Since 1989, the festival has cultivated steadfast partnerships. Paolo Pellegrin, a member of this family since 1992, presents his retrospective exhibition Mes années Visa [My Visa Years], which retraces thirty years of camaraderie with the festival and several decades of world crises documented by this Magnum photographer's indefatigable, empathetic, and precise lens.
At Visa pour l'Image, the world is authentically experienced, and reality is confronted head-on, unfiltered and intense. Once again this year, these dedicated individuals remind us of what we sometimes wish to overlook: the harsh realities of wars, economic upheavals, and climate crises. The experience is sobering but undeniably necessary.
Unveiling the Iranian martyr
Mercedeh Shahinkar takes a selfie. This young Iranian fitness instructor makes "Victory" sign with her hand, while a solitary tear of blood streaks down her cheek, a haunting testament to her injury during a demonstration in Tehran on October 15, 2022.
A month prior, on September 16, the tragic death in custody of twenty-two-year-old Iranian-Kurdish woman, Mashsa Amini, who had been arrested by the morality police for not adhering to Islamic dress codes, ignited a nationwide uproar. One year later, Le Monde's photo editor and journalist, Marie Sumalla, along with Ghazal Golshiri, bring a rare firsthand account of this relentless struggle for freedom to the audience at Perpignan. It is the most impactful exhibition of this 35th Visa pour l'Image, bar none.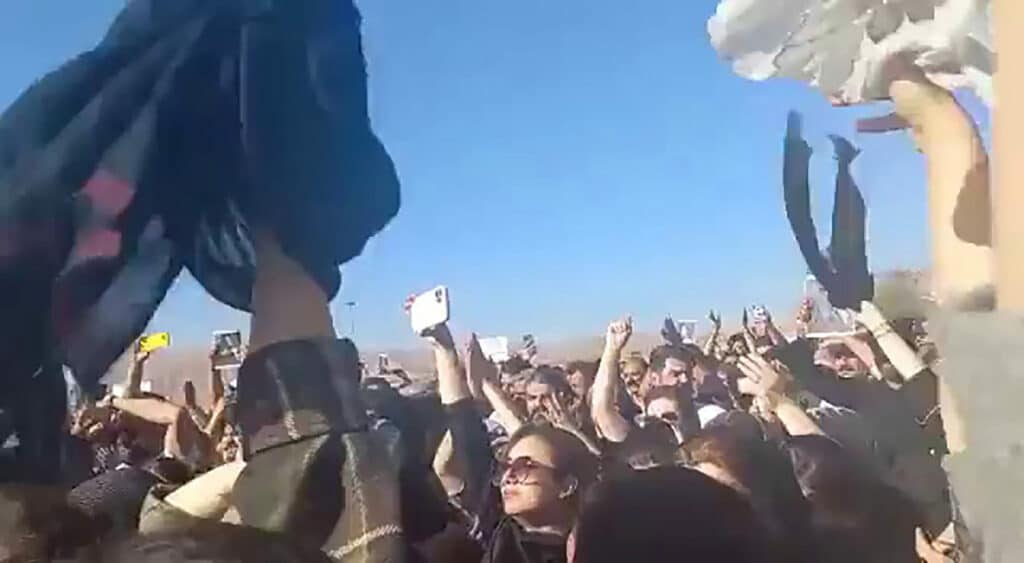 At the onset of the revolt, press outlets had scant access to images. "The world had never been so photographed, photojournalists never so numerous, yet information conveyed through images, both potent and fragile, seemed to elude professionals." This, according to the two journalists, underscores a paradox.
What persists as an unbridled source of information, challenging the regime's control, is the continuous flow of real-time updates through social networks. Even as the internet is cut off, Instagram and WhatsApp blocked, resourceful Iranians employ anti-filtering software to rebuild connections and disseminate a trove of photos and videos. Each piece of visual evidence serves as a testament to the brutal suppression endured during the uprising.
Every source must undergo meticulous scrutiny: from verifying the photo's location to validating the authenticity of videos and confirming the date of capture. In response to this imperative, Le Monde established an investigative unit with the expertise of two Iranian specialists, Farzad Seifikaran and Payam Elhami. "Our objective was to spotlight the extensive repression faced by the demonstrators, the arbitrary arrests… These individuals entrusted us with their stories, and their images are meant to be shared with you, shedding light on their plight," Marie Sumalla elucidates. The majority of the showcased photographs are credited to "anonymous photographer." They bear witness to the violent street arrests, bullet wounds sustained by protesters, and, most importantly, to the astonishing courage displayed by those who have stood up to the Iranian authorities.
Amidst the backdrop of bloody repression, public hangings conducted from cranes, and university arrests meant to quell demonstrations, the indomitable spirit of the Iranian people endures. That's what a group of young girls dancing in a video outside Tehran's residential buildings seems to be telling us. Their windswept hair and liberated choreography carry the risk of imprisonment.
This cry for freedom reaches us through the painstaking efforts of these journalists. Marie Sumalla emphasizes, "In the battle against fake news, and to gain genuine insights into Iran and other often-overlooked regions, subscribing to the press is essential. Supporting journalism is a collective responsibility; it's the only way we can continue this important work."
The saddest country in the world
Ebrahim Noroozi, an Iranian himself, turns his lens towards Afghanistan, a country he describes as "the saddest in the world and the most hostile to women." His year-long endeavor, honored with the Visa d'Or Magazine award, sheds light on the suffering of a population left to the mercy of the Taliban following their return to power in August 2021.
In stores, the faces of mannequins are covered with garbage bags; child labor is surging—a recent survey by Save the Children indicates that in half of Afghan households, children must work simply to put food on the family table. Women have faded into near-invisibility, barred from pursuing higher education. Girls secretly attend underground classes, while the streets of Kabul and the surrounding mountains are plagued by methamphetamine and opium addiction. The UN World Food Program reports that half of the population, equivalent to 40 million people, grapples with acute hunger, with an additional 6 million teetering on the brink of starvation. One haunting image captures the wide-eyed innocence of three children as their mother offers them an apple.
Ukraine: On both sides of the frontline
Visa pour l'Image hasn't forgotten about Ukraine. Multiple exhibits are dedicated to this country, showcasing the work of Tyler Hicks, Dimitar Dilkoff, and notably, the compelling photography of Nanna Heitmann from Magnum Photos. War is Peace offers the contrasting narratives from both sides of the frontline: the despair of Ukrainian civilians in cities under siege juxtaposed against and the Russian society's view of the conflict. In the occupied city of Lysychansk, locals line up for food provisions encircled by armored vehicles and a soldier in fatigues labeled with the "Z" emblem. Meanwhile, fireworks illuminate the Moscow skyline and Red Square during a military parade. "Ever since my return [to Russia] in June 2022," says the twenty-nine-year-old photographer, "I've been trying to chronicle the events around me, to showcase the disparity between the actual war in Ukraine and the distorted war narrative shaped by and for Russian society."
How can such a stark gap from reality be explained? For numerous Russians, state television remains the primary news source. Nanna Heitmann observes: "A century marked by consecutive disasters and waves of oppression has instilled a passive acceptance and lethargy in many Russians, which works in Putin's favor." However, the landscape began shifting in the fall of 2022, with Moscow's desired internal unity beginning to falter. "They treat them as cannon fodder," remarks a woman, referring to her husband's consignment to a training camp.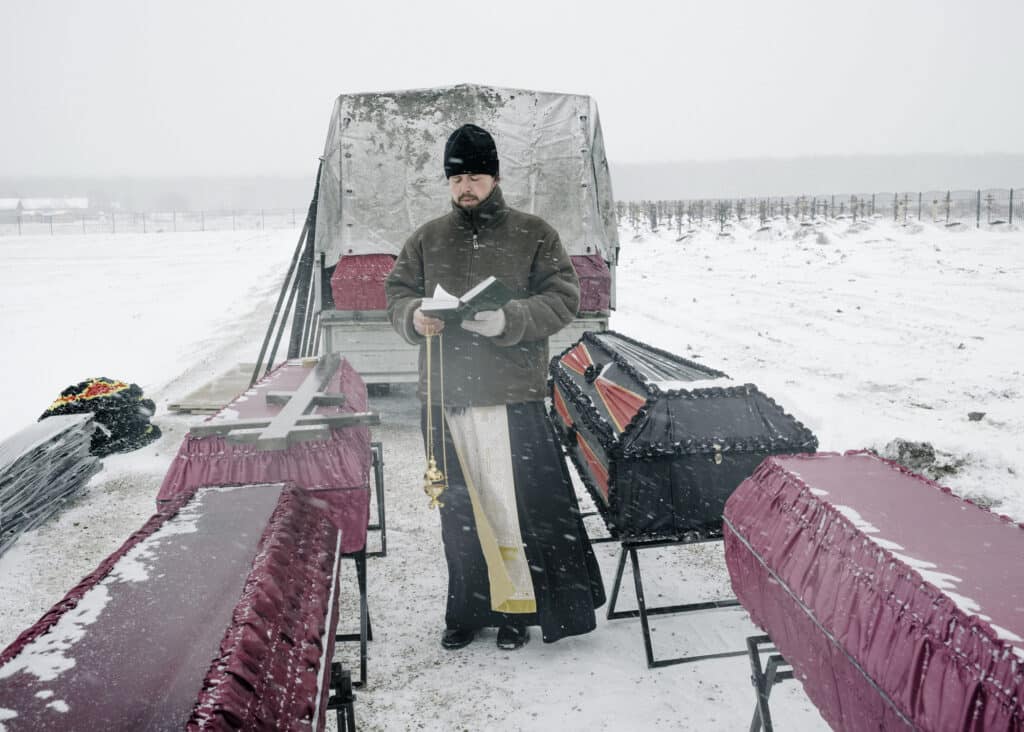 In Bakinskaya, a town near the Black Sea, rows upon rows of snow-covered graves of Wagner's mercenaries are marked by Orthodox crosses. With the national mobilization, 300,000 ill-prepared and poorly equipped men were dispatched to the front. International observers estimate that up to 200,000 Russian soldiers have lost their lives since the conflict began. "Do you know why the Russian Empire fell?" asks a veteran. "Because of the sheer number of coffins sent from the frontlines during World War I to the home villages of the fallen soldiers."
Putin has a sense of History. To ensure continuity, new generations must be trained. As the photographer points out, "School curricula across Russia are awash with lessons and extracurricular activities focusing on patriotism and military subjects." For years, the Kremlin has been conditioning minds for an extended conflict, not just with Ukraine but with the West as a whole.
Climate wars
For several years, the halls of Visa pour l'Image have echoed with another long war: the war on climate change. A diverse array of artists have showcased their perspectives, including Pascal Maitre with his poignant series Charcoal: The Black Gold of the Poor. There are unexpected gems too: Nick Brandt's seemingly staged portraits of people and animals carry deeper photojournalistic undertones. Then there are the evocative monochromes by Ian Berry, chronicling his global odyssey of water.
Water is life. This sentiment flows through Emily Garthwaite's captivating journey along the Tigris, or Didjla, as the river is known in Arabic, during her exploration of Iraq. Her portrayal paints a picture of a nation—its age-old traditions, its hopes for the future, and its struggles—all intimately intertwined with this legendary river, the cradle of civilizations.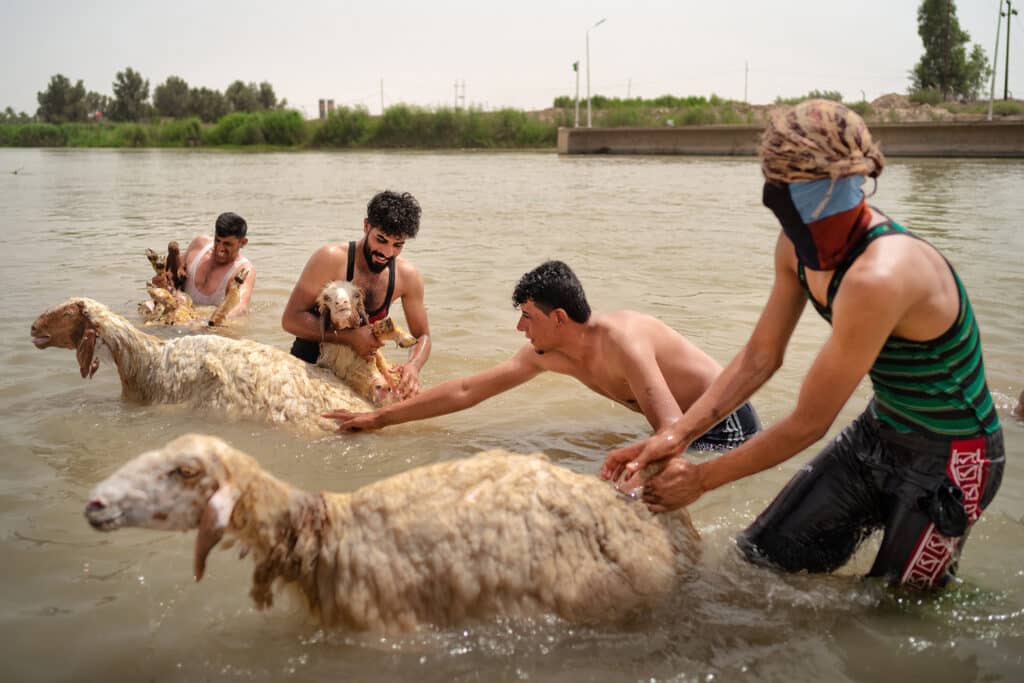 Water is also a threat. The island of Jean-Charles, perched on Louisiana's fragile coastline, is steadily eroding due to rising sea levels. Astoundingly, every hour, an area equivalent to a soccer field disappears beneath the waves. The dual culprits of coastal erosion and oil exploitation exacerbate the situation. Since 1955, the island has shrunk dramatically to an area roughly 10,000 by 1,000 feet, retaining just 2% of its former size. In 2016, the state allocated $48 million to assist in the relocation of what some term "America's first climate refugees." Over a span of seven years, photographer Sandra Mehl chronicled the poignant journey of these residents, deeply connected to their native land, as they resettled into nondescript housing complexes 45 miles inland. While some made the painful decision to leave, others, either out of choice or inability to harness government aid, are bracing themselves for the inevitable.
Also in the U.S., the Supreme Court's ruling on state discretion over abortion access serves as the poignant focal point of Stéphanie Sinclair's photographic narrative. She delicately captures the anguish and bewilderment of doctors and patients in Cleveland Clinic's maternal-fetal medicine department as they grapple with this profound shift in abortion policy.
Citing American novelist William Faulkner, Mark Peterson cautions, "The past is never dead." Under its Star-Spangled Banner, the nation continues to wrestle with its haunting legacies. The Confederate flags are more prominent than ever, defiantly billowing at rallies. The resurgence of neo-Nazi groups is in full display in the streets, their allegiance inked with swastika tattoos.
The American dream is fading away. In the West, young tech prodigies cross paths with the dispossessed in California Dreamin' as captured by Darcy Padilla. Chronicled by photographer Laura Morton, these visionaries, reminiscent of characters from an Aldous Huxley novel, host eclectic "Llama and Virtual Reality" soirées, engineer social apps to convey emotions, and chat behind their VR headsets. When reality becomes unpalatable, escapism often seems more enticing than facing it head-on.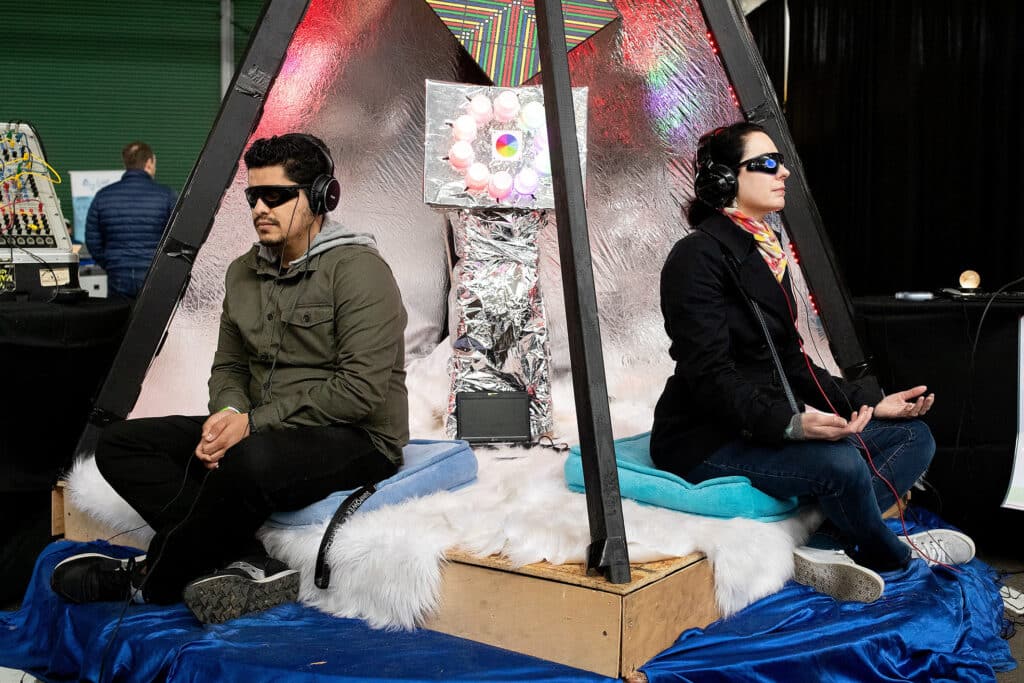 The 35th edition of the Visa pour l'Image International Photojournalism Festival takes place in Perpignan through Sunday, September 17, 2023. This year's award winners.
The Festival is also on view in Paris from September 16 to 30 at the Parc de la Villette. On the weekend of September 22 and 23, two screenings are slated at the Grande Halle de la Villette.