In 2018, #DontTellMeHowToDress became the Thai heir to #metoo—except that it directly addressed the government in the wake of official recommendation made to women not to wear revealing clothes during the Buddhist New Year to avoid sexual assault. The hashtag eloquently sums up the place of women in Thai society, the victims' shame, and the burden of tradition and religion.
"In the past, when Southeast Asia believed in animism, women had more power than men. It was Brahmanism and Buddhism that began to discredit women," explains the photographer Kamonlak Sukchai, who deconstructs traditional Thai folk tales and the stereotypes they convey about the female gender.
But over the past two years, most articles on Thailand have focused on how young people are taking up the issue of democracy. People are beginning to criticize the authority of the prime minister and to advocate reforming the monarchy. Since 2020, pro-democracy demonstrations have been added to the uproar of the sprawling capital of Thailand, a country where criticizing the king is a crime of lèse-majesté punishable by prison.
The street is the cradle of dissent. And Bangkok's thronging sidewalks and roadways have become the hunting ground for a new generation of street photographers. "Over the last three, four years, 'street photography' has become a popular form of expression in Thailand," says photographer Angkul Sungthong, curator of the Instagram account Street Photo Thailand. "Most people tag their photos as such, but few have actually studied the principles of street photography. Fortunately, we have a strong community of serious photographers who try to give advice and share their know-how."
The three emerging photographers picked by Blind, each in their own way, paint a portrait of Thai society, addressing urban sprawl, sociology, and gender stereotypes.
Bearly Warun Siriprachai: Sociology in pink neon light
With a background in street photography, Bearly Warun Siriprachai now favors a more sociological approach, closer to documentary. Her series "Sex Workers" highlights a vulnerable segment of population in Bangkok: "I started taking pictures to raise social issues. I said to myself, my photographs would speak for those who cannot speak for themselves. I want to help resolve these tensions with my images, to help society as much as possible."
An elderly woman, a young man, trans people and their clients welcomed Bearly Warun Siriprachai into their nights. These "second-class citizens" must confront the dangers of their profession as much as they do the contempt of society. The images alternate between embraces in blue and pink light, solitude, misery, on the one hand, and tenderness and close bonds between people, on the other.
In Thailand, although prostitution is officially repressed, it is tolerated. According to local organizations, it affects more than 200,000 people who, due to lack of legislation, have difficulty in asserting their rights and accessing healthcare. To photograph their daily life means to fight against dehumanization. One of the people photographed once told Siriprachai: "As long as someone is still interested in us, there is hope."
More about Bearly Warun Siriprachai on her website and Instagram.
Kamonlak Sukchai: Deconstructing folklore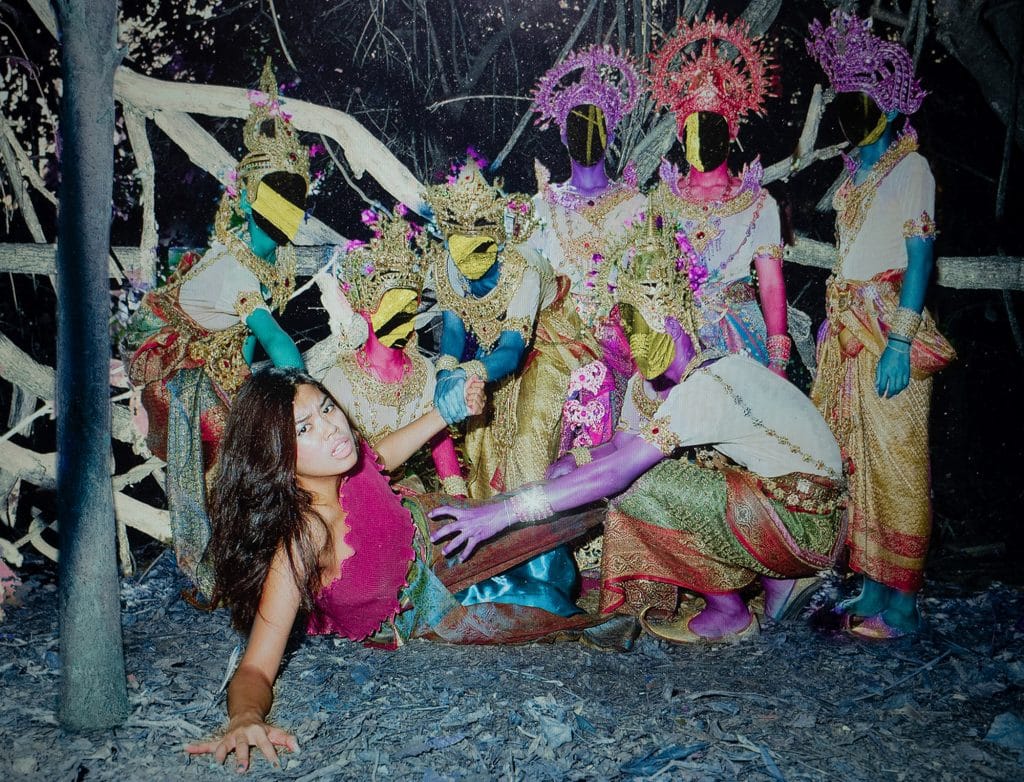 "When I was little, I used to get up early every weekend to watch traditional Thai soap operas on TV. The costumes, the sets, everything was vintage. Sometimes I would put on this type of costume and walk around the house," recalls Kamonlak Sukchai, born in 1994 in Ratchaburi, near the Myanmar border.
As she grew up, the photographer moved from daydreaming to analysis. And she realized how much Thai folktales, rehashed in movies and on TV, shape and influence the society. As does Buddhism, which also incorporates these traditional stories. Their influence is such that they constitute a form of "propaganda" that drives the oppression of women.
As Sukchai explains, "the belief in traditional stories directly affects the ideal of woman in modern Thai society"—in other words, what it means to be "a good woman," especially with respect to sexuality and femininity.
The series "Red Lotus" (after the photographer's first name, Kamonlak, which means "lotus" in Thai) explores folkloric imagery which filled her childhood and conditioned her self-image as a woman. The series consists of very powerful collages, lined with raw photos, religious references, and fables, where a young woman is trapped by patriarchy and traditions, sexualized, and as if dispossessed of her body. In the shadow of a supernatural forest, in the purple waters of a lake where "rules and social norms dissolve," the heroine is reborn in the guise of a sacred lotus. Thus Kamonlak Sukchai metaphorically sheds the burden of her condition.
More about Kamonlak Sukchai on her Instagram.
Angkul Sungthong: Estranging street photography
Portraits of passersby or buildings reflected in a rearview mirror; a foot sticking out from under a bus; harmonies of colors linking inhabitants, road signs, and architecture reveal the photographer Angkul Sungthong's fascination with his city, sometimes tinged with perplexity. "I was born and raised in Bangkok. Bangkok is my friend, my cousin, a familiar face. But we are not close friends. There are things I don't understand about it."
Fascinated by the geometry, reflections, the play of shadows and colors in the Thai capital, the street scenes brought by chance before his lens are the photographer's favorite subject and his inspiration. "I always carry my camera with me. At the beginning, this habit made those around me uneasy. I would sometimes run away from my friends when I spotted an interesting composition or situation," explains this member of the Street Photo Thailand collective.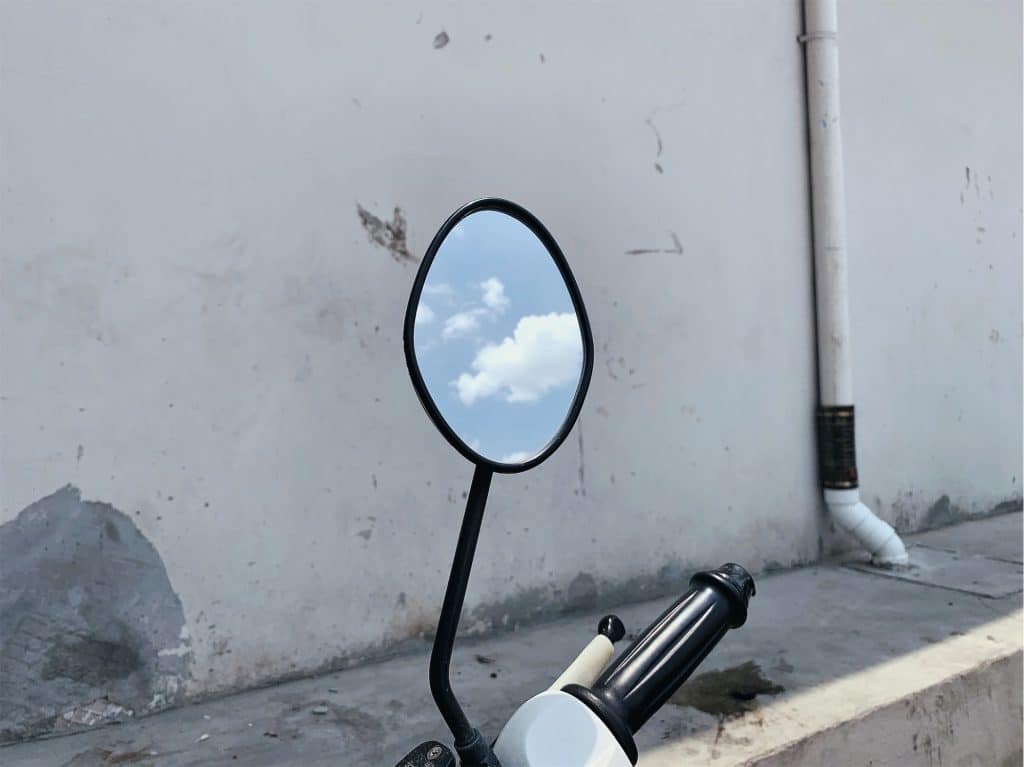 As an art director in an advertising agency, he treats a camera as "a working tool to visualize his imagination." He also sees it as a way to escape from the office and from the daily grind by immersing himself in a state of meditation. "It's a place where I can set my mind free." In other words, being in the moment.
Sungthong's shots are like mysterious and strange fragments of Bangkok: "Most of my photos contain no indication of where they were taken, and keep the truth of a particular situation under seal."
More about Angkul Sungthong on her Instagram.