Paris Photo brings together over 1,600 artists, 183 participants, around 150 galleries and 34 publishers, from 31 countries representing the five continents: 130 exhibitors from Europe, 32 from North America, seven from Africa and the Middle East, three from South America, and 14 from Asia and Oceania. It is easy to understand why this international fair once again turns the French capital into the epicenter of photography in November.

The exhibition space is divided into three sectors, with the main one, Curiosa, dedicated to emerging artists and their publishers. Paris Photo 2022 will feature 48 newcomers, including 18 first-time participants. For its 25th anniversary, the fair gets its own icon in the person of the Spanish actress Rossy de Palma, whose unusual beauty is highly appreciated by photographers, starting with her compatriot Gorka Postigo who took her portraits for a 2018 issue of Vogue. Blind takes you on a guided tour of its top ten favorites.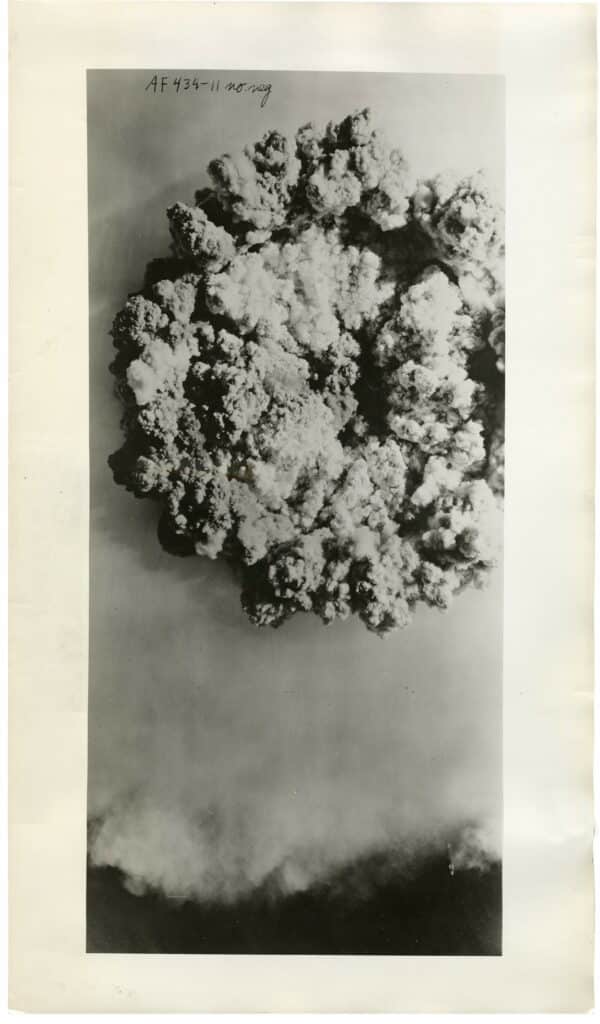 From a document to the work of art
The Daniel Blau Gallery (Munich) is one of the few to show original nineteenth-century prints, from Édouard Baldus to Gustave Le Gray to Émile Zola. Another feature: Daniel Blau also specializes in images relating to historical events of the twentieth century, such as war and space conquest, documented by American army or NASA photographers. This year's exhibition includes a rarely exhibited selection of vintage prints of the attack on Pearl Harbor and photos of the nuclear tests conducted in the Nevada desert by the U.S. Department of Defense: a fusion of beauty and horror.
Cartier-Bresson forever
In contrast to nineteenth-century images, which are scarce—the market having been depleted over the years—the decades from 1920 to 1970 are particularly well represented. Henri Cartier-Bresson, one of the most emblematic photographers of this period, is present in several booths: Augusta Edwards Fine Art (London), alongside other photographers from the Magnum Photos agency, which is celebrating its 75th anniversary this year; Peter Fetterman's (Santa Monica), in the company of other "stars," such as Ansel Adams, Eve Arnold, Gianni Berengo Gardin, and George Hoyningen-Huene; and at Galerie Françoise Paviot (Paris), which is exhibiting jointly with Vintage Works (Chalfont), HCB is shown next to Charles Nègre, Man Ray, Brassaï, to name a few.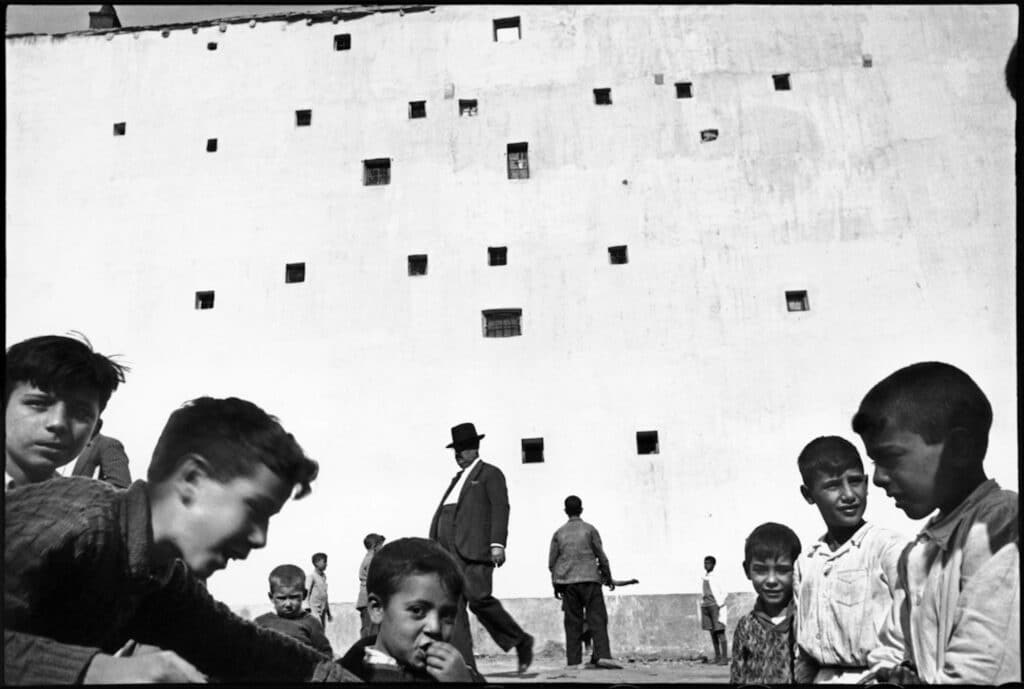 Cartier-Bresson in print
delpire & co releases a new edition of the reference book (which was out of print) Henri Cartier-Bresson Photographe, first published in 1979 and gathering 155 major photographs from the period 1926–1978 (344 pages, €65). The same publisher also brings out Les Anglais / The English, which confronts HCB's black-and-white photographs, which take up half of the book, with Martin Parr's color images from his Last Resort project(1984) and a 2009/2010 commission, both printed on the flip side. The book (216 pp., French/English, €42) accompanies the exhibition Reconciliation on view at the Henri Cartier-Bresson Foundation (November 8, 2022 to February 12, 2023).
Out of the ordinary
Fraenkel Gallery (San Francisco) spotlights iconic figures from the history of twentieth-century photography, representing anything from fashion (Richard Avedon), portraiture (Diane Arbus, Peter Hujar), to street photography (Lee Friedlander, Garry Winogrand). In addition to these "classics," there are contemporary artists (Alec Soth) and artists working in the field of contemporary art, such as Like Christian Marclay and his unique piece entitled "Hot August Night" (1991), from the Body Mix series, a collage of two record sleeves sewn together. This creative gesture evokes the exquisite corpse dear to the surrealists as well as the sampling and remixing techniques used in the world of music.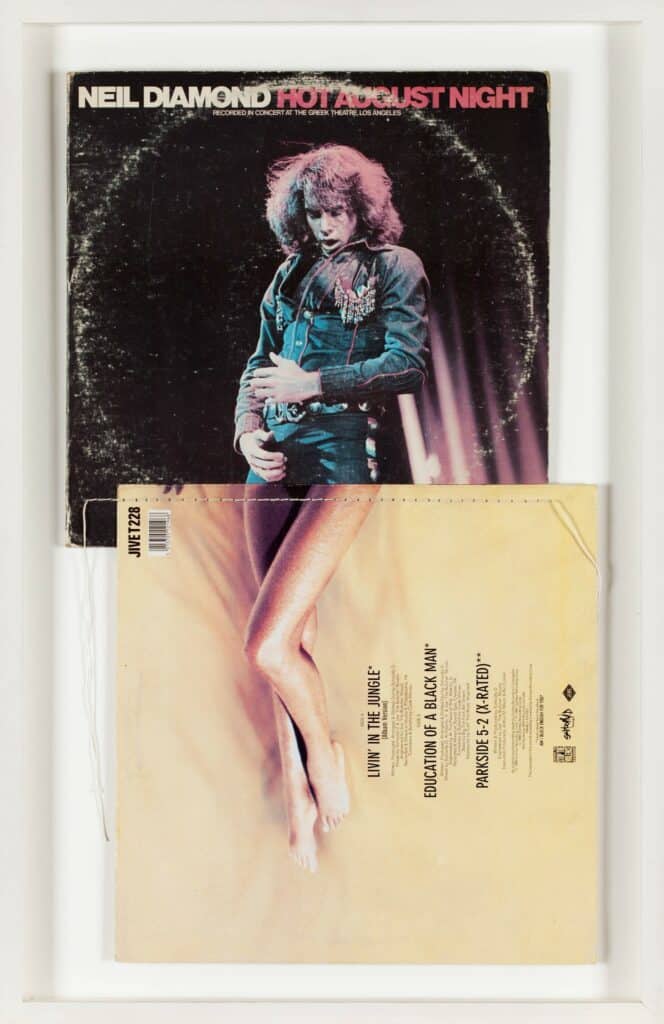 Discovery
The Curiosa sector is an opportunity to discover photography differently, through innovative exhibition formats, mixed media works, and images printed on unusual materials. The 16 projects from nine countries featured in the 2022 selection include Pao Houa Her (Bockley Gallery, Minneapolis), who combines the real and the simulacrum in an installation presenting a stand of poppies (the plant used to produce opium) in front of an image of the same flowers. The artist evokes her childhood, when she was "fed" opium so that her crying wouldn't attract attention as her family were secretly fleeing Laos.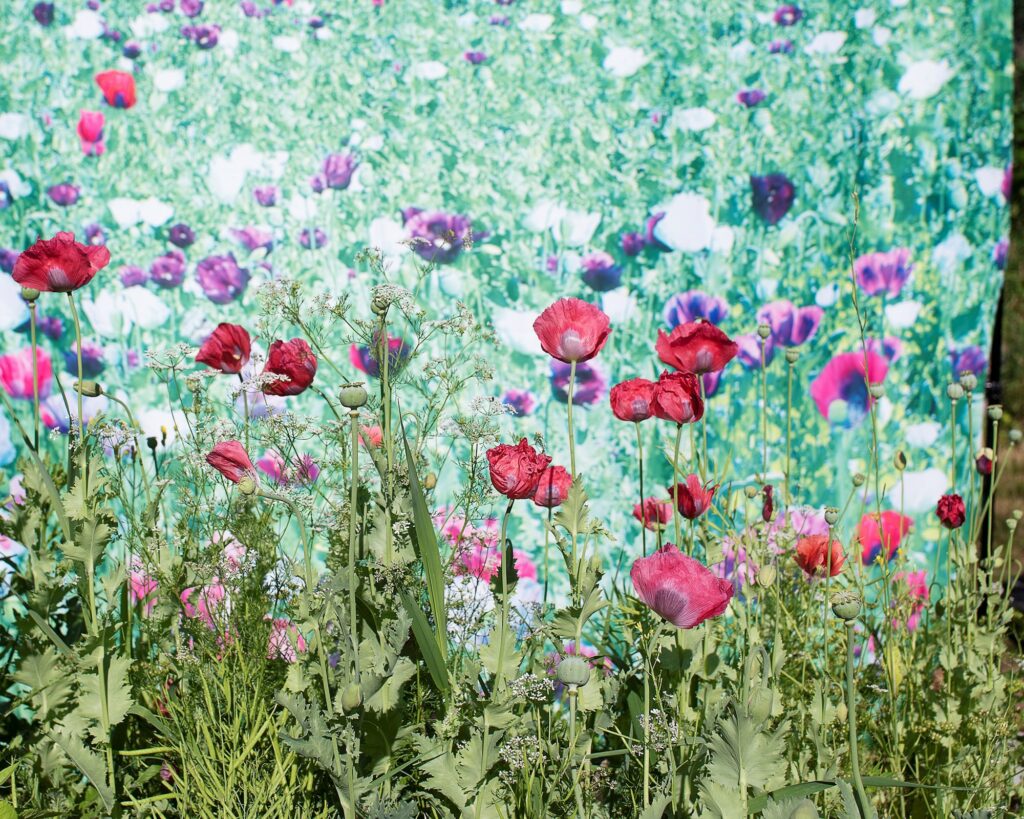 Beauty as a weapon of seduction
A first-time participant in Paris Photo, gallerie C (Paris) brings to the Curiosa sector a solo show by Matthieu Gafsou who was chosen by Ruinart to do a residency in its vineyards. The Swiss photographer is one of the many contemporary photographers to tackle the theme of ecology. Going beyond the purely documentary practice, he adopts an original approach by coating his prints with crude oil. This is the raw material used in plastics manufacture and its effect on the environment is deleterious. Of striking beauty, the images draw our attention to the ambivalence of things.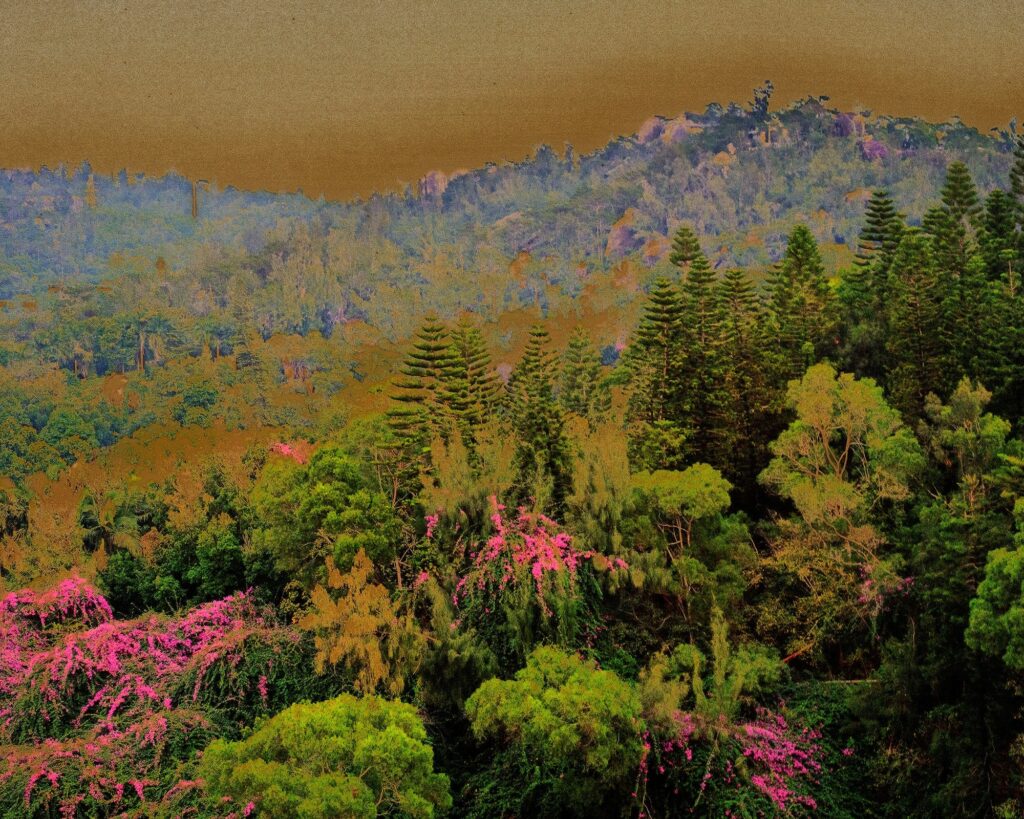 Women first
In 2018, women represented 20% of the artists exhibited at Paris Photo, this year they are 31%. While every gallery is free to exhibit whatever it wants, the Elles x Paris Photo zone established in partnership with the Ministry of Culture five years ago has contributed to improving the visibility and representation of women at the fair. This year, Federica Chiocchetti, a specialist in photography and literature, was invited to select a hundred works by women artists in the program. They include the Belgian Elke Tangeten and this postcard covered with enamel paint exhibited by Galerie Sage (Paris) whose booth is dedicated to art brut.
William Klein in the spotlight
William Klein, who died last September, will be honored on several occasions at the fair, starting with Galerie Le Réverbère (Lyon), which has been faithful to Paris Photo since the first iteration and is celebrating its 40th anniversary in 2022. It was there that William Klein exhibited his painted contacts for the first time. The one presented here is among the 25 images selected by Rossy de Palma. Other prints by the American photographer are to be discovered at Polka (Paris) and Howard Greenberg (New York).
Klein in print
Atelier EXB showcases 30 copies of a limited edition of the monograph Yes, each copy including a print. The book retraces Klein's career, foregrounding his work as both a painter and a photographer. Designed in close collaboration with Klein, this ultimate monograph is accompanied by a long essay by David Campany, Curator-at-Large at the International Center of Photography, New York (384 pp., €69). Klein's cult 1966 film Qui êtes-vous Polly Maggoo? is published as a film-novel by delpire & co (544 pp., €65). A related installation is on view at their bookshop-gallery from November 3 to 19 as part of the PhotoSaintGermain festival (13, rue de l'Abbaye, Paris 6e).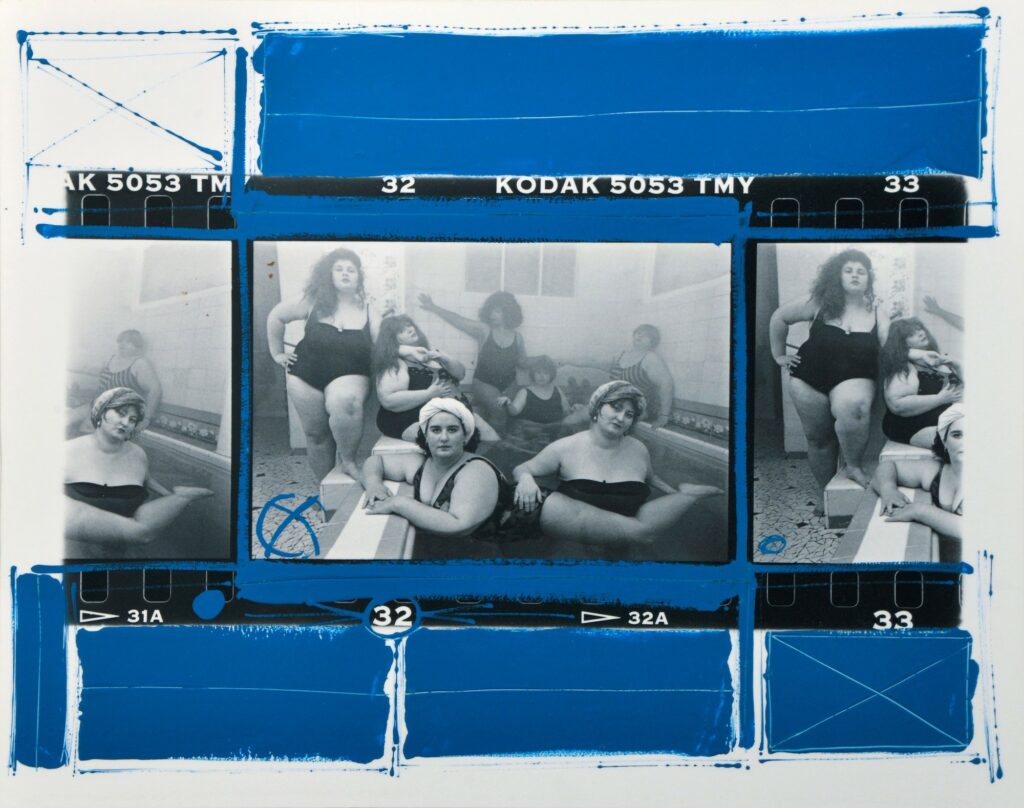 Book signings
If you can't afford a print, leave with a signed book! Small selection: Sophie Calle, Joan Foncuberta, Harry Gruyaert at Actes Sud; Bernard Descamps, Sara Imloul, Kourtney Roy at Filigranes; Guillaume Herbaut, Martin Parr & Lee Shulman, Katrien De Blauwer at Textuel; Anaïs Boudot, Marina Gadonneix, Antoines d'Agata at The Eyes; Denis Dailleux, Jane Evelyn Atwood, Jean-François Spricigo at Le bec en l'air; Susan Meiselas, Sarah Moon, Paolo Woods at delpire & co.; Raymond Depardon, Tom Arndt, Rinko Kawaushi…
Paris Photo, Grand Palais Ephémère, Paris, November 10–13, 2022