When Wolfgang Tillmans was ten years old, he gazed into a telescope, looking up at the Andromeda galaxy. Something about looking into the distance at that great spiral gripped him, and he took his first-ever photographs, attempting to capture that starry night sky. Forty years later, that same inquisitiveness and curiosity about the world and everything in it is presented in a new retrospective at the Museum of Modern Art, Wolfgang Tillmans: To look without fear, the largest survey of his work to date.
Wolfgang Tillmans began his career as a photographer (though the title "photographer" may be reductive, considering Tillmans's prolific artistic output) in 1989 at the British street-style magazine i-D. The then-newly published magazine, originally stylized as a fanzine with pages stapled together, had a foothold in punk culture, clubbing, and street fashions. Wolfgang Tillmans fit right in, having started with photographs of nightlife in Hamburg, and he soon became a regular contributor.
Wolfgang Tillmans at the MoMA, "spectacularizing the gritty world of boho youth"
It's that essence that is re-captured in this show. Images are tacked onto the wall with nothing but clear tape, giving the illusion of haphazardness akin to a mood board. Some photos are repeated in different print sizes and different crops, and there's nary a wall label in sight.
Pages from the original i-D magazines are pasted alongside enormous prints, a constant juxtaposition of size. In a nod to those early Hamburg and Berlin clubbing days, one blacked-out room recreates a club atmosphere with a booming beat and a video of neon flashing lights. Outside, there are closeups of club kids, genitals, and the quiet mornings after.
As a retrospective, it includes a lot of the early work that gained him (sometimes polarizing) attention from the art world; and yet, aside from the mediums that Wolfgang Tillmans has added into his oeuvre, not much has changed from those early 90s works.
In a 1997 article for The Village Voice, critic Peter Schjeldahl calls Wolfgang Tillmans a "punk-scene paparazzo… using devices plain and fancy (including laser-jet printing) to spectacularize gritty worlds of boho youth, vernacular fashion, and leftist politics." Schjeldahl ties up his review thusly: "Semiotically self-conscious in a Gerhard Richter-esque way, he is aesthetically arch even at his gamiest."
What's most astonishing about the works in this show is the sheer scale of these prints, ranging from heights of 5 inches to 5 (or more) feet; one large-scale work captures the night sky through some tree branches, the stars lighting up like perforations in the gray-blue sky. It's shaky and unfocused, and the grain is emphasized by the largeness of the print. Yet there's something deeply compelling about it.
It recalls the wonder and awe, experienced often as children and less often as adults, that one feels when looking at the night sky: the vastness and endlessness of it compares starkly with our own mortality. The light-speckled night sky features heavily in the exhibition across several other large-scale prints, recalling those first photographs Wolfgang Tillmans took.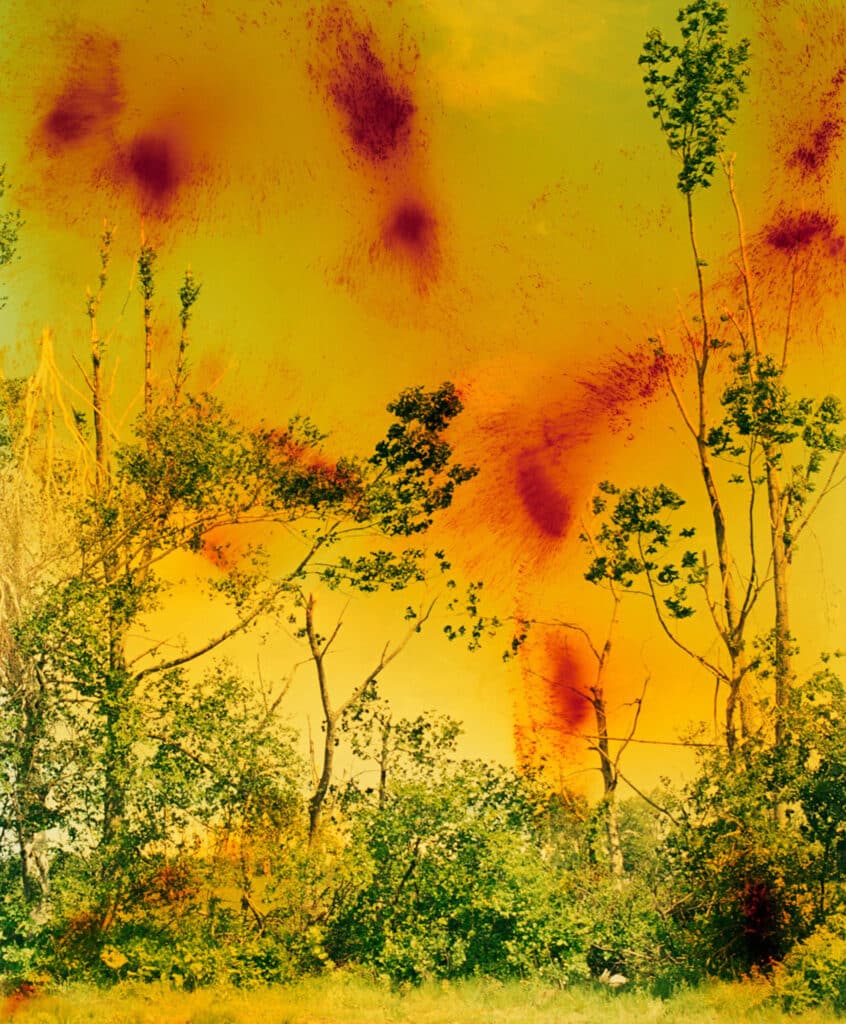 At the MoMA, printmaking takes center stage
But there is no singular subject in To look without fear. Rather, printmaking takes center stage. "A great deal of what I do is prints—how the image manifests itself on paper. And a great deal of care and initial research has gone into this, and ongoing research, of how this object that meets the eye is made," Wolfgang Tillmans said in a video for the Tate Modern.
"But the prints could never have been the way that they have been in the last 6 years or so. There is an infinite amount of detail and an infinite richness, almost, of color, which is impossible to reproduce in a book. There's no screen that can reproduce it, and that makes working in the studio with these works really quite special, because it is literally a discovery. You see things that you didn't see before."
Wolfgang Tillmans continued: "There's not one correct way of reading my work. I sometimes say that if you have an encounter with 5% of my work in an exhibition where you get a sense of I know how that smells, or I know how that sounds, or I've seen this before, I understand this, I can feel like this—that's really what I would say is success in my work. What art does in me is also beyond words. It's something that either resonates or it doesn't, but you know it could only be this way and no other way.
"There's the abstractions, too: large prints with washes and waves of color that appear to be somewhere between the ocean and the cosmos. These cameraless works are created by manipulations of light over photosensitive paper, reaffirming that "photographer" is too limited a title for Wolfgang Tillmans. Though there are some familiar faces throughout the show—Frank Ocean, Kate Moss—it's the skies and abstract experimentations that feel the most exciting.
Wolfgang Tillmans, "nothing is by accident"
Tillmans is adept at convincing viewers that everything is instinctual or haphazard, driven by a feeling and not overworked, from the composition of the shot to the way the images are tacked on the wall with tape.
Yet, in 2018, The New Yorker reported that Wolfgang Tillmans specifies, to the millimeter, how long each piece of tape holding up each picture should be; how many binder clips can hang the larger prints; and at what precise angle each nail should be hammered. Nothing is by accident."
I do believe that there are deep and meaningful things happening in fleeting moments," Wolfgang Tillmans told The Creative Independent last year. "It's not clear what will ultimately be there in the moment, that it has great poetry and a great coexistence of what I call chance and control. It's in this space where I see my work constantly oscillate, sort of in suspense between, and I try to allow chance and at the same time control as much as I can. Knowing when to stop is so important. When do I dare stop controlling? When do I allow things to happen?"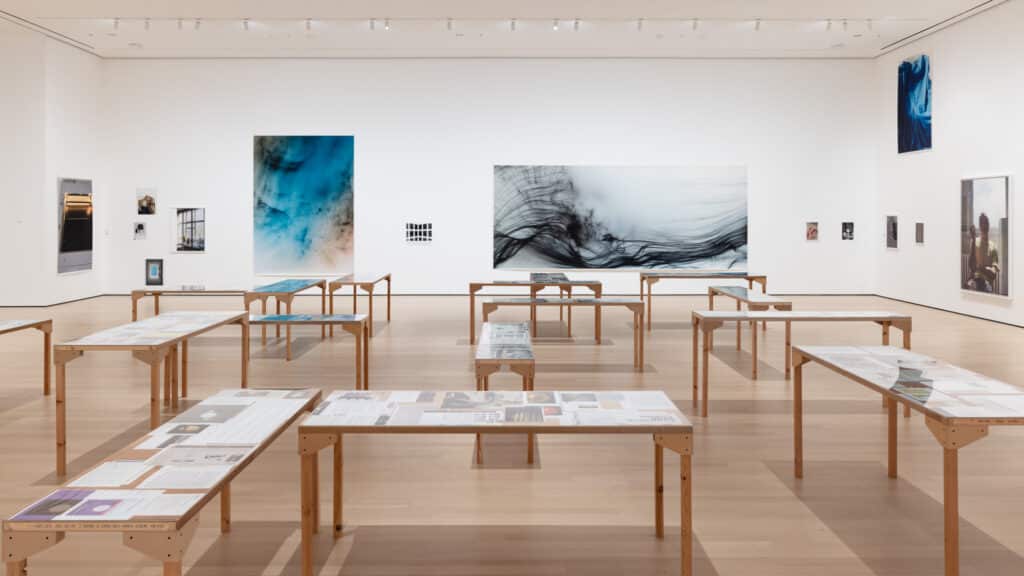 Exhibition: "Wolfgang Tillmans: To look without fear," through January 1, 2023. The Museum of Modern Art, New York City.