Growing up in 1980s and '90s Brooklyn, self-taught photographer Russell Frederick recognized the ways in which style was a form of Black power and pride. As a first-generation Panamanian American living in Bushwick among Jamaicans, Haitians, Puerto Ricans, Dominicans, and Southerners, Frederick was instilled in knowledge of self, rooted in love, family, and faith.
As a young boy, Frederick's grandfather taught him the importance of being crisp and clean — starting with keeping one's shoes pristine. "This was my first image of manhood and style," says Frederick who recalls a photograph of him at age 5 or 6 trying to walk in his grandfather's shoes.
When Frederick entered high school, he no longer had to wear a private school uniform and quickly discovered fashion as a form of artistic expression. "During my freshman year, my mother told me to be different and I received it," he says with a laugh. Frederick began shopping at trendsetting boutiques like Unique, located at the intersection of Broadway and 8th Street in the heart of Greenwich Village. Combining downtown style with Brooklyn bravado, Frederick had a distinctive flair, so much so his friends encouraged him to work as a fashion stylist for a new magazine called Indigo.
Frederick got his first gig in 1995, only to discover that the stylist had no say in the photos themselves. In that moment, he knew where he belonged: behind the camera. Over the past three decades, Frederick has used photography to uplift, empower, and celebrate Black culture and identity. Now with the creation of his Positive Images campaign, Frederick draws iconic images from his vast archive honoring the beauty and dignity of the people.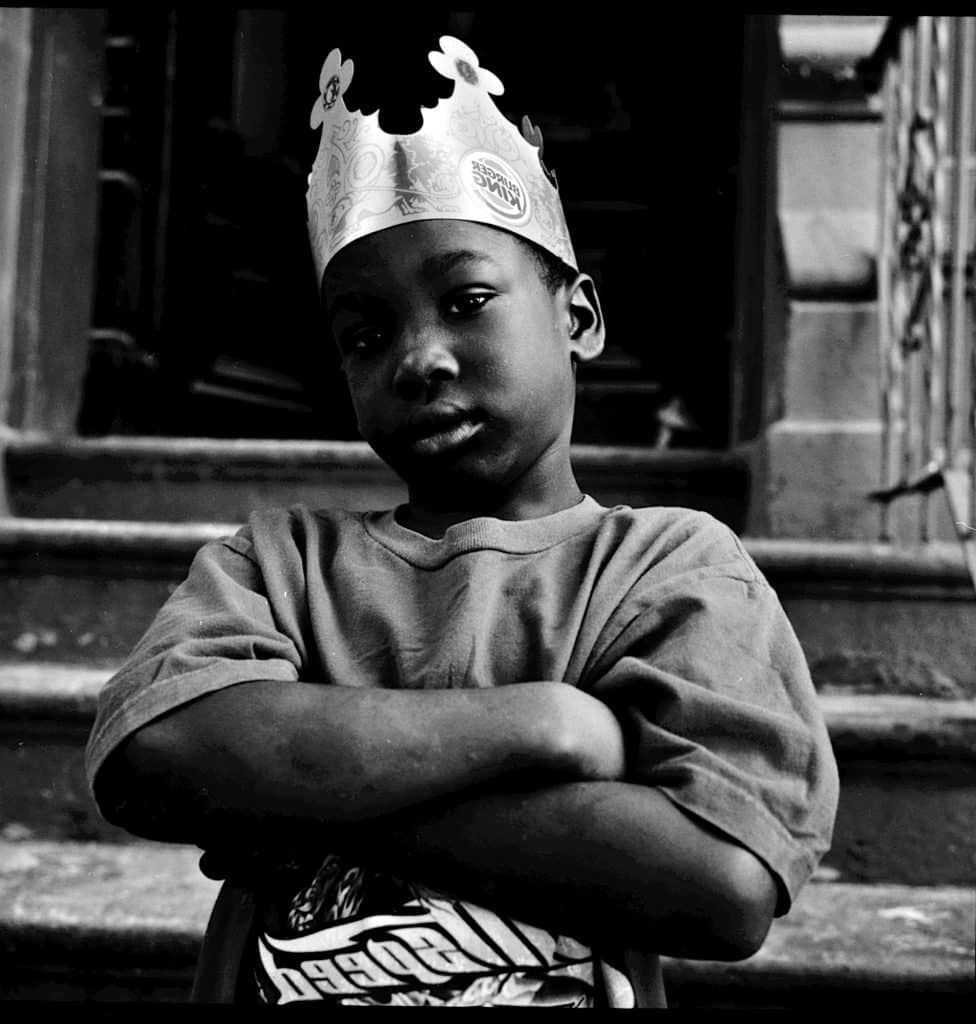 Brand Nubian
As Russell Frederick began learning about photography, he observed a discrepancy between the image and reality of Black life. "I picked up the camera to tell stories of my community, which I felt has been maligned by misrepresentation," he says.
On a mission to provide counter narratives, Frederick understands that the first step in making a great street portrait begins with the photographers themselves. "The way I present myself is very important to establishing trust. If people see someone they respect and can identity with, I will have some success," he says. "I wanted to show people I was a man of good intentions, and I was going to represent them well. Even if they didn't think they looked their best, I was going to speak to their highest self and let the world see their greatness."
With Positive Images, Frederick embraces the ways in which style is an integral aspect of Black life. More than mere fashion, style is an act of self-love and preservation in a country born of slavery and genocide. "There was a time when this country was flagrantly and relentlessly doing everything to oppress us and make our lives as painful and difficult as possible. In spite of that, we have always had this inner strength where we know out greatness," Frederick says.
"Style means a lot to Black people, period. It's very important for our self-esteem to look in the mirror and see ourselves as beautiful when everyone is telling you that you are not. It hurts, but for our peace of mind, we put forth our best selves. People often see us before they hear us and when you dress your best, it does something to you psychologically. You see greatness and will walk with your head a little higher. There is a certain power we have when we embrace the skin we are in and no one can take that from us."
Although fashions change, style is timeless. "Whether it's Hip Hop here in Brooklyn or tailor made suits back in the day, Black people do things with soul like nobody else," says Russell Frederick. "Looking at the images of Jamel Shabazz and Anthony Barboza, or Shantrelle P. Lewis's book, Dandy Lion: The Black Dandy and Street Style, you see it's about creativity and not about brands. It starts with feeling good abut yourself on the inside and that resonates to the outside. There are time when we don't feel our best and we dress our best to lift our spirits."
Young, Gifted & Black
As a member of the Kamoinge, the legendary Black photography collective founded in Harlem in 1969, Russell Frederick's talents and perspectives were nurtured by generations of artists who created a space for their work outside the historically exclusionary art and photography worlds. "I learned so much about being surrounded by greatness. Through Kamoinge I learned about what makes a great photo and how people have endured in this industry," Frederick says, pointing to photographers like Beuford Smith, Shawn Walker, Ming Smith, and Louis Draper.
In 2004, Frederick's neighbor, Magnum Photos member Eli Reed, suggested he become a member of the group, an experience that changed his life. "I was at a very critical point in my life where I was working in the corporate world at the Associated Press, but I was on a mission to redefine the image of my community," says Frederick.
"Kamoinge embraced me provide me with mentors who helped me along the path when I was feeling discouraged. They saw themselves in me and wanted to support my growth, whether that was providing opportunities to help me learn business matters or just bless me money to buy film or pay a bill. I realized that the corporate world was not what I wanted. I saw how you will have to make a choice about money or your integrity, and I was not going to be a part of this machine that promoted images that would hurt my people. Kamoinge confirmed the choice to make positive images."
Say It Loud
Between misinformation, marginalization, appropriation, or outright erasure, the achievements and contributions of Black Americans throughout history have yet to be told in full. Today Russell Frederick is determined to change that event. "There would be an uprising with just self-love and that's a change some people do not want to see," he says.
"There's a new face of Black America, Hip Hop, that has transformed the music and culture of the street. It has made men and women superheroes and style icons. Run-DMC, with their leather suits, fedoras, Adidas, and gold chains became an image of strength, masculinity, confidence, and success. [Fashion designer] Dapper Dan took brands like Gucci and Louis Vuitton and gave them a whole other flavor. Hip Hop spread from New York around the world; you see it in Japan, Ethiopia, white people in the Midwest — everywhere."
As Black Americans continue to create, cultivate, and innovate culture in its many splendored forms, Frederick will be here spreading the word of love, peace, positivity, honor, and respect through his work, harnessing the power of photography to transform the way we see and think about Black life.