In 1989, Kimberlé Crenshaw coined the term "intersectionality" to explore how systems of power rooted in race and gender uniquely impacted Black women in the United States. Intersectional analysis creates space for perspectives widely missing from mainstream narratives — most recently displayed on the national stage in the Senate confirmation hearings for Ketanji Brown Jackson, who has since become the first Black woman on the Supreme Court of the United States.
The double standards openly displayed by members of the government stand in sharp contrast to those exhibited during the confirmation hearings for Brett Kavanaugh and Amy Coney Barrett. Such disempowering biases are often imposed in youth, warping one's psychological and emotional development along with one's sense of identity long before the opportunity to fully self-actualize. 
The impact is staggering, yet largely underreported in the American press. Routinely oversexualized and adultified, Black girls have become more vulnerable to violence and trauma, while being simultaneously rendered invisible. As of 2018, the National Center of Violence Against Women in the Black Community reported that 1 in 4 Black girls were sexually abused before the age of 18, while up to 60% were subjected to coercive sexual contact as a minor. Although Black women only account for 7% of the U.S. population, they make up 40% of human trafficking victims, with 15 being the average age for entry.
Looking Out
Recognizing the ways in which visibility reshapes perception and expands understanding, photographers and activists Scheherazade Tillet and Zoraida Lopez-Diago have co-curated the new exhibition "Picturing Black Girlhood: Moments of Possibility". "Black girls are our most innovative cultural producers, community connectors, and trendsetters, but their contributions are rarely recognized and their lives are largely invisible in our dominant culture, including the art world," the curators says.
"A major catalyst for this exhibition was the recognition that Black girlhood is an essential stage of development, an integral moment of political awakening, an embattled site of representation, and a critical source of artistic inspiration throughout the globe. The result is a disruption of traditional art world hierarchies and a centering of Black girls as subjects, artists, and agents of their own lives."
"Picturing Black Girlhood" displays over 170 works by 85 Black women, girls, and genderqueer artists from ages 8 to 94 working in photography and film — over half of whom are under age 18. The exhibition pairs established artists such as Lorraine O'Grady, Carrie Mae Weems, and Lola Flash with mid-career photographers including Nydia Blas, Adama Delphine Fawundu, and Nona Faustine, along with emerging artists like Fanta Diop and Savannah Flowers for an inclusive look at the ways Black femme and genderqueer artists see themselves.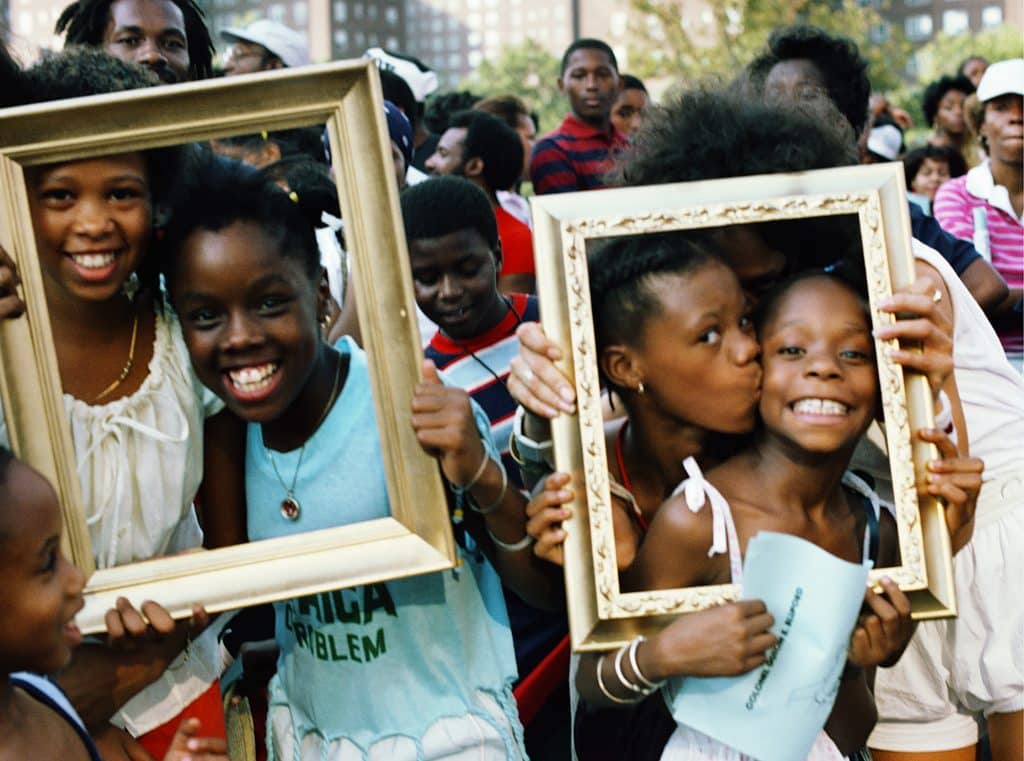 Looking In
"Many of the pairings in the show also encourage new interpretations of images and embrace Black feminism as a genealogy in photography and film," say co-curators Scheherazade Tillet and Zoraida Lopez-Diago. "In this lineage, the boundaries between collage, portraiture, commercial, conceptual and documentary photography, sculpture, and experimental film are collapsed. And the picturing and unpacking of Black girlhood is revealed to be a rite of passage and liberating process."
The exhibition's signature images, Doris Derby's Rural Family Girlhood, Mileston, Mississippi (1968) and Ángelina Cofer's Nineteen, Chicago (2021), offer a look into the interior lives of Black girls more than half a century apart. Derby, a civil rights activist who recently passed away, and Cofer, a Black Lives Matter and #MeToo movement leader, provide an expansive look at the shared themes of the Black female gaze. From intimate urban scenes to pastoral landscapes, mediations on history to the extraordinary flowering of LGBTQ youth, reflections on grief to the ongoing protests for Civil Rights, "Picturing Black Girlhood" offers a complex, multifaceted portrait of life that is as intricate and layered as the artists themselves.
In conjunction with the new exhibition, "Picturing Black Girlhood: Moments of Possibility", on view at Express Newark at Rutgers University-Newark in New Jersey through August 15, 2022.