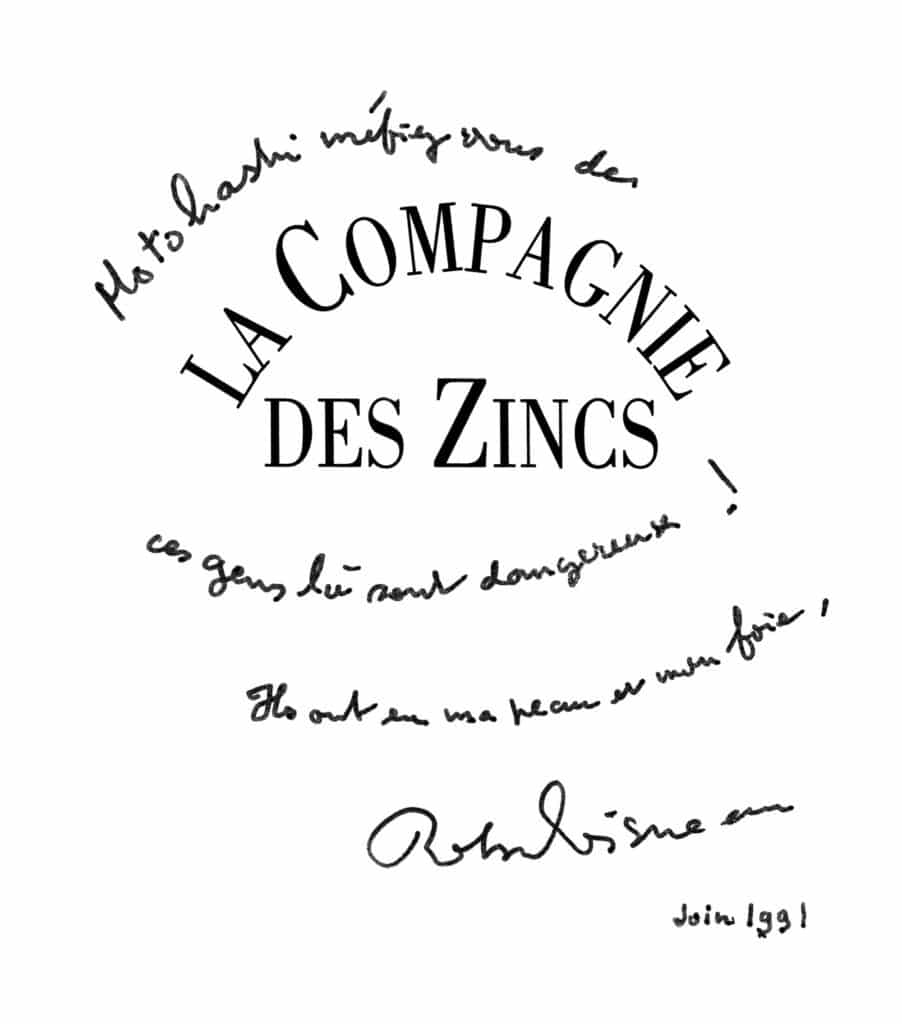 In the summer of 1991, Japanese photographer Seiichi Motohashi travelled to France for a much-anticipated meeting with Robert Doisneau. Motohashi was a great admirer of Doisneau's humanist photography, and had been collecting his photobooks for many years. Sadly, his flight was delayed by a day, and Doisneau had to leave Paris for a vacation. However, he entrusted a copy of his photobook La Compagnie des Zincs [The Gang at the Bar Counter] at Motohashi's hotel reception. Inside, he scrawled a message: "Motohashi, beware of the gang at the bar counter! These people are dangerous, they got me through and through!"
Doisneau died three years later in 1994, aged 82, and the two photographers were never able to meet. But now, 22 years since their missed exchange in Paris, their photographs are brought together in Tokyo. Currently on show at Tokyo Photographic Art Museum (TOP), Narrative Passages: Seiichi Motohashi and Robert Doisneau presents a visual dialogue between the two masters – a conversation that transcends geography and language.
Equally poetic
The photobook that Doisneau gifted to Motohashi all those years ago is displayed in a glass case at the beginning of the show. In the tactility and warmth of Doisneau's handwritten message is a sense of serendipity that the two men are finally able to exist in the same space through the medium they loved. "I am very happy, considering all that time I waited," says Motohashi, now 83 years old, in a video interview recorded for the exhibition.
This exhibition is TOP's third dialogue show between a Japanese and French photographer. In 2009 it exhibited Ihei Kimura and Henri Cartier-Bresson, and in 2013 Ueda Shoji and Jacques Henri Lartigue. The exhibition adopts a straightforward framework, typical of the genre of a dialogue show: five rooms split into themes, with Doisneau's work on one side, and Motohashi's on the other. These kinds of exhibitions can feel gimmicky, drawing flimsy connections between two vaguely related artists. But when executed well, such as on this occasion, they are effective in drawing parallels while reframing each artist both as an individual and in response to one another.
Narrative Passages begins in the mines. Doisneau started out documenting the Parisian suburbs in the 1930s. While on commission for Renault, he became a witness to the harsh working conditions of factory workers, and was subsequently commissioned by J Magazine to document the plight of the coal miners in 1934. Motohashi would take on a similar subject matter two decades later in the mid-1960s. He immersed himself into the lives of coal miners and their families in northern Japan, documenting the shocking standards of living during the decline of industry. Seeing these parallel subjects side-by-side, viewers can begin to see how their images compare. Doisneau shoots with a softness and melancholy, whereas Motohashi is more brazen with his lens. But both are equally poetic, alluding to a broader narratives and histories that exceed the frame of the image.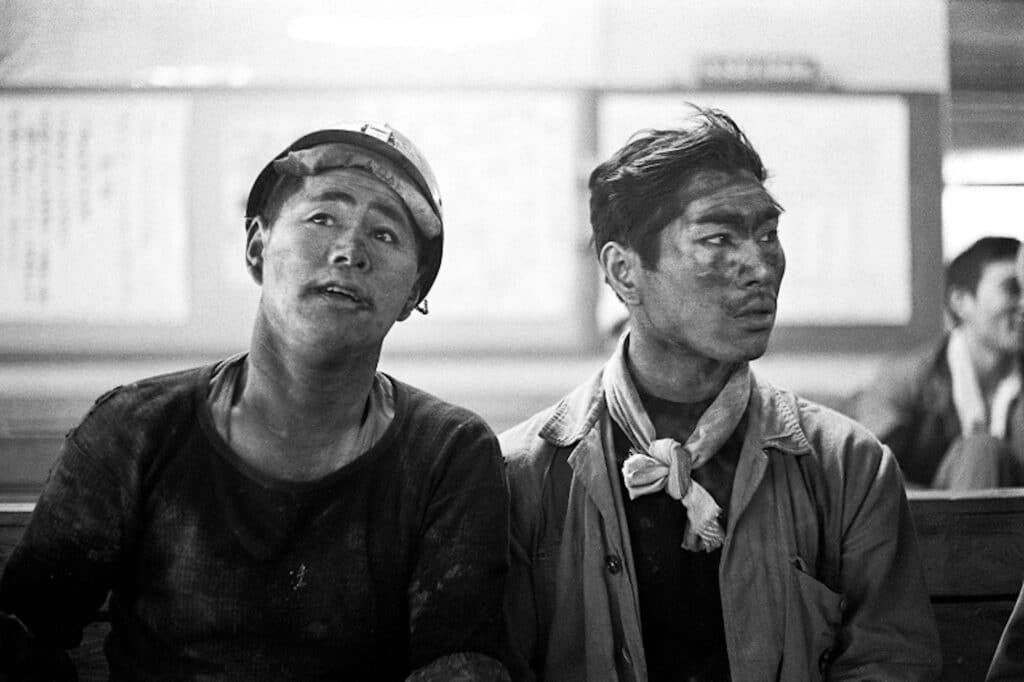 The show continues through various themed sections: the theatre and circus; the streets and markets. The photographers capture their respective subjects with warmth and humour, and for both artists, the theatre sparks a playful approach. We see experiments with perspective – almost like a trompe l'oeil – that evokes the spectacle of the circus and its performers. We also see subtle echoes between the streets of Tokyo and Paris, its iconic landmarks juxtaposed by the energy of its bustling inner-city markets. Motohashi writes in his introductory text: "When I look at Doisneau's photos, my imagination expands in various ways… The suburbs of Paris, the circus, and people working in the markets. The locations are different in France and Japan, but they overlap with the sceneries I have seen."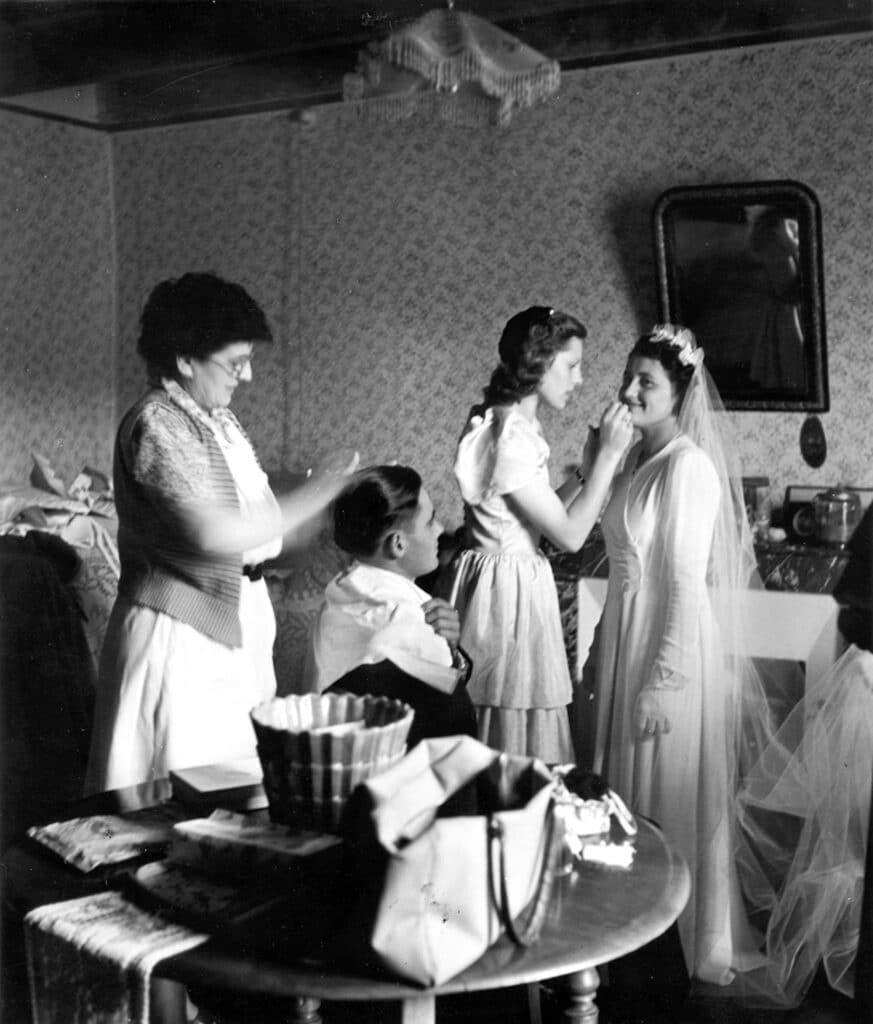 Visual Dialogue
The curation shifts course towards the end of the exhibition, as both photographers explore new narratives. We see Doisneau's continued documentation of Paris' suburbs, as well as experiments with colour and architectural photography. On the opposite walls, Motohashi photographs the life of an 82-year-old fisherman in rural Japan, and a community in the Northern Alps. Where the beginning sections offer a comprehensive, accessible dialogue between the two artists, in the final sections, the connections feel looser. Still, there is a renewed sense of focus. After all, it is not only subject matter that unites the photographers. A focal point of the show is each artists' care and respect for their subjects.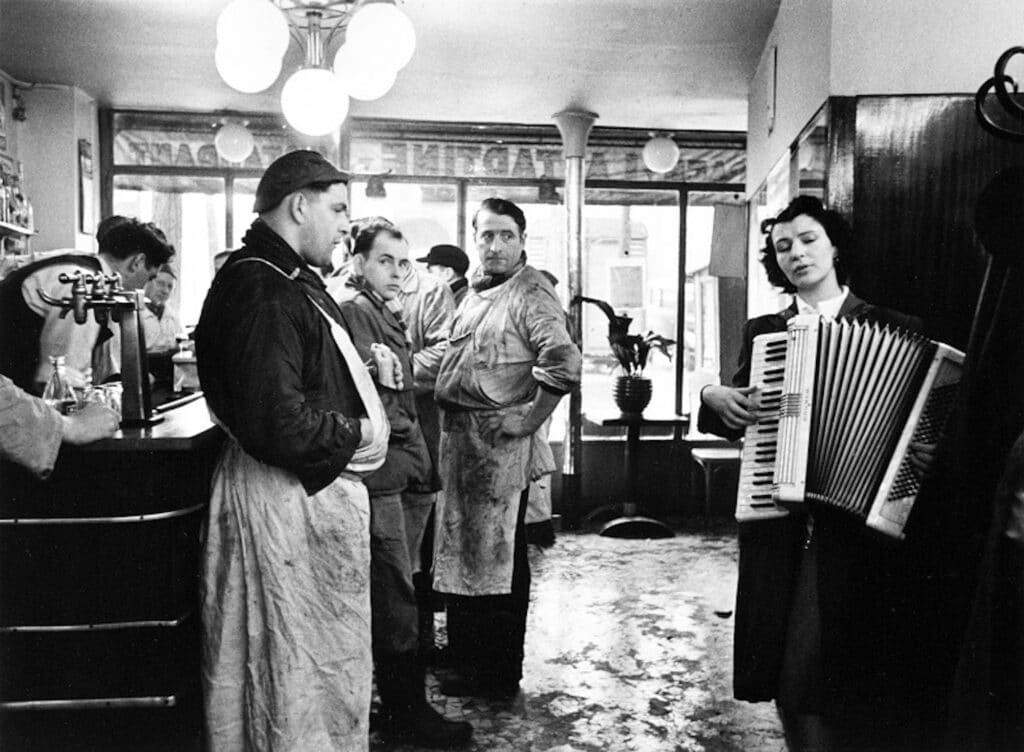 Motohashi writes: "Starting from the coal mines to Yonaguni, the slaughterhouse, Trukiji and Belarus – I would keep my original intention no matter where I go. In other words, I would not take photographs that the people photographed would not like." Doisneau's approach is better illustrated through an anecdote, told by his friend, the French poet Jacques Prévert. In 1958, while reporting on the seasonal movement of sheep, a truck ran into a herd and killed two shepherd dogs. "Did you take pictures?" Prévert asked. "No, I consoled the shepherd," said Doisneau. Later, Prévert wrote: "It was as if life, in an instant, had made a portrait of Doisneau."
It is a great shame that these two great artists were never able to meet. One can only imagine the conversations they could have shared. But photographs are a form of communication too, and they can evoke emotions that our vocabulary is incapable of. Motohashi and Doisneau missed their opportunity to meet 22 years ago, but perhaps fate decided their dialogue should be visual. As Motohashi concludes in his introductory text to the show: "I feel as if I have finally met my own Doisneau."
« Motohashi Seiichi & Robert Doisneau, Chemins Croisés (Narrative Passages) », at the Tokyo Photographic Art Museum, Japan, until September 24, 2023.