"I am an amateur sports photographer. […] In sports, you are never a voyeur. You must always be in sync with the action. I have a deep respect for sports photographers, and it's not right that this discipline should be considered less noble than others. Because it is difficult: you get one good spot, one good shot!"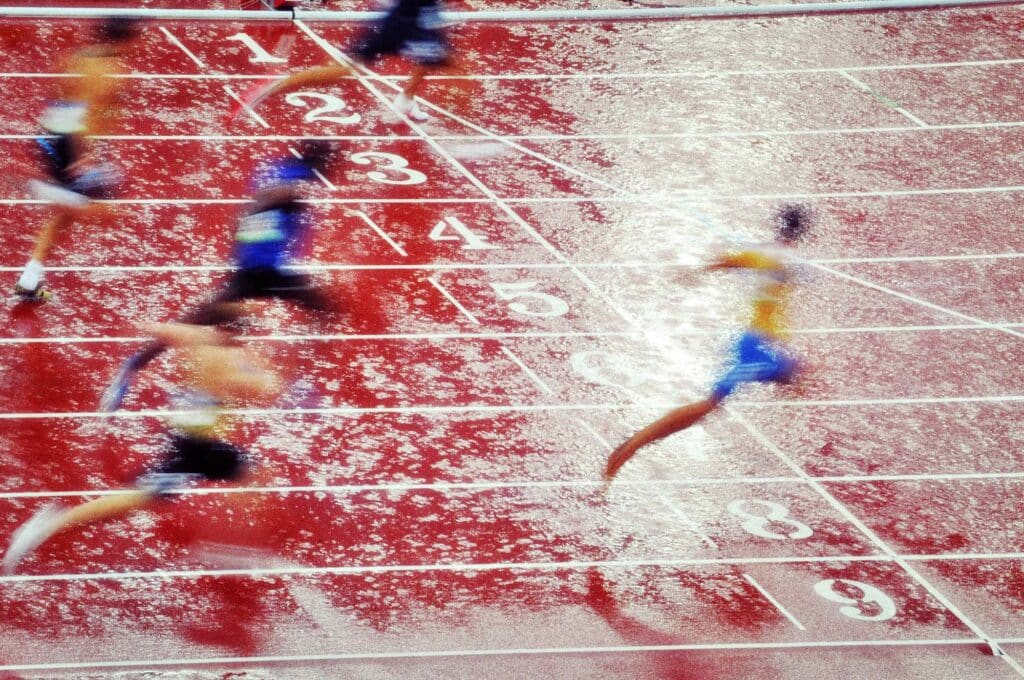 These are the closing words of Raymond Depardon's book JO published by Seuil in 2004, in which he talks about his coverage of the Olympic Games, from Tokyo in 1964 to Moscow in 1980. Without this book, we would probably not remember that Raymond Depardon was—among other things—a sports photographer.
Is sports photography a less noble discipline? "In any case, the field remains a world apart, and has had difficulty finding a place in the art market," says Christophe Gœury, an expert in photography collecting. Sports photography is absent from Paris Photo, and only makes a few forays into Photo London, where the selection is more eclectic than at the Parisian fair.
There are a few masterpieces of the genre, such as the low-angle image by Neil Leifer, capturing Cleveland Williams being knocked out by Muhammad Ali in 1966 and published in the cult American magazine Sport Illustrated.
"This is the only one of my photos on display in my apartment. I've never parted with this 40×40 print simply because it is my only real pride as a photographer," we read on the website of Jean-Denis Walter, director of the eponymous gallery, which markets the image in three formats, for prices ranging from €4,000 to €15,000 (edition of 350). In general, sports images are rare at art fairs, festivals, even at Visa pour l'image, a festival dedicated to photojournalism, in galleries, and at auctions.
In recent years, initiatives have emerged, such as that of Jean-Denis Walter who, ten years ago, took the risk of opening a gallery dedicated exclusively to sports photography. Initially installed in the space of the Cosmos agency in the 7th arrondissement in Paris, the former editor-in-chief of L'Equipe Magazine moved to Joinville-le-Pont five years later, and changed his model: "I manage to break even, but I find it hard to earn a living: I don't even pay myself a salary every month. In Joinville, I am in an atypical space, more like a showroom with a permanent group display, allowing me to showcase the extent and diversity of my catalog. I am open only by appointment. I receive collectors, some of whom have made their choice on my website. This acquisition process is rather rare in the cultural world, even if the pandemic boosted online sales.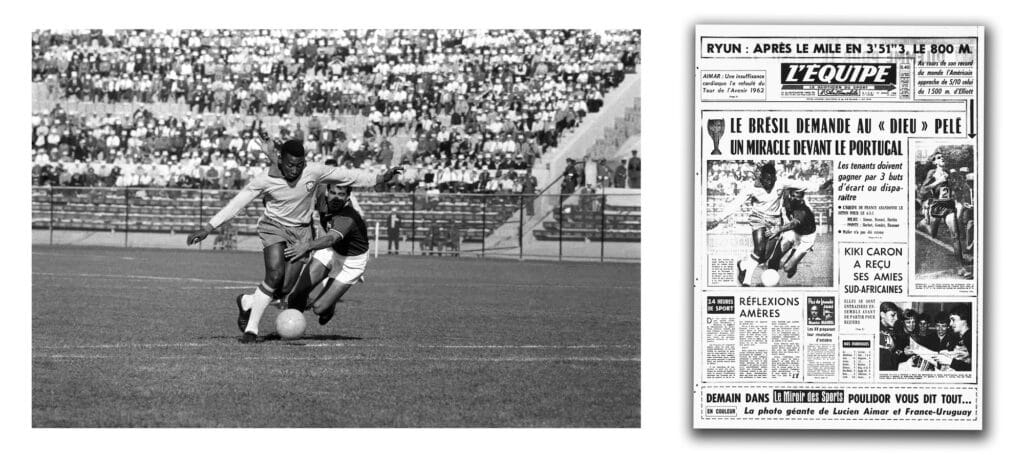 Initially, Walter took part in art fairs to make himself known, such as Fotofever, AKKA, Lille Art Up!, Art Shopping in La Baule and Deauville, and World Art Dubai. He knows how to spread the word: for example, through an almost daily newsletter in which he analyzes an image and tells the story behind it. Or by organizing one-off events three or four times a year, by renting his former Parisian gallery to hold thematic presentations over the course of a few days, as he will do next September on rugby, at the time of the World Cup in France.
Walter's catalog conceptualizes sports photography in the broadest sense, featuring a diversity of styles and content. It ranges from the classics, such as views of sporting events, to historical moments, such as the raised fist of athletes Tommie Smith and John Carlos at the 1968 Mexico City Olympics, to portraits of individual athletes (from boxer Mike Tyson to footballer Zinédine Zidane), behind-the-scenes reports on events, and downright offbeat images.
Take for example the surprising shot of The Fall of Tripoli (2011) by Philippe de Poulpiquet representing a militiaman and a soccer ball, the view of a gym in Chernobyl (2009) by Guillaume Herbaut, or the series Vélo la vie by Xavier Lambours. "We need images that tell stories," sums up Walter.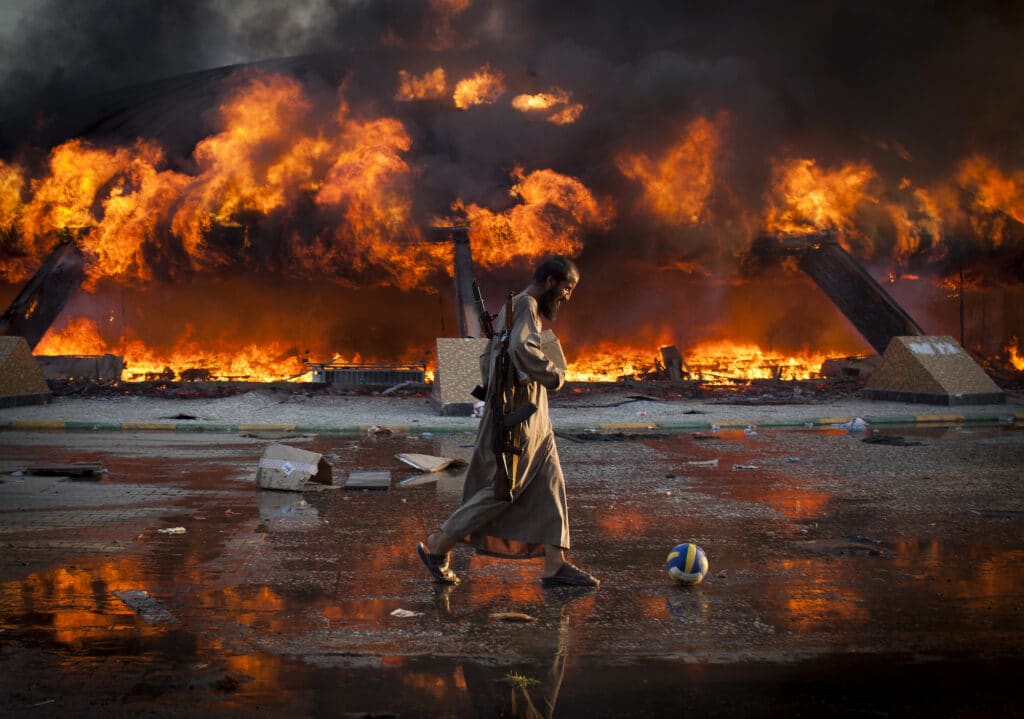 Another initiative promoting sports photography was launched by the newspaper L'Équipe which, for the past three years, has organized an annual auction of some hand-picked images from its collection: A Century of Sports Photos in 2020; A Century of Olympic Games in 2021; and For Eternity: The Legends of Football in 2022.
"With an archive of 5 million images covering a century of photography, the newspaper possesses a unique collection. When the images were being digitized, some treasures came to light. These sales of modern but unique prints are a way to enhance the value of our collection," explains François Gille, photo editor at the Groupe L'Équipe.
Held in prestigious auction houses, such as Drouot, the sales bring bids ranging between €600 and €1,500, depending on the format (three different sizes) and paper, with prints made, from the second auction, by the renowned laboratory Initial Labo. While, during the first auction, the selection was done "by hand" by François Gille and Clara Martin, deputy editor-in-chief, the most recent auction benefited from the close involvement of the auctioneer Millon.
"On that last occasion, I had to look through over 300,000 images! The selection brings together emotional and aesthetic favorites. There were some icons—Pelé, Jean-Pierre Papin…—sequences, such as the assemblage of three images of Maradona's "hand of God," L'Équipe front pages next to the cover image, unpublished images, and a dozen original contact sheets," says Gille.
L'Équipe's auctions have had some high points: a portrait by Jean-Marc Pochat of the tennis player Bjorn Borg (ecstatic after his fifth victory at Wimbledon in 1980) went for €10,000 in 2020, while a shot of the swimmer Camille Lacourt, captured in a water bubble at the 2016 Olympics by Frank Seguin, was acquired for over €15,000 in 2021. These examples prove that this sector has potential. But from one year to the next, the sales have dropped. As a result, even though the question is not purely economic, the Group is wondering about the future: should they carry on?
Christophe Gœury describes this sector as "a narrow niche, because the buyers are more sports enthusiasts than art collectors." This means that the classic criteria that determine the price of a photograph—the rarity of the print, the author, the format—are not decisive for this neophyte public.
Jean-Denis Walter confirms this observation: "Most of my collectors are only discovering the rules of the photography market. Some are starting out a collection that they will extend to other fields or disciplines, while others stop at a handful of images of a specific event or sportsman.
"In sports photography, we deal with the representation of a specific event, and so, at the end of the day, the reach is rarely universal. And even if the artistic dimension of some images is undeniable, the notion of technical performance takes over," adds Christophe Gœury. In passing, he cites some exceptional counterexamples: the Bisson Brothers, authors of slope shots showing the first mountaineers in the nineteenth century; and Leni Riefenstahl with her views of athletes in the 1930s, which are part of the aesthetics of this period.
Unlike the field of fashion—which took a long time to be admitted into the art world—"pure" sports photography does not manage to detach itself from its subject, i.e. to make people forget the event or the sportsman it represents, one of the reasons why it has had such a hard time getting into the art world.
For Gille, this might also be due to our cultural perception of sport, "which has long been discredited, perceived as 'tacky.' But things are changing. The proof is that philosophers and sociologists are getting interested in the field." Gille wants to see this as a sign of hope that sports photography will one day get the recognition it deserves.
If we take a closer look at the history of photography, there is no doubt it's the images that are more significant than the sports photographers themselves. The cultural field does not stand still. Take, for example, Jacques Henri Lartigue whose holy grail was to capture movement at a time when cameras were still rather unsophisticated. He is the author of some exceptional shots of tennis, including one, taken in the 1920s, of Suzanne Lenglen levitating as she's about to hit the ball.
Let's mention again Raymond Depardon, emblematic of the era when reporters had to be versatile, doing anything from portraits of starlets to sports events and armed conflicts, as in he did Chad, for example. Recounting his experience at the Montreal Olympics (1976), Depardon wrote in his book: "I had just returned from an eight-month stay in northern Chad where I covered the ongoing Françoise Claustre affair. Emaciated, I weighed 58 kilos. I was happy to take my mind off things by photographing sports, which really had nothing to do with the desert."
Another example is David Burnett, an American photojournalist and co-founder of the Contact Press Images agency. Not a sports specialist, he had been following the Olympic Games since 1984. His photograph of the fall of the American runner Mary Decker in Los Angeles has earned him many awards. And some of his collaborations with the press have gone down in history, such as the series The Spirit of Sport (1997) in Time magazine or his series for Libération, which combined a daily photo with a written commentary during the Atlanta Olympic Games in 1996, in the spirit of Raymond Depardon's Correspondance New-Yorkaise (1981).
The most notable break with tradition is probably Harry Gruyaert and his series TV Shots from the early 1970s, a reportage-by-proxy comprising shots of television screens from the BBC coverage of the Munich Olympics. The visual aspect of this series caused quite a stir at the Magnum agency at the time. But to be honest, the primary objective of this work was not sport, but a critical reflection on the stultifying nature of television. Sports photography is decidedly a world apart.