This is the story of a 1,500 km journey, a one-of-a-kind marine odyssey. Every austral winter, the planet's largest biomass animal migration follows the eastern coast of the Cape of Good Hope and heads toward the southern coast of South Africa's KwaZulu-Natal province.
Billions of fish swim the ocean currents and gather in several-mile-long shoals, offering a breathtaking spectacle. The phenomenon, known as the KwaZulu sardine run, naturally attracts the world's largest marine predators, providing South African coasts with exceptional biodiversity: penguins, fur seals, albatrosses, petrels, cormorants, Cape gannets, leatherback turtles, sharks, dolphins, and numerous species of whales… This ecosystem is now threatened by plans to exploit oil fields off the coast of South Africa.
The 1OCEAN mission is an international exploration project headed by photographer Alexis Rosenfeld under the leadership of UNESCO, as part of the United Nations Decade of the Ocean (2021–2030), and the CNRS Foundation. The CNRS's "Renaissance" scientific mission aims to document and understand this little-known phenomenon, while highlighting the beauty of the sardine run and the threats it faces.
A photographer, photojournalist, and professional diver, Alexis Rosenfeld wanted to share with Blind his incredible photographic, scientific, and human adventure. An avid diver since the age of eight, Rosenfeld has cross-crossed the globe telling the story of the oceans through his photographs. A member of Jean-Jacques Cousteau's last expedition to Madagascar, he took part in the epic adventure of Marseille-based Comex (Compagnie Maritime d'Expertises) as well as participated in the discovery of the wreck of Antoine de Saint-Exupéry's plane. Using text and image, he tells us about his latest adventure in marine biodiversity.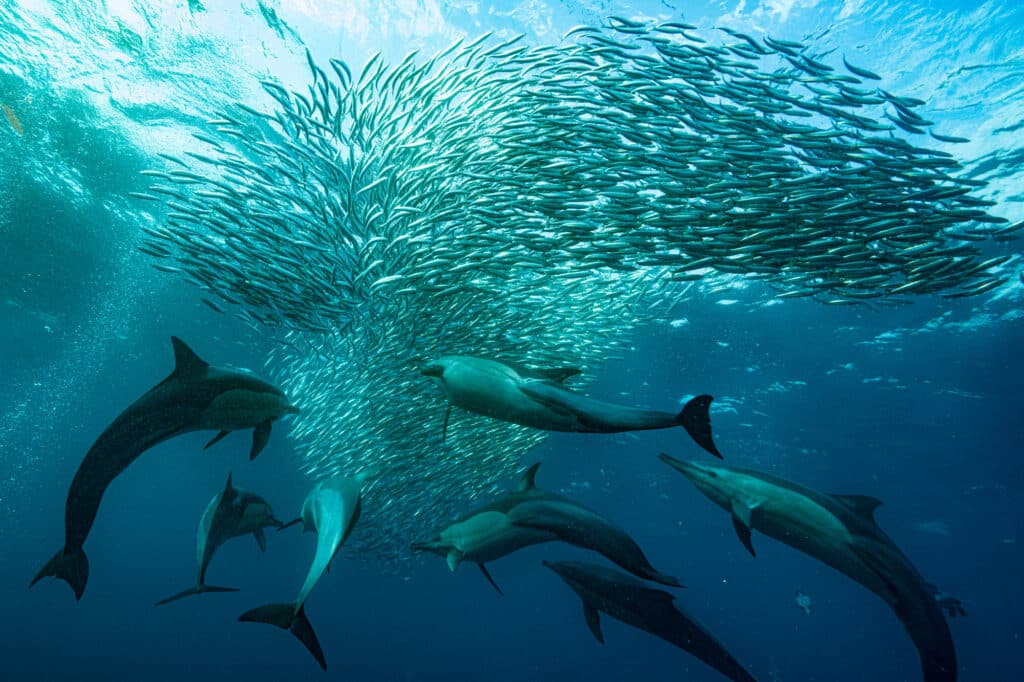 Tuesday, July 4, 2023. Log entry no. 1: A beautiful day to be a photographer
"This must be one of the most beautiful days I've ever had as a photographer. Nature has put on a show for us, the greatest live show on earth. I saw at least 100 whales today, more than 10,000 dolphins, and, I bet, some 100,000 birds. And that's all probably a low estimate. It was incredible. Everything we had imagined, and more. The first few days were complicated by bad weather and rough sea. But today, all the conditions aligned. The magic of nature came alive before our very eyes. It was the craziest thing.
Why did everything come together today? I don't know. Maybe because there is a full moon which is bound to influence animal behavior somehow. But I don't know why there were so many whales, including many humpbacks. They were shooting out of the water in squadrons. I took photos with the drone, and sometimes I was so close that I had to reel it in because the whales were jumping so high they risked hitting the drone. They were escorted by dolphins. It was like a dream. I haven't gone underwater too much yet, because the ocean hasn't been clear enough for me and my photos. But underwater, I also saw whales, dolphins, sharks, everything that makes up this living world here. I saw the world's largest animal migration in just one day.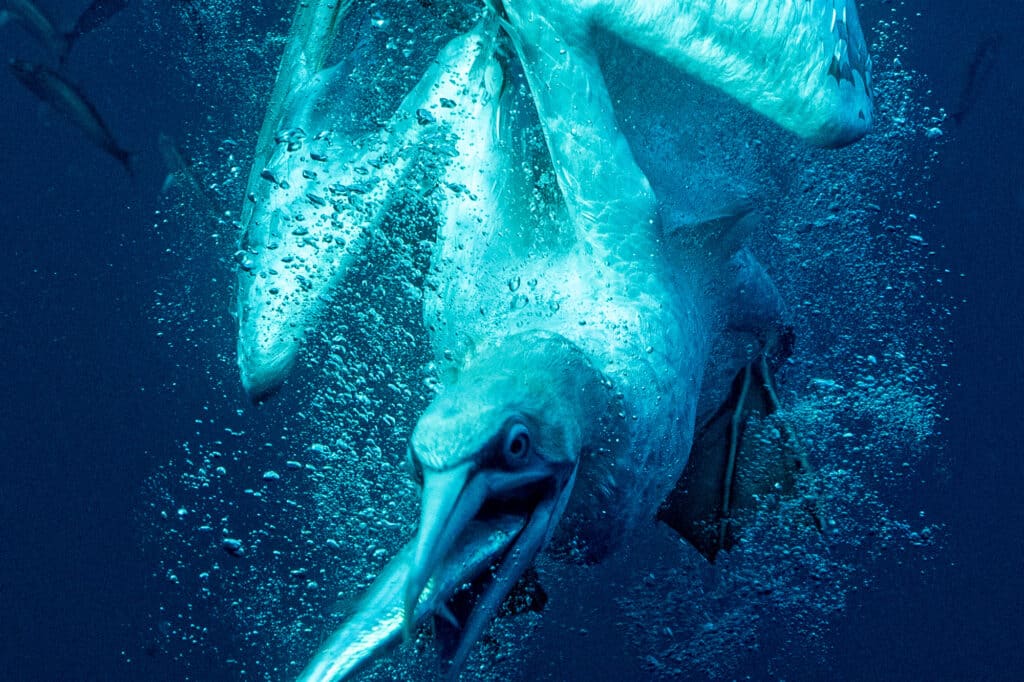 As for photography, it's not easy because I have to deal with a dark sea and a very bright sky, so I quickly go from bright to low light, which makes adjustment difficult. I was grateful for the autofocus on my Sony, because, frankly, things are moving fast. With dolphins jumping, birds diving to snatch sardines, you don't know which way to turn. So I set the burst mode to max, with the autofocus searching in every corner and going faster than your brain. What would be great would be a stabilizer in which I could sit and be stabilized above the water. I'd love to have something like that: I get in, I'm in the stabilizer, and I steer it like a Star Wars shuttle, going left and right with my joystick… It would have been great, because when you have 3–4-meter swells like here, it's really not easy to frame.
Riding high waves in a boat is, physically, very violent! And a bit scary, too. Tonight, it was really tough, because we had a hard time climbing the waves. So we were thrown off with maybe a ton of weight in the boat. But it's important for me to tell the story; we're here to bear witness. We're following the biggest animal migration in the world, and you have oil exploitation projects here, too. What's likely to happen is that we will no longer be able to witness any of this."
To be continued…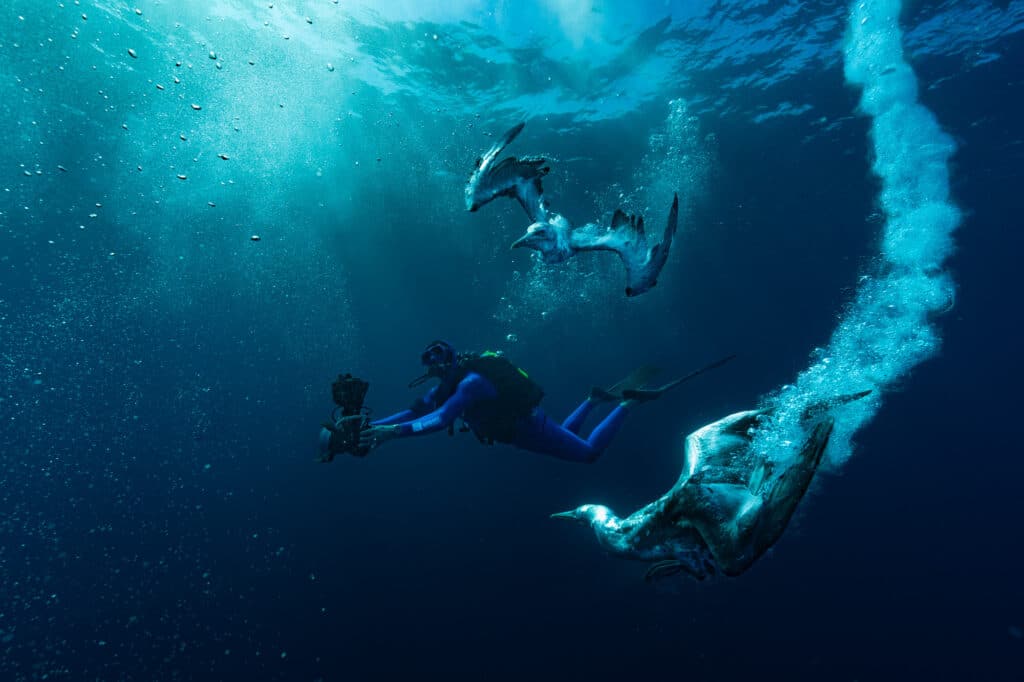 The mission, led by the 1OCEAN team and UNESCO, is followed by a documentary team from the French TV channel ARTE. Two documentaries will be produced by John Jackson and Thomas Labourasse with the support of Lacaz'a Productions.