As the war in Ukraine enters its second month the humanitarian crisis in Ukraine is growing exponentially. Civilians are bearing the brunt of the Russian offensive into their country as bombs, missiles and artillery rounds continue to rain down on cities and towns hitting civilian targets. The United Nations so far counts 1081 civilian deaths as of March 25th, and 1707 civilians injured. These numbers are only a rough count, and the real toll is likely much higher.
On top of the deaths, according to the UNHCR, the United Nations Refugee Agency, almost a quarter of the population of Ukraine now find themselves displaced. The UNHCR has counted over 10 million people who have been forced to leave their homes because of the war. 6.5 million of this total find themselves displaced within the borders of Ukraine, have had to flee from their homes to other regions away from the fighting. Another 3.7 million have fled the country completely. According to the same report, some 13 million people are estimated to be stranded and unable to leave where they are due to fighting, destroyed infrastructure like roads and bridges, along with lack of basic resources or access to information about where to go to find safety and accommodations.
Those who can, head west, away from the fighting and towards Ukraine's borders with Poland, Slovakia, Hungry and Romania. As of March 26th, according to the United Nations calculations, over 2.2 million people have fled to Poland, over a half-million have gone to Romania, while Hungary has taken almost 350,000 and Slovakia almost 275,000. And as the days go on, the stream of refugees continues to grow.
Photographer Ismail Ferdous, special correspondent for Blind, spent time in these border regions documenting those who do make it to the border areas, and either look to leave Ukraine or simply find safety in the far west of the country as far from the fighting as they can get.
The small city of Chop is located on the far Western edge of Ukraine, near the country's borders with both Slovakia and Hungary. The city itself is an important railway junction and has both highway and train access to both Hungary and Slovakia. This makes it a strategic transit station for both those looking to flee Ukraine outright as well as for those who want to stay in Ukraine but have quick access out if required.
The mayor of Chop has said that since the war began, the population has grown from 10,000 to 15,000, and more are coming every day. The city has created shelters for the displaced people coming to Chop in a school and the kindergarten across the street. And help, support and supplies have been coming from neighboring cities, 4 sister cities, and some local businesses.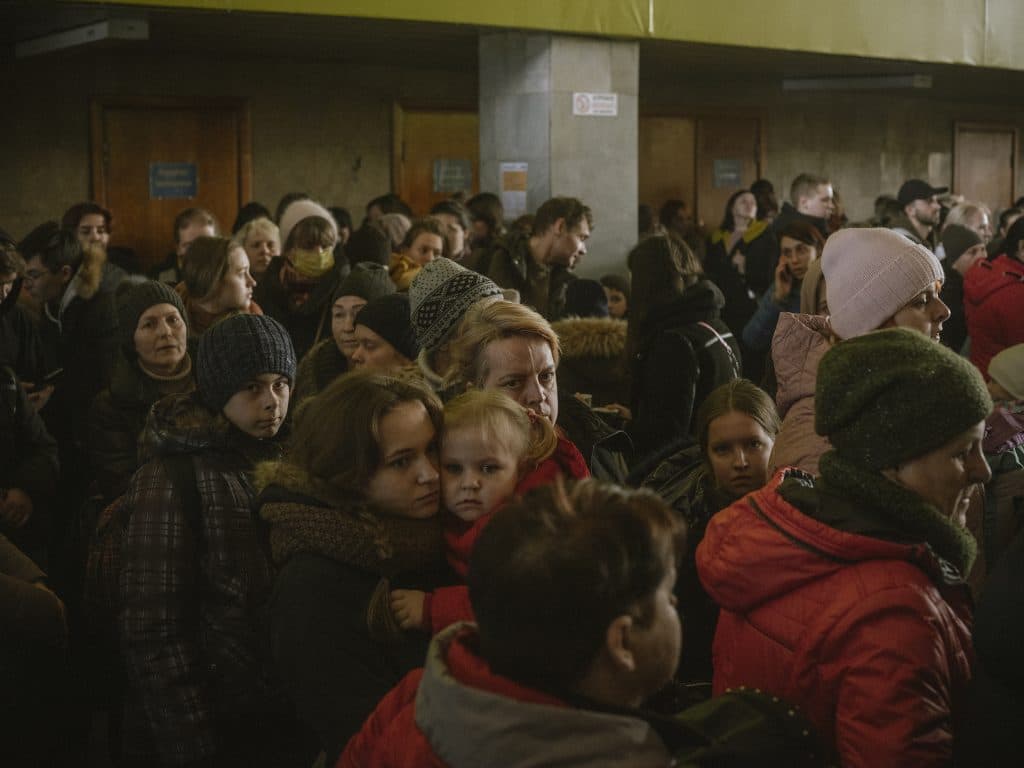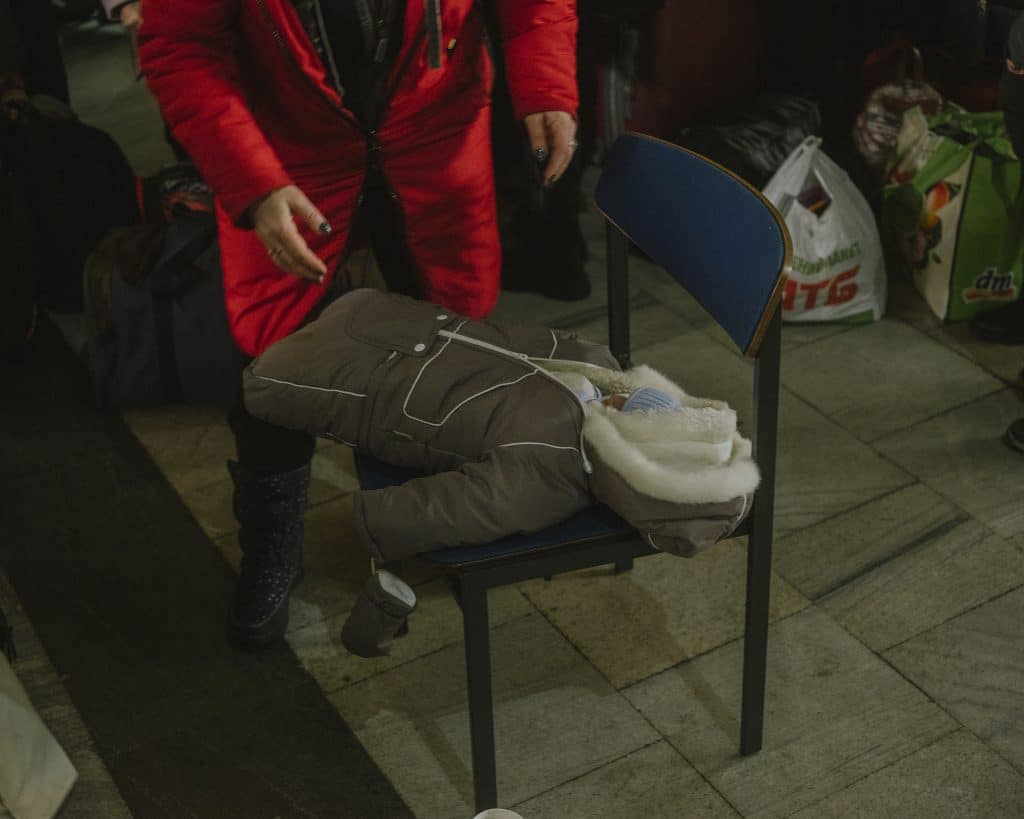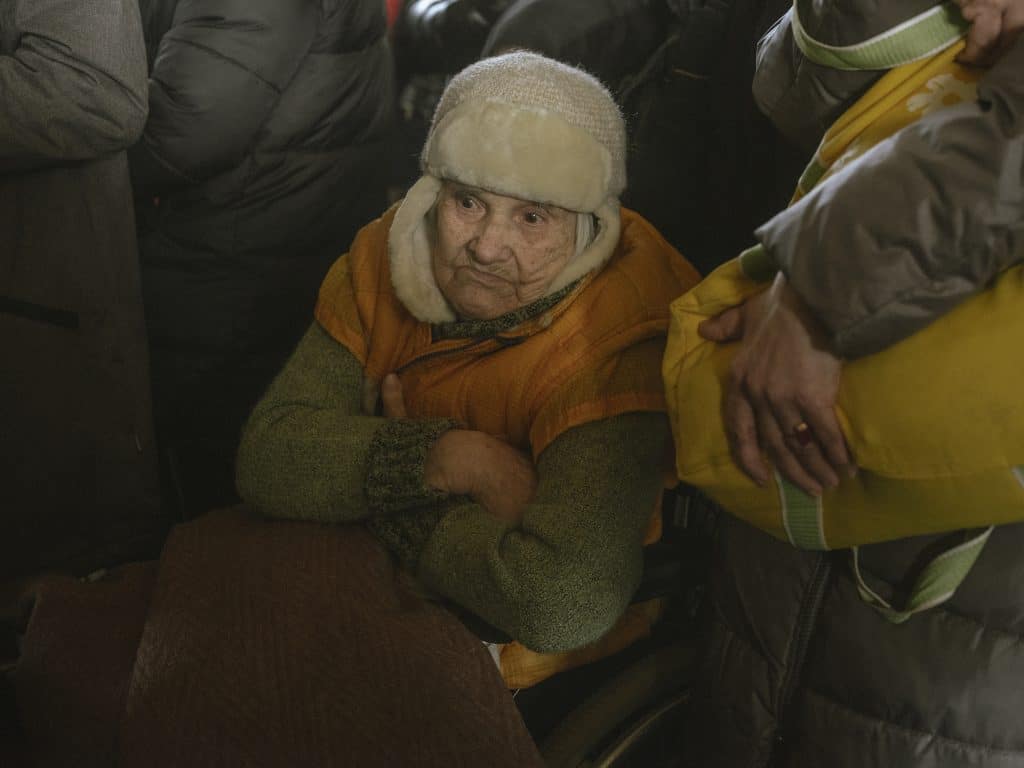 There are also many volunteers, both locals and visitors, who stay in Chop and do what they can. Men who haven't been accepted in the defense forces unload trains that come into Chop with humanitarian aid. Local retired residents help by picking and washing the linens from the shelters that have been set up.
A family from the Donetsk region, Mykhailo, his wife and their seven children, are living in the shelters in the school. The family was nervous to show their faces, having heard stories of former residence of the Donetsk region having their relatives still there persecuted, threatened, and terrorized for their speaking out against Russia. The family has relatives, business and property in Donetsk, and so are afraid of their full names being mentioned in the media anywhere.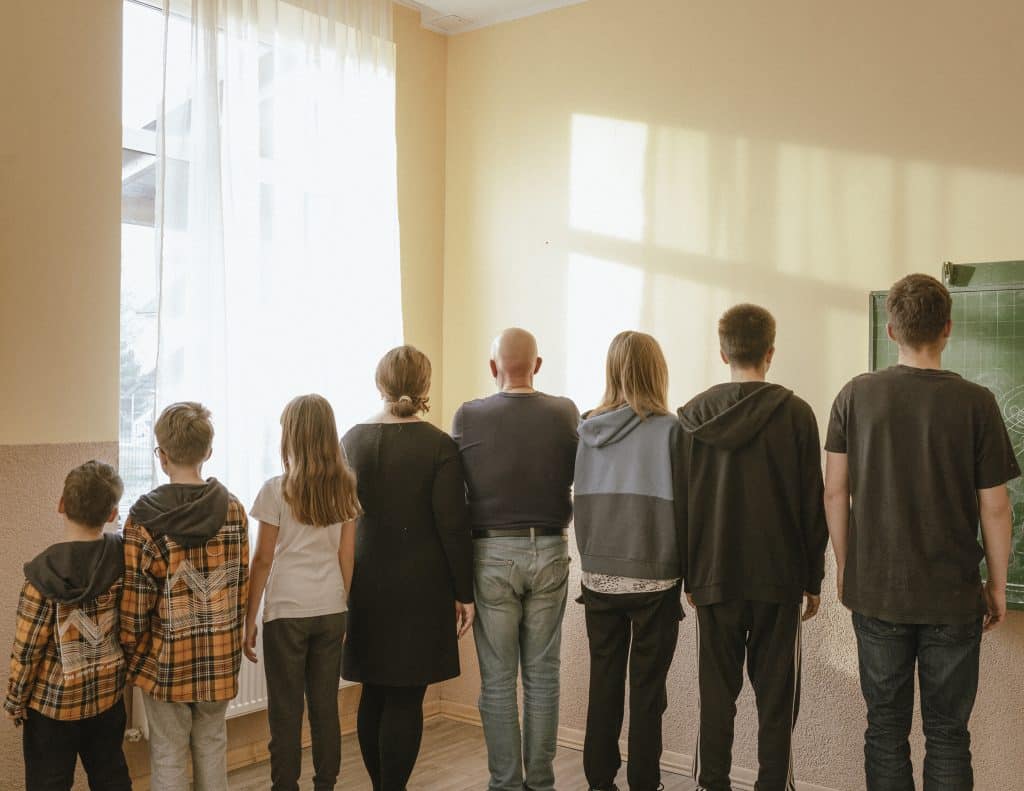 But they were willing to share their story, saying that the family had been forced to leave Donetsk in 2014 because Mykhailo owned a large business, and it was dangerous for him to stay. At that time self-proclaimed authorities in the region abducted businessmen, including Mykhailo's friends, and forcibly detained them, demanding a ransom from their families to ensure their release. They have lived in Kyiv since and are now planning on staying in the border areas around Chop as long as it remains safe.
They say that the Donetsk locals are "brainwashed by propaganda" and have had their view of today's events strongly influenced by the steady stream of news only on Russian television. The 8 years of exposure have convinced many that the only way to enjoy peace again in the region is to join with Russia.
"People picked up weapons there, so they must be destroyed, no one has the right to pick up a weapon without an order from the government, and we all know who provided them with these weapons", says Mykhailo regarding the war in Donbas. "We did not eliminate those armed people in time and froze the conflict, and it led to events today… I hope we will win. Ukraine has already proved its worth and our Ukrainian soldiers know theirs, they are motivated and will shed blood, but they will not abandon their land."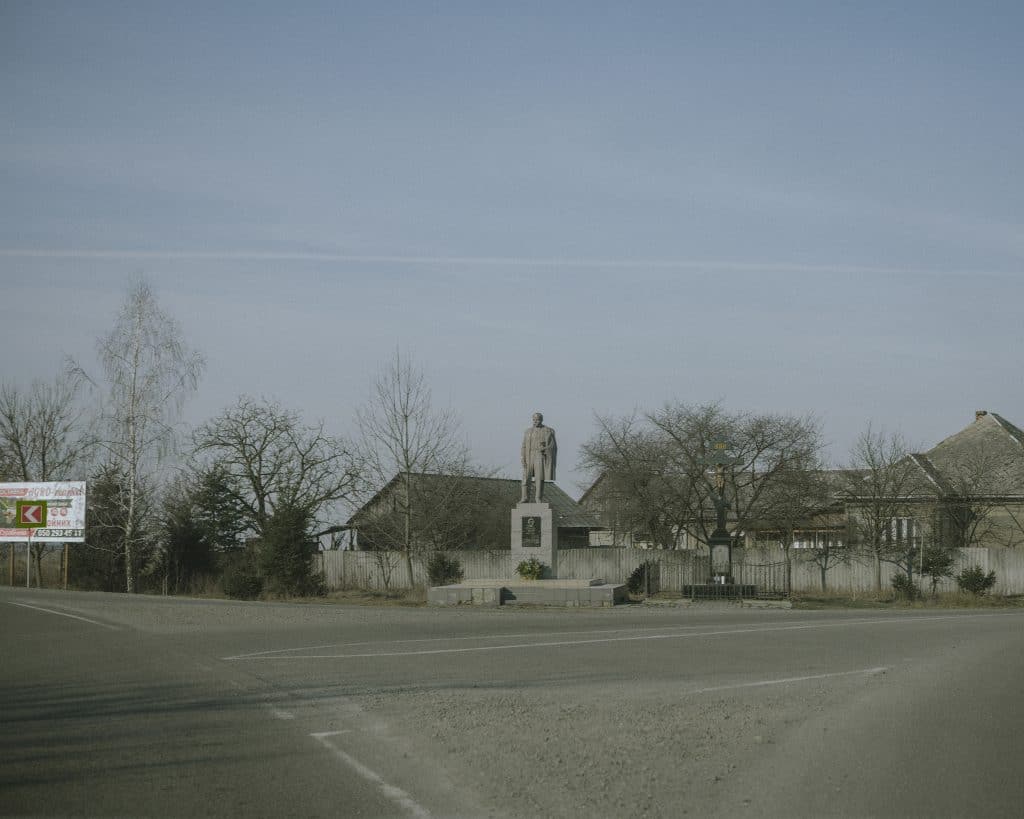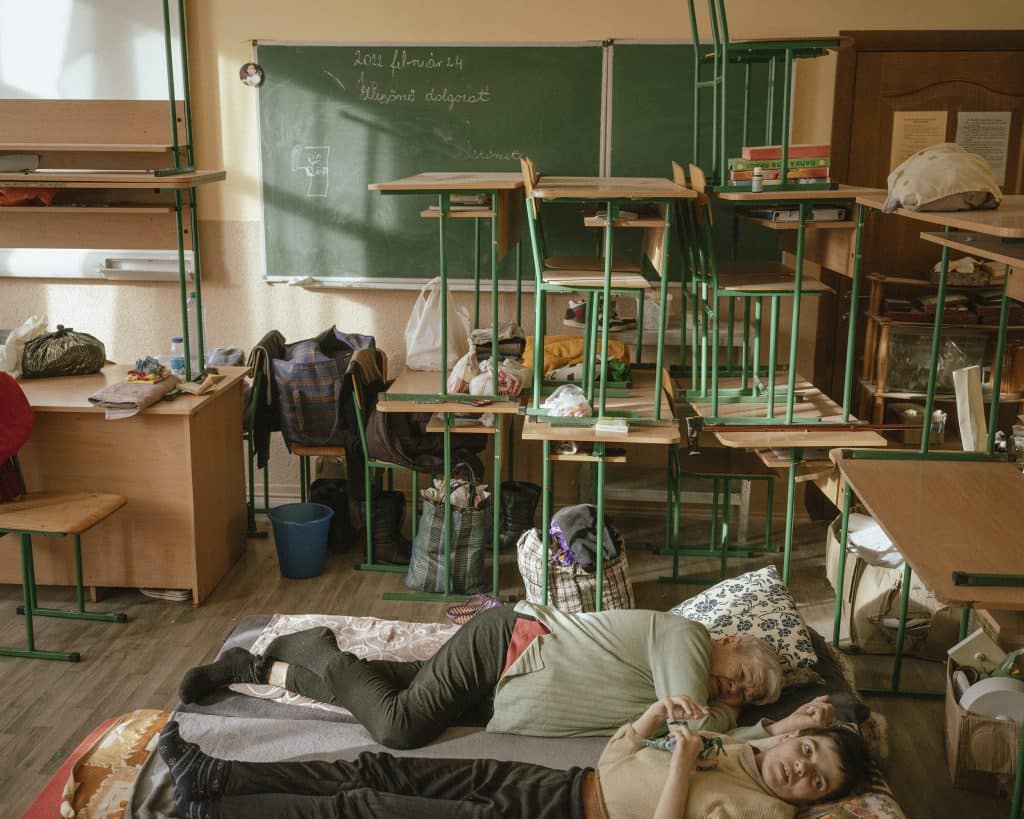 Another shelter in Chop is set up in kindergarten. It is quiet and cozy, and a place where families with small children are being hosted. But there are only 5 cooks working for the shelter. This means that two at a time work a 24-hour shift cooking for all the residents, that can total around 200 people, until they are relieved by the next pair.
Slava and Daniel Mozart also fled to Chop from Kyiv. The father and son are also staying in the shelter for displaced people. They had ridden out the first week of the war in Kyiv, but as the bombing got worse, and the son began to show stress from constant fear, they decided it would be best to get him out of the city. Slava's wife stayed behind to work in Kyiv however. Slava hopes to get his son to Warsaw in Poland, away from the fighting, and is currently working on the documents that will let him travel with his son since Slava has a 'white card' exempting him from military service. Slava's mother has also messaged them that she is on her to Chop, so they will all be reunited soon.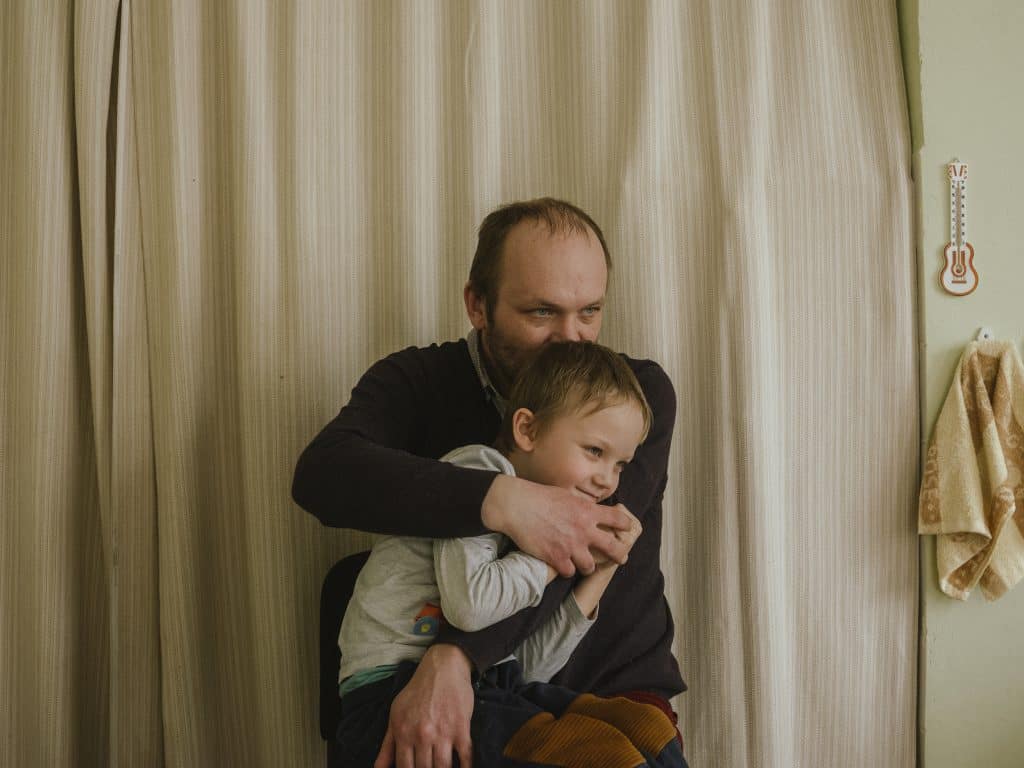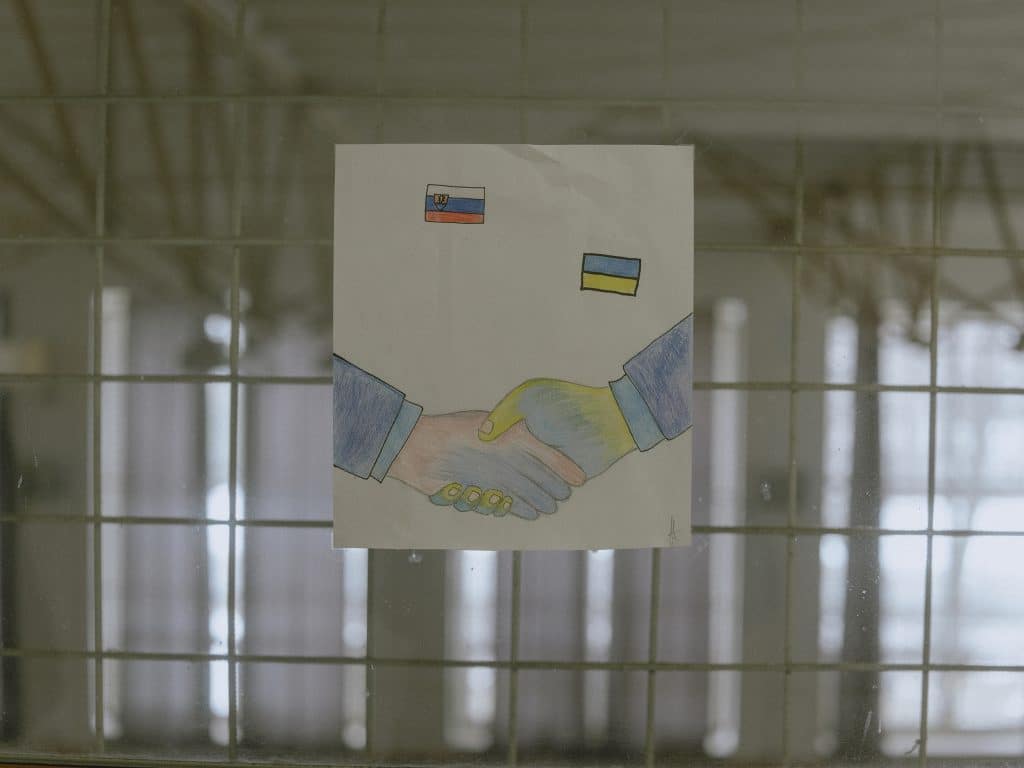 Natalia and her five children, four daughters and a son, have also ended up in Chop, having fled their home near Mykolaiv, a city close to the Black Sea in southern Ukraine, northeast of Odessa. "We were warned that there would be a war, but no one could believe it."
The family stayed in the city for a while after the invasion, with the children moving into the basement for protection while the adults ran back and forth from the house to cook food and do what work that needed to be done. Finally, when Natalia's husband decided it was too dangerous, Natalia and the children headed west while her husband stayed to join the territorial defense. Some acquaintances of theirs first got them to the city of Mykolaiv proper, and from there they traveled to Odessa. And a day and a half later they arrived in Chop by train.
The youngest daughter is frightened by any sharp sounds, having been scared by the powerful explosions before they left home. And Natalia's son does not let her go anywhere alone, is always holding her hands, and fears being left.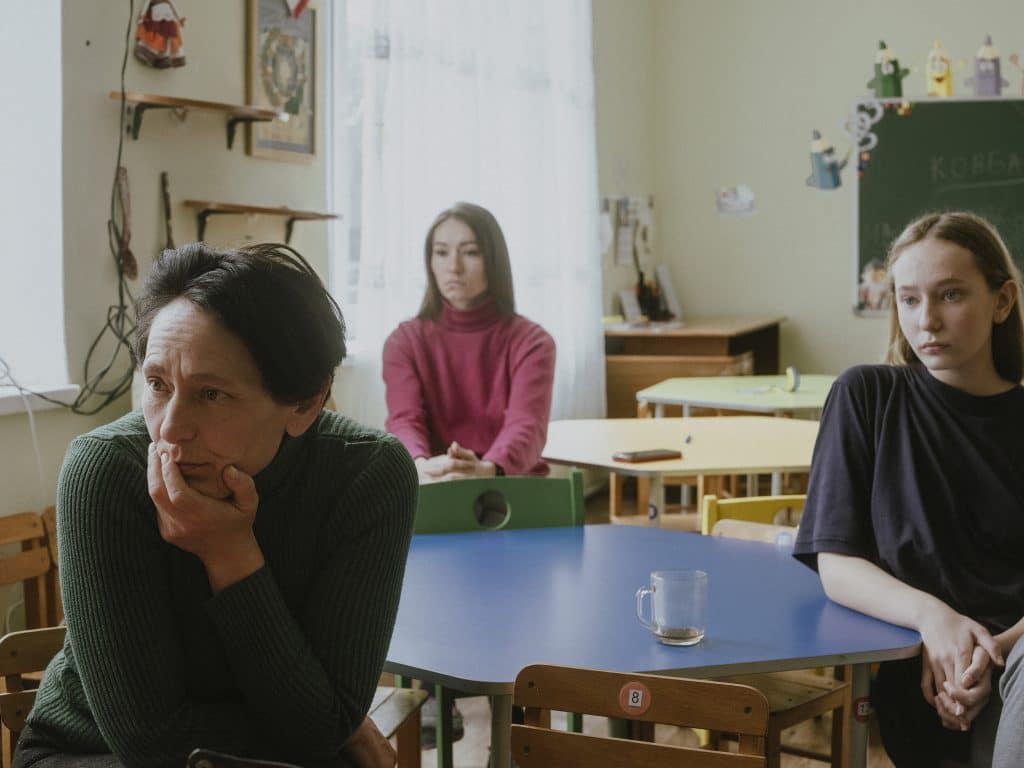 The family had planned to come for Chop for just a few days and then return. But they call home every day and are told not to return because it is still too dangerous. The older women are looking for jobs in Chop, and trying to see if they can find anything abroad as well. Natalia had said that one of the main reasons they fled is because of their daughters, as she had heard some stories about what the occupiers were doing to young women.
And those stories are also being backed up. Maria Mezentseva, a Ukrainian MP, in a TV interview with Sky News, stated that Russian soldiers and raping and sexually asaulting women during the invasion. She stated that in Brovary, a suburb of Kyiv, a women was raped in front of her child, and that authorities were investigating. "There is one case which was very widely discussed recently because it's been recorded and proceeded with [by] the prosecutor's office, and we're not going into details, but it's quite a scary scene when a civilian was shot dead in his house in a small town next to Kyiv… His wife was – I'm sorry but I have to say it – raped several times in front of her underage child."
"There are many more victims rather than just this one case which has been made public by the prosecutor general," Mezentseva said. "And of course, we are expecting many more of them, which will be public once victims will be ready to talk about that."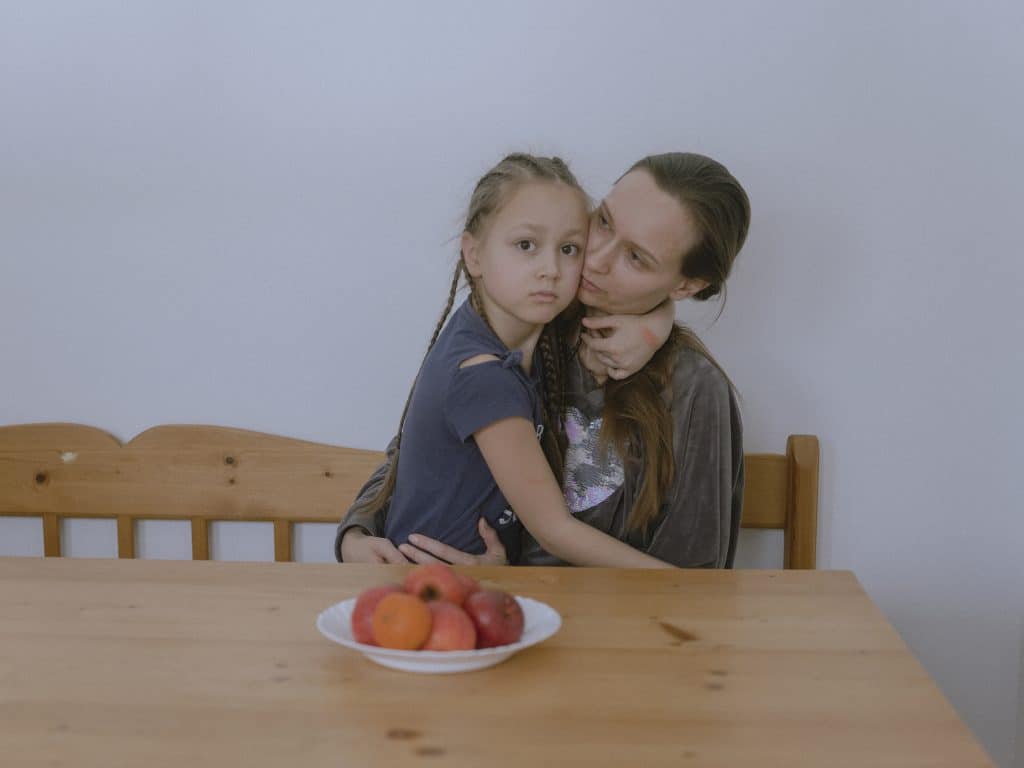 The reports of sexual violence committed by Russian soldiers began almost as soon as Russia invaded Ukraine. As the New York Times has reported, Ukrainian Lawyer Kateryna Busol stated that "These accounts are growing, and we are hearing that they are much more widespread than the one account raised by the inspector general." Busol also said that most of the accounts involve female victims from Ukraine's East and South, which are occupied by the Russian forces.
On March 22nd, the family messaged the photographer Ismail Ferdous and said they were heading to Prague. They also mentioned that Natalia's husband is very tired, but is as safe as possible.
When Ukrainian refugees fleeing the war make it to the border with Slovakia or Poland, they sometimes end up waiting to escape and a safer situation. Viktoria, traveling with her grandmother, Oksana, and her dog Feda are one such case. They fled from Kyiv to the Slovakia border in one day via the train and bus. And now they wait on the side of the road for their chance to cross.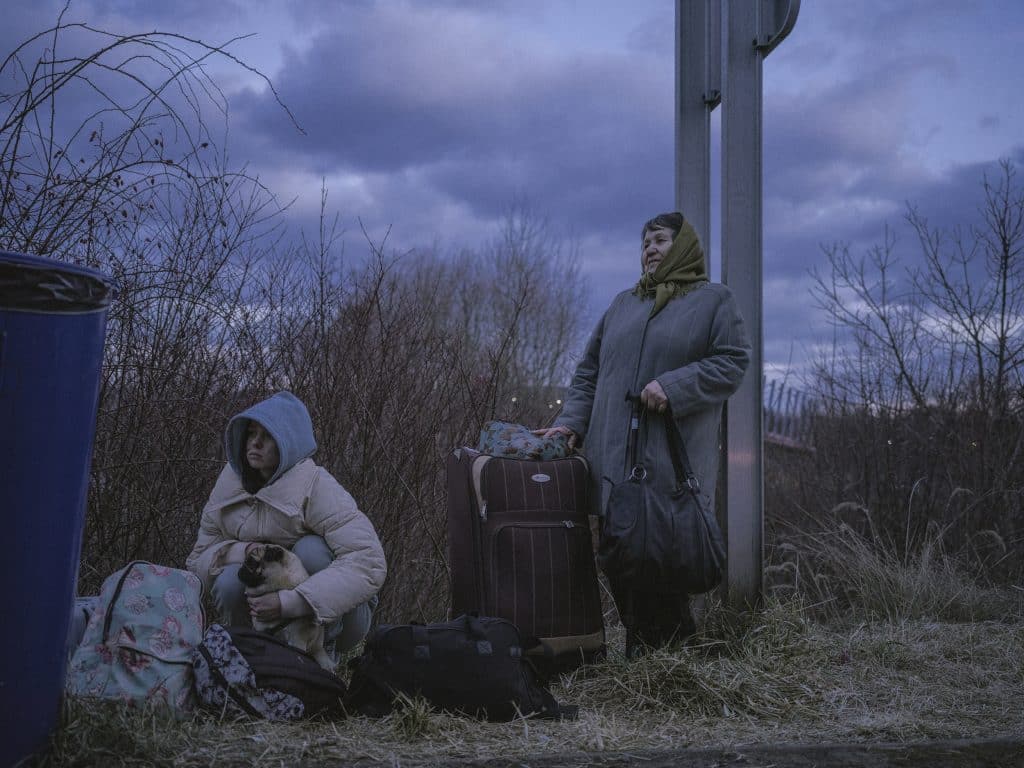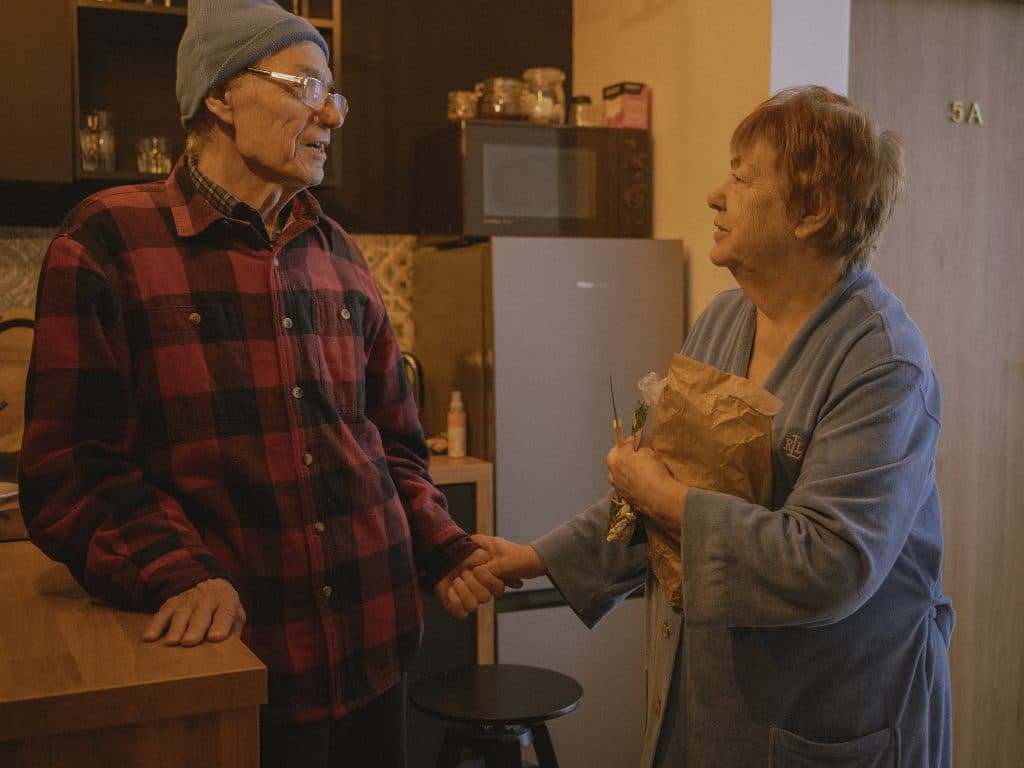 On the other side of the border, others make it after waiting and find shelter. Peter, 84 years old, is a retired physics professor from Kharkiv University. With his wife Olga, he fled to Lublin in Poland. They are now living in a guesthouse. "We have a son," Peter says. "He lives in the United States. We have long lived in our hometown but we lived in the so-called sleeping area of the city. Where only civilians live and this area every night bombat the highest way many houses are destroyed from our home. My wife and I are already very elderly people, we are 84 years old. It is very difficult for us to get used to foreign life and social features, including learning a foreign language, this complicates our current state."
Iveta Hurna, from Presov, in Slovakia, has opened the doors of her home to Ukrainians like many other compatriots. She is currently hosting one of her friend's grandchildren, a young woman from Odessa who is 14 years old, her brother and son. Here, they find peace, warmth and almost family moments despite what is happening in their home country.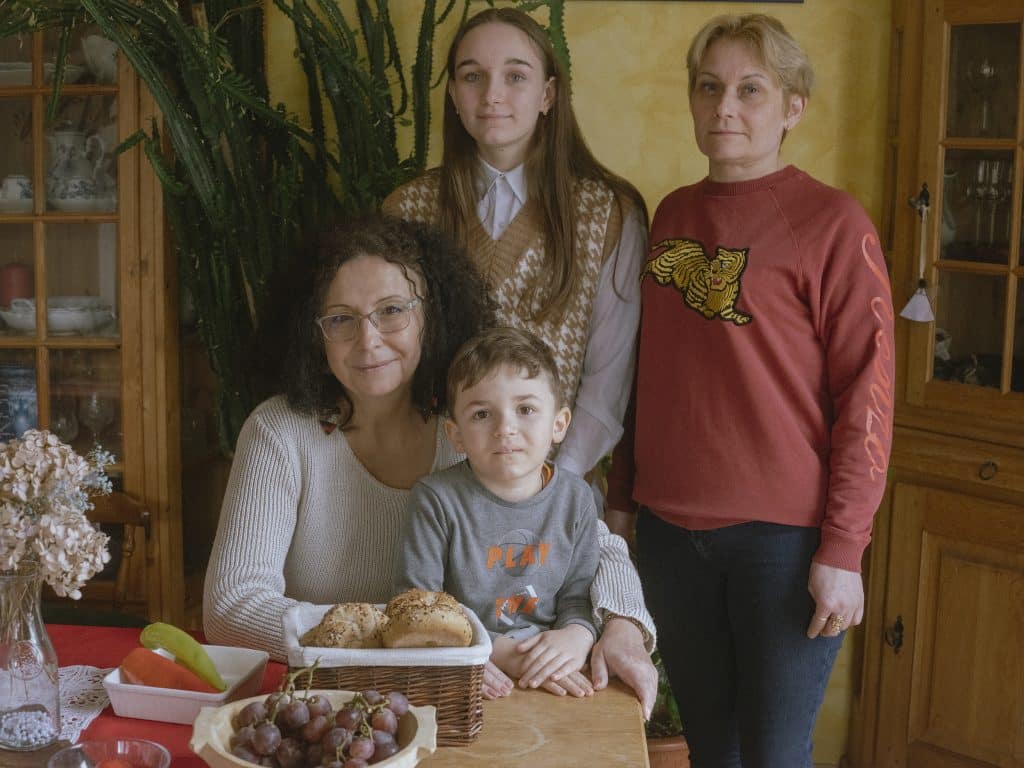 Back in Chop, the train station can be a cold and dark place, with little light and fresh air. As a train arrived from Dnipro, packed with refugees from the Eastern parts of Ukraine, people crowded into the station. They began queuing up in lines depending on where they were trying to head next. The crowds are mainly women, children and the elderly, all exhausted and confused from their journeys already. Most simply look worried and tired as they try to navigate the various lines, and the announcements from station employees about the evacuation trains.
The chairman of the Ukrainian Railways Oleksander Kamyshin said in mid-March that the system was moving roughly 90,000 refugees per day, turning the railway system into a lifeline for those trying to escape the Russian invasion. This is despite Russia bombing parts of the rail lines. Kayshin told Politico on March 2nd that, "We keep repairing our infrastructure, but they keep destroying it… We keep repairing it and we do it under fire, but we keep running the trains."
At the station in Chop stood a woman in a green jacket named Victoria, with her son. They had come from Kryvyi Rih, a city in central Ukraine, roughly 3/4 of the way between Kyiv and the Crimea. The pair had fled the city looking to get out of the country, with Victoria worrying about her son's well-being in the face of the war. Her husband had stayed behind and joined the territorial defense unit.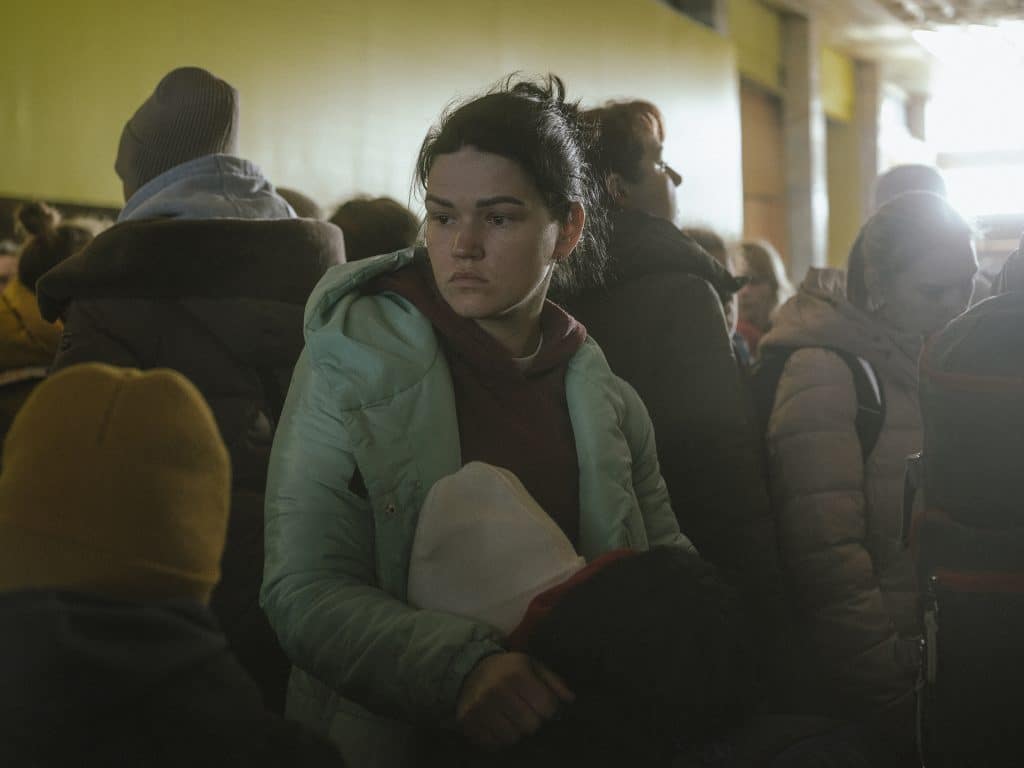 It is not just within the walls of the train station or the refugee shelters where those fleeing the war are found. Crowds of migrants can be seen in all public places in Chop. Most look confused and scared. And only some have a deliberate plan for where they are going, while most are heading in unknown directions.
Tatyana and her daughters looked like newcomers when they were met in a park in the city. Like Victoria, Tetyana Kruglenko and her girls Yeva, age 12, and Zlata, age 5, had come from Kryvyi Rih. They had fled the city by car, staying in the city of Uman in a kindergarten the first night. From there they drove on to Vinnytsia, where they spent a night in a church, before moving onto Kovel where they stayed with some friends for two nights. Finally, they moved on to Chop.
When the war broke out, Tetyana's husband called a friend from his university days, named Serhiy, and asked him to take in his family. Later, Serhiy was approached by a cousin and her father who also asked for shelter. And so now all three families find themselves living together in one household. The women take care of the house, while Serhiy works for the railroad.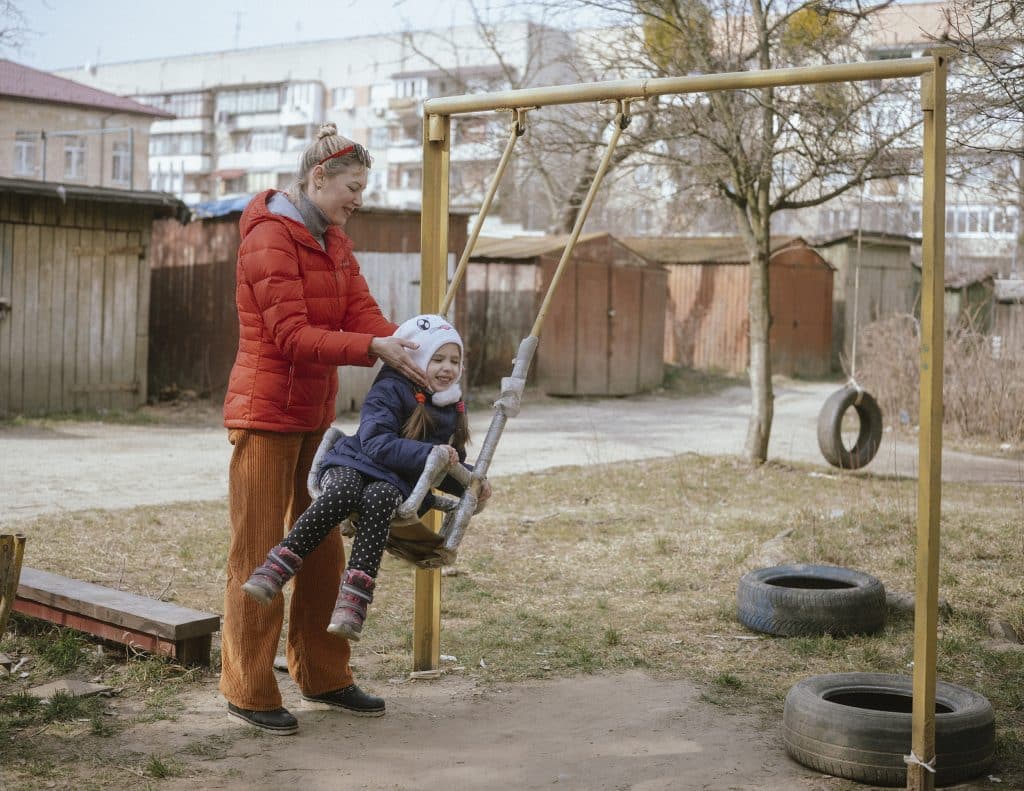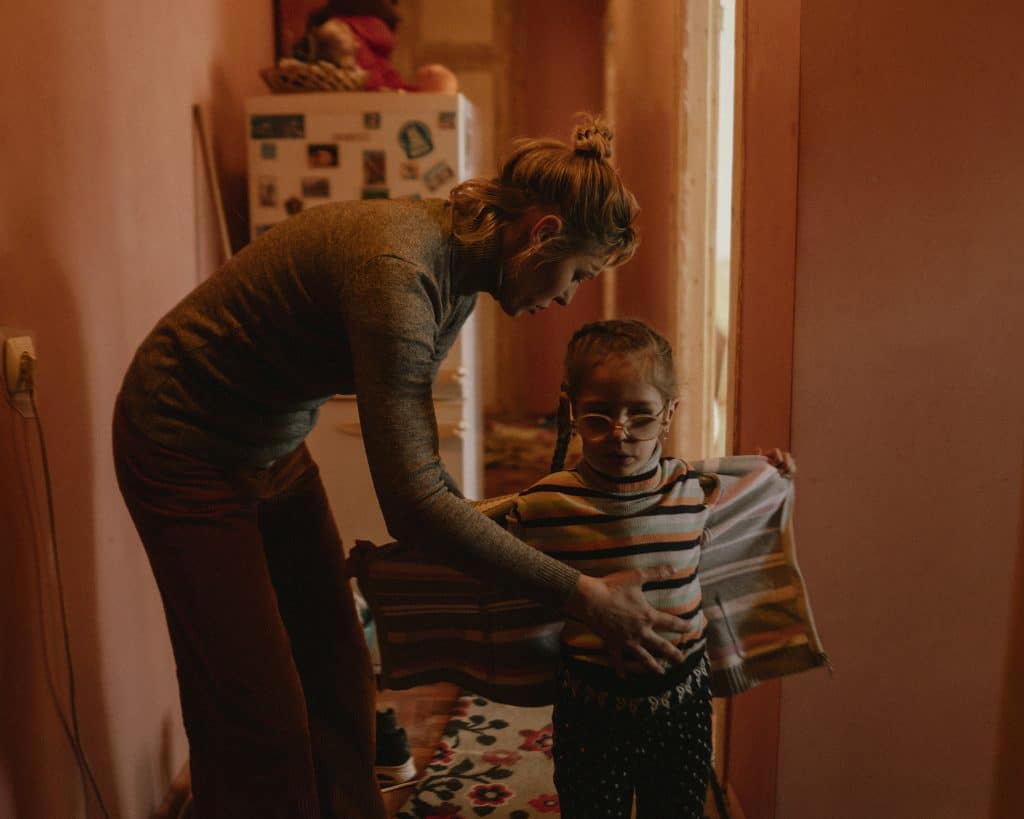 Even though there had been no combat actions in the Transcarpathia region, where Chop is located, and the region was considered safe, you could still feel the tension in the air. But the bombing on March 13th of the Yavoriv training center, just 20 miles from the Polish border, the situation in the region has now drastically changed. Locals have begun sending their families abroad, and those who had come hoping for shelter are being forced to move onto other areas as the fragile security situation in the area is again under threat.
But there are still those who take in relatives and friends. Those who volunteer and help those who show up in the city. Few Ukrainians stay out of the situation. Rather they do all they can within their power for the common good.