In June 1963, I was working in Washington DC shooting PR pictures for the Peace Corps. That may sound mundane, but I had been doing it since the inception of the new agency, and had literally traveled the world photographing the volunteers at work in their newly adopted countries. In his inaugural speech, President Kennedy asked us what we could do for the country.
And I, like thousands of others, responded. I was what one might call an "advanced amateur." I knew what an f stop was, and the other basics, but not a hell of a lot more. By answering JFK's call, my chosen career was importantly enabled.
I had been to a Peter, Paul and Mary concert in the area and later heard that they were to be the headliners at the Newport Folk Festival, along with Pete Seeger, Theo Bikel, and Joan Baez. That sounded as if it might be fun but the main reason for my going was that I had a huge crush on Mary Travers and I wanted to see her again.
I took a bus from Washington DC up to Newport, Rhode Island. No ticket, no press pass.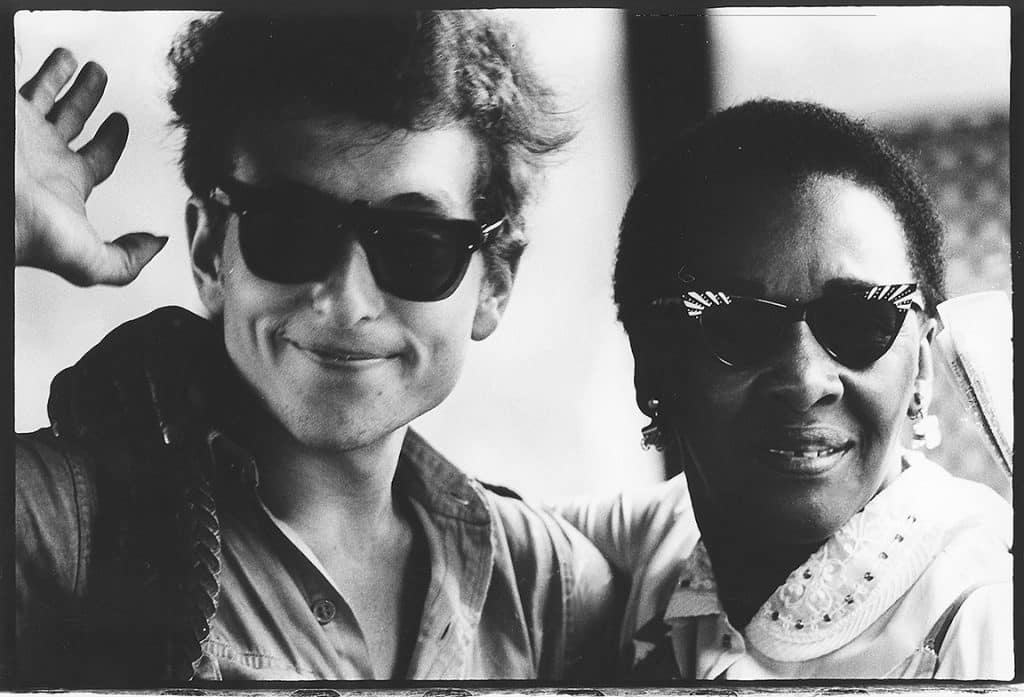 In those days the concerts were held in the Casino (now called the Tennis Hall of Fame). On the Friday before any of the headliner performances, around the Horseshoe Court a lot of people were milling around what was billed as the "Songwriters' Workshop". One of the songwriters was a 19-year old Bob Dylan and all of a sudden I was standing right in front of him. He wore a dingy shirt and around his shoulder he had wrapped a bullwhip, which I thought to be some kind of fashion statement. A fashion statement from where, I wondered. Tobacco Road? Who does that? Does he expect trouble?
I said, "I'd like to do a story about you," and he said, "Yeah, that'd be cool." I didn't know what the hell I was talking about, I didn't have any clients. I didn't do essays, although I thought I might someday. I had a portfolio but hadn't shown it to anyone yet. I shot Dylan's picture anyway — just the one-shot — the first I ever made of him.
A little later the workshop began and Bob tuned up his guitar and started playing the songs he wrote. There might have been a hundred or so people in the crowd, sitting on the grass in front of the stage. Just one or two songs into the set, folk superstar Joan Baez pulled up a chair next to Bob and started harmonizing with him. I hadn't known they were pals, but she sure knew all his songs. The crowd immediately swelled impressively. The harmonies Joan effortlessly and beautifully inserted into Dylan's songs gave them a gravitas few had heard before.
I went closer and pretty soon I was on the stage, positioning myself behind them. I couldn't help myself. I knew I was where I ought to be, that I was experiencing some music that was really important. Sometimes you know. Stage left, I was really close to them. The only reason I wasn't summarily kicked off the stage was, I now assume, was that I had several cameras and appeared to know what I was doing.
The audience response was terrific—just as mine was. This was important music. Was this crowd, now several hundred, the biggest audience he'd ever had? After the set, Bob was happy to see blues singer Victoria Spivey backstage and gave her a smooch. I found out much later that Bob had played harmonica and did backup vocals for her on her own label the year before.
Everywhere was a buzz about Dylan's duets with Joan Baez: everyone was asking everyone else if they'd heard it.
On Saturday night, Bob had his own spot on the big stage and his performance the afternoon before had stoked crowd interest in this young guy. I will always be amazed how cooly and confidently Dylan handled this, his big break. The crowd numbered in the thousands and Dylan did his stuff brilliantly—not only the mournful protest screeds about the lonely death of Hattie Carol, and all that; but he also did upbeat comedic stuff like "Talking World War Three Blues," and knew then he had the audience in his hand. The crowd went nuts and gave him a standing ovation. The Dylan buzz lasted beyond that signature performance…
…because on Sunday, after the headliner performance of Peter Paul and Mary singing "Blowin' in the Wind," he was called back on stage for an encore coda to the remarkable musical experience that preceded him. Pete Seeger, Theo Bikel, Joan Baez, the Freedom Singers, and Peter Paul and Mary were all now doing the backup vocals! Dylan had gone from a near unknown to the folk icon he's been ever since in one weekend, and I had pictures of most of it.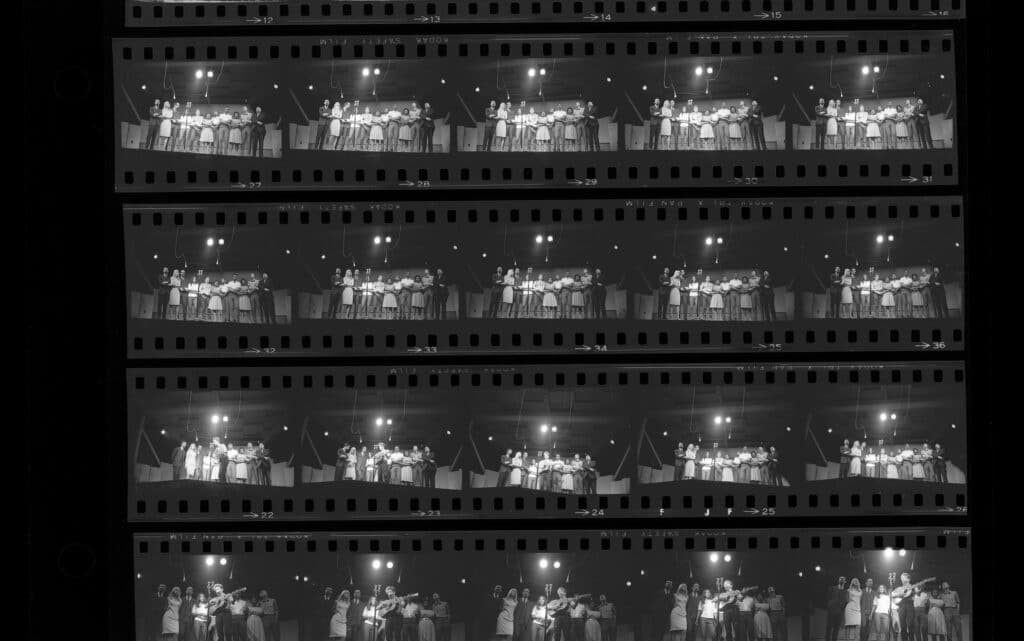 A couple of years later, Dylan went electric, and I snuck backstage in Washington, D.C. and shot him backlit, with that blue light, with the white halo, and it became the cover of his Greatest Hits album. It won a Grammy Award! I didn't think much of it at the time, but now it turns out that that shot has become one of the icons of the 1960s. I'm quite proud of it, now; but in those days, I didn't think it was that big of a deal. So much life was going on!
Prints by Rowland Sherman are available for purchase on his website.