Only last year, violent unrest broke out across Kazakhstan following popular anger over rising gas prices. According to the official figures, this brief and bloody uprising resulted in 227 deaths.
Kazakhstan, closely tied to Russia, has also returned to the world map since the beginning of the conflict in Ukraine, becoming the destination for some 200,000 Russian refugees and seeking a diplomatic balance with Moscow.
But what do we really know about Kazakhstan apart from Borat, the off-beat, crass character played by Sacha Baron Cohen, and the West's fantasized image of ex-Soviet territories? What do we know about this state five times the size of France, the largest country in Central Asia, with a history going back thousands of years?
"Borat was the reason for this reportage"
Having survived Alexander the Great, Genghis Khan, up to the Russian conquest in the nineteenth century and Soviet annexation, this territory is now a young nation-state. "Kazakhs had never had a state," Vladimir Putin noted provocatively in August 2014, a few months after the annexation of Crimea, sending a clear message: Russia continues to cast a long shadow over Kazakhstan.
Against this background, the seasoned photographer Frédéric Noy set out to capture the very soul of Kazakhstan in text and image. The winner of the Visa d'or at the international photojournalism festival "Visa pour l'image" in 2019, for his long-term, dimension-altering project on Lake Victoria in East Africa, he chose the Kazakh expanses for his next reportage.
The photojournalist spent over three years in Kazakhstan, getting to intimately know its people, its history, its geography, and building a uniquely comprehensive portrait of this little-known land.
"Borat was the reason for this reportage," he said ironically over a cup at a Parisian café. "After 20 years in Africa, I needed to see something else, I wanted to remain a storyteller, to redefine myself. [Kazakhstan] intrigued me. All I knew about it was their Astana cycling team and the road bicycle racer Alexander Vinokourov. Which is to say, next to nothing. I said to myself: "Let's do justice to this country.' "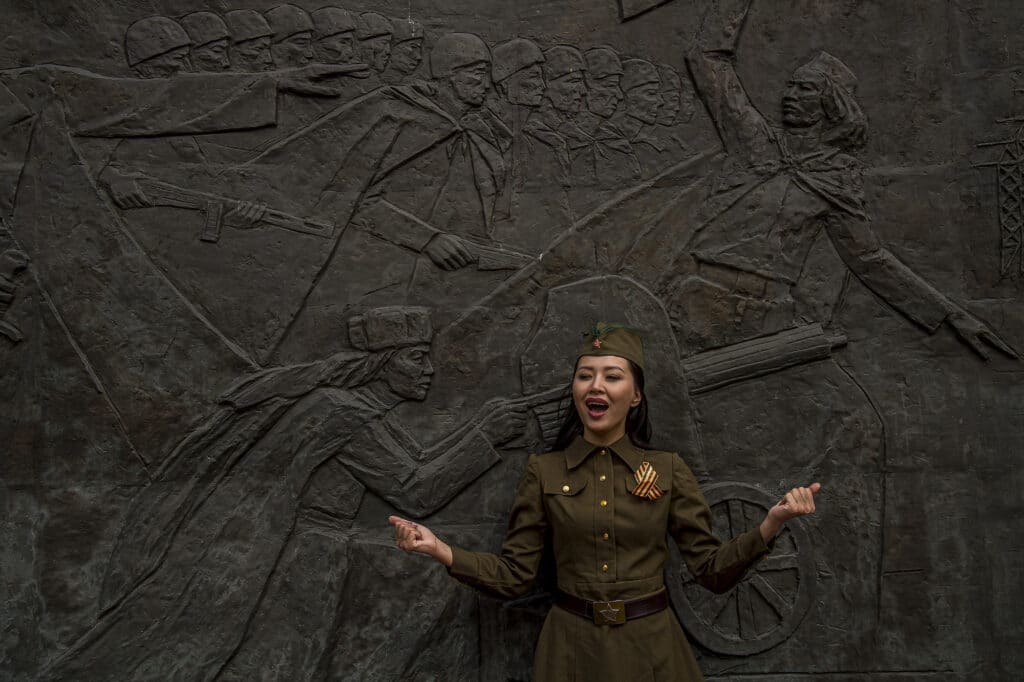 "My new hero is Kazakhstan "
A proponent of "slow journalism," like his colleague Pascal Maitre, with whom he feels "kinship," the fifty-seven-year-old photographer has engaged in a number of projects, each spread over several years. One was devoted to sexual minorities in East Africa and gave rise to the remarkable book Ekifire, published by Les Belles Lettres (2020).
In order to immerse himself in this new territory of discovery, he settled in Kazakhstan with his wife in October 2019. "To start with, I collected documentation, detaching myself from what I was, so as to go out into the field as a blank slate. My approach is that of a writer and an ethnologist. When I start working on a long story, I document a lot, but I have no expectations or preconceptions. It is about the oblivion of oneself," he explains.
But is there still room for long-term projects in reporting? Noy firmly believes there is. "You need to have the guts to do it. But time is the only way to delve into your subject in all its dimensions and from multiple angles. I always lived in the places I worked on. The hardest thing about time is to convince yourself that you haven't made a mistake."
During his three years in Kazakhstan, Noy travelled the country, sometimes butting against the incomprehension of the locals about his approach as a documentary photographer, his attempt to "tell the story" of this region, which once lay at the crossroads of the Silk Road and which is sometimes reduced in the Western eyes to the sole figure of… Borat. "Lake Victoria was my hero; my new hero is Kazakhstan."
"Geography ordains history"
To grasp Kazakh identity is to immerse oneself in its geography: a country of steppes covering over one million square miles with a population of only 19 million. "Geography ordains history," notes the photographer.
A member of the Soviet Union until 1991, Kazakhstan was for a long time Moscow's open-air laboratory, notably a nuclear testing ground. At independence, the Kazakhs were a minority in their own country. For 25 years, a repatriation program brought about the return of more than one million people, or 5% of the population. As Noy explains, "most exiles were descendants of 1920s' and 30' refugees from the USSR who were escaping repression, forced collectivization, and famine."
What mark has the hammer-and-sickle left on the largest landlocked country? In one photo, a resident of the southern city of Mirny poses in front of a newly renovated Soviet mural. "Proletarians of all countries, unite!," reads the slogan flanked by portraits of Karl Marx and Lenin.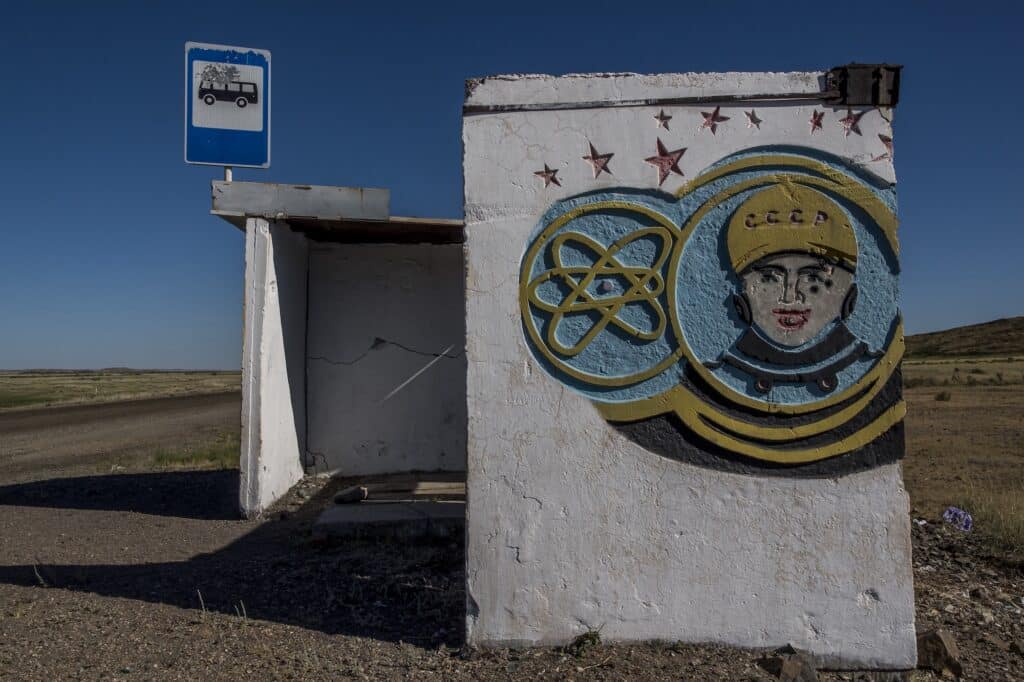 Other photos show statues of the Bolshevik leader dotting cities and villages, some kept in shape, others removed, often abandoned. A bus shelter, standing forlorn in the steppe and crumbling with time, is decorated with the portrait of Yuri Gagarin framed by the symbol of the atom.
Should we see in these vestiges a nostalgia for Soviet supremacy and the Lada? Noy sees it differently: "The Kazakhs are lucid on this point: you don't erase history with one stroke of the pen; history is transmitted, whether it is to people's advantage or detriment. They suffered under the Soviet Union; millions perished in Kazakhstan in the famine of 1932-1933."
In Kazakhstan, history is allowed to breathe freely, it is not debunked. The past has not been wiped clean. "There is a kind of stacking of historical layers. The country is so big, there is geographical space and there is space for history."
The kokpar—an allegory of the Kazakh soul
The images of the great expanses reveal the eternal face of Kazakhstan. In a cloud of dust, a horde of horse riders swarm within the frame, fighting over a goat carcass in an uproar of colors and textures.
Kokpar is an equestrian sport that dates back to the horse raids of Genghis Khan in the early thirteenth century. It was traditionally played in a field several miles long, corresponding to the distance between two nomad camps.
"This sport is an expression of the Kazakh soul. The personality of a Kazakh male is precisely that of a kokpar player: before starting the game, he is extremely calm, graceful, patient, somewhat taciturn, and then he becomes the horde."
Noy went to an authentic kokpar game, which is usually played between villages, as in the days of the Mongol Empire. "There is an extremely structured version of kokpar, which did not interest me; I was looking for something that could be compared to local rugby, a practice that does not speak so much about sport as about society."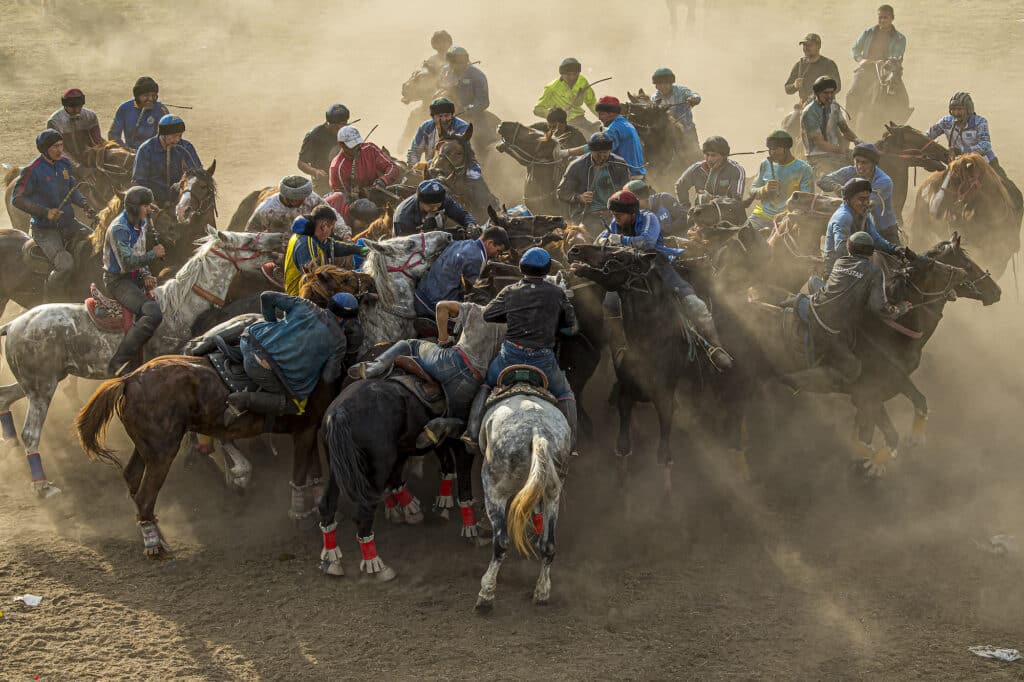 Following seven decades of Soviet rule, this sport had become the symbol of Kazakh identity. In addition to a process of forced sedentarization, the Soviets sought to eradicate kokpar.
Frederic Noy explains that, since 2016 and the launch of the program of "Modernization of the identity of Kazakhstan," young rural people have been starting their career as a kokparshy, or a kokpar player. Non-playing enthusiasts buy a horse, maintain it, and find a rider to play each game in order to make the owner's name famous and show their respect for tradition.
"When you see them galloping over some 650 yards, when you think of the populations that saw the Huns sweep through, it's pretty impressive, it's like a wall coming at you," describes the photographer, electrified by a spectacle that evokes the great pages of human history.
The power of youth
Between the traditional clothes of the schoolchildren and the furnaces of the steel industries, arise new prospects and increasingly vertical architecture of the new Kazakhstan. This is exemplified by Astana, the country's capital located in the heart of the steppe, with its million inhabitants.
Founded in 1830 under the name of Akmola, it became the official capital in 1997, replacing Almaty, the state's largest city with a population of 1.7 million. On May 6, 1998, the capital was renamed Astana.
On March 20, 2019, Astana became Nur-Sultan in honor of the first president Nursultan Nazarbayev, in office for over 28 years. This was the first decision made by his successor, Kassym-Jomart Tokayev, who was re-elected in a landslide last November. But in September 2022, the city finally regained its name of Astana.
After several decades of massive-scale construction, the new capital has become the country's ultramodern showcase, projecting the glow of reclaimed national identity.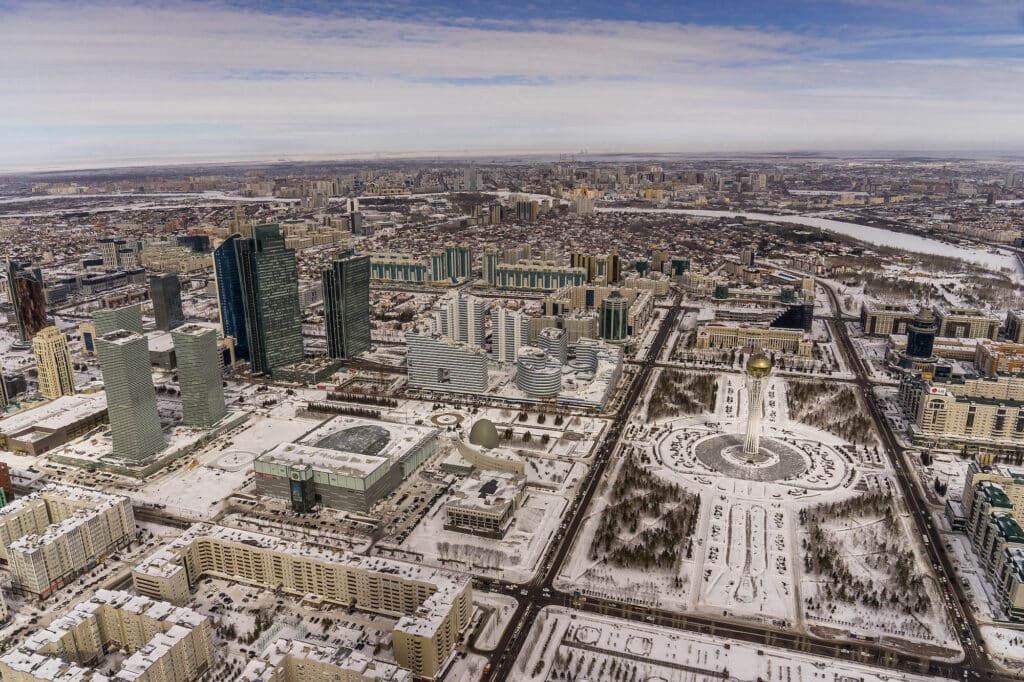 At the foot of minarets—72% of the country's population is Muslim—and glass office towers, a breath of fresh air makes itself felt: the breath of Kazakh youth. Noy followed this new generation, driven by environmental and feminist activism: "They are very active on social networks. They are openly critical, and it is the young who makes society move forward."
Take for instance these young volunteers mobilized under the banner of SOS Taldykol, a grassroots initiative that fights to preserve the Taldykol Maliy lake, threatened by the galloping urbanization of Nur-Sultan and tons of illegally dumped construction waste and household garbage.
Noy met many of these young people, especially in Almaty, "the most rebellious city," where minority and social causes are defended in the streets. On March 8, 2022, more than 1,000 people gathered in the city to mark International Women's Day and demand equal rights.
Kazakh youth also seek to emancipate themselves from their Soviet past, replacing, for example, the letter "K" of Kazakhstan with a "Q," like the members of the group Ninety-One, leaders of Q-Pop (for Qazaq pop). "Hope always comes from the fringes and from the youth. With this population boom, you can feel Kazakhstan stirring up."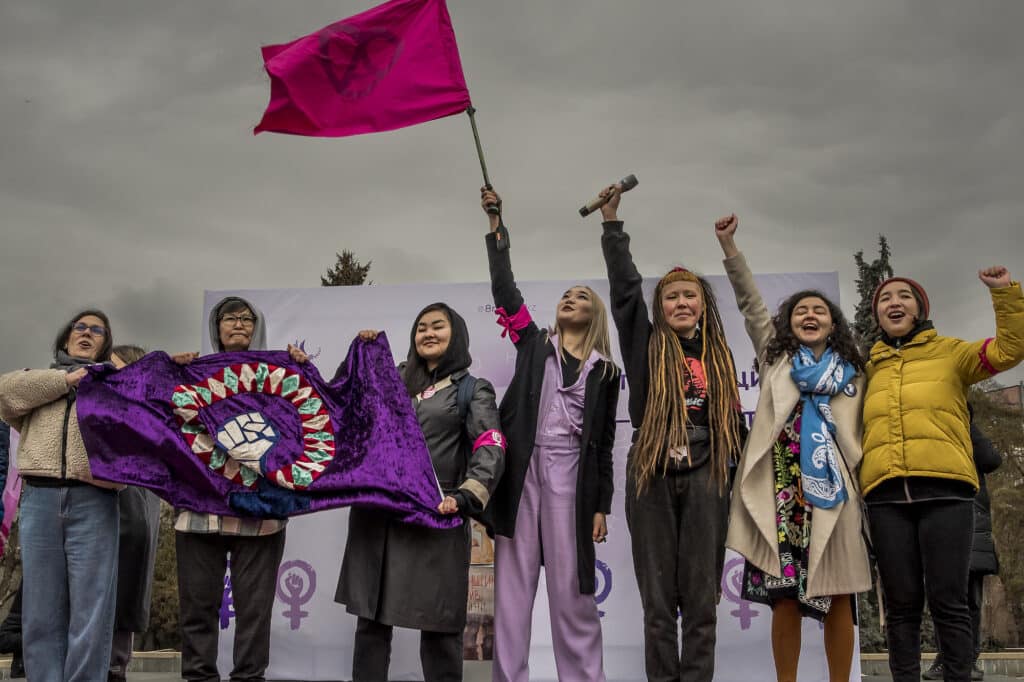 "Documentary photography is a black hole in Kazakhstan"
Fascinated by this forward-moving country and its culture, Noy—who has just embarked on a new project in India—emphasizes that this is only the "first chapter."
"Kazakhstan is constantly at odds with itself. It is a nomadic society that wants to settle down by building a new capital while being anchored in its nomadism. Everything is a contradiction, but the country is pushing ahead at an impressive pace."
The publication of his photos in the Guardian last July had some impact, especially in Kazakhstan. "It's the validation of something, of an approach," says the photographer, who enjoys giving interviews on Kazakh television stations to explain his work.
"Documentary photography is a black hole in Kazakhstan. I feel it's my civic and pedagogical duty to make sure that it develops. I think that people are still interested in it, that it's worth pursuing this small offshoot of the tree of photography."
Access Frédéric Noy's full report at: www.fredericnoy.com