Embodying the ethos of California cool, photographer Sean Maung is unassuming and laid back, his attention fully attuned to feeling, beauty, and mood. He gravitates toward people who follow their own path rather than assimilate into the mainstream. Whether photographing gay vaqueros, male exotic dancers, skaters, cholos, street vendors, hustlers, gangsters, hippies, or sex workers, Maung celebrates the beauty, style, and pride of L.A.'s flourishing counterculture.
"People come into my life a lot, especially when I have a camera," says Maung, who takes care to strike a balance between spontaneous and salacious. As photography has become ubiquitous through digital technology and social media, American culture has become increasingly uncensored. "Part of me is like, 'that's real. I want to facilitate that," he says. "But then I also think we're just so consumed to showcase the most instantaneous, graphic thing. It's a part of life, and there's energy to that but so many of these communities are only portrayed that way."
Comin' From the West Side
Growing up in the La Cienega Heights neighborhood of L.A.'s West Side, Sean Maung's formative years were shaped by world events. As a child, he remembers watching his neighborhood under siege during the 1992 L.A. Riots. "I was nine or ten years old and even at that age, I knew a powerful thing was occurring when they read the verdict in the trial," he says of the all-white jury that found four police officers not guilty of assaulting Rodney King, despite the attack being recorded on video.
Later that night, a corner store on Maung's block went up in flames. "I remember looking out the window seeing people carrying new stuff," he says. "People were looting. That made it very evident to me that there was a lot of inequality, racism, and police brutality in the U.S. and L.A."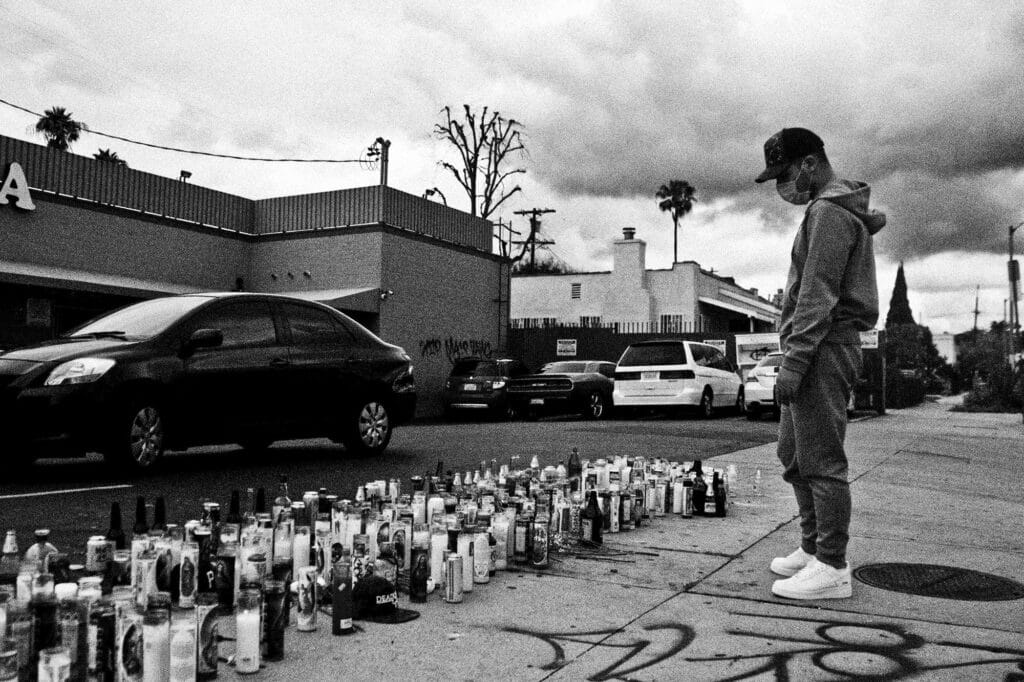 Living in a predominantly Black and Mexican neighborhood, Maung developed a deep sensitivity and respect for the working-class communities that form the backbone of L.A. Adults and kids regularly spent time in the streets, building bonds that provided Maung with a sense of comfort and connection. "Even though I am mixed, I present as white, but we were still accepted as part of the community," he says.
"I grew up in a very multicultural environment where we all shared a passion for something, whether it was music, skateboarding, or basketball. If you have that passion and are really dope at it, that's what comes first. There's a big part of L.A. culture that will rock with you because you're special in some way. I've always kept that confidence in myself. I'm going to walk where I walk, and hopefully, hold myself and the world in a higher regard."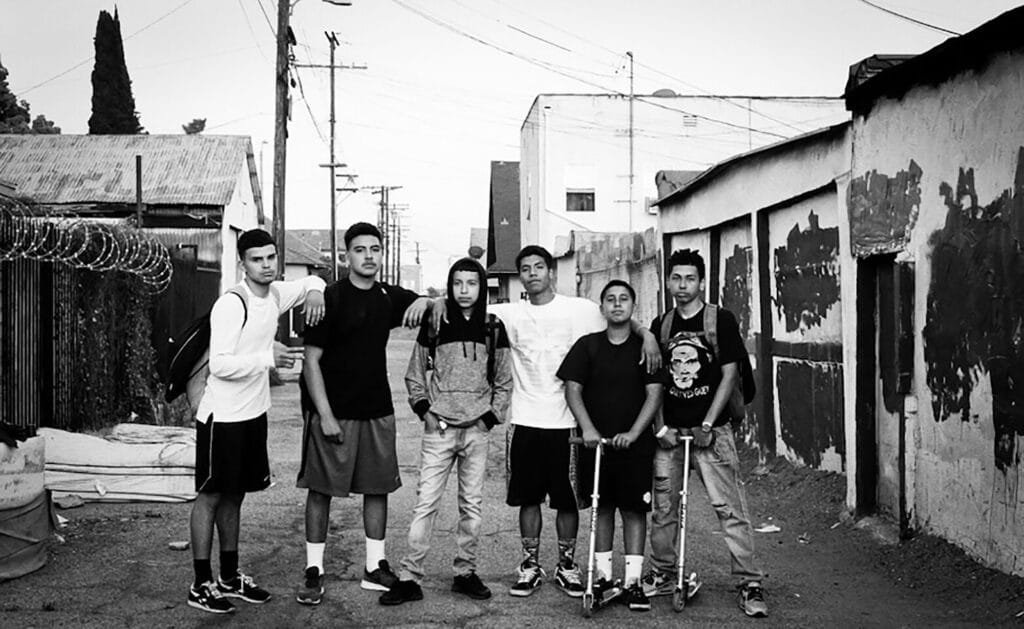 You Know How We Do It
Sean Maung first became interested in photography while paging through the May 1990 issue of National Geographic, which featured Joseph Rodriguez's work documenting life in Spanish Harlem. The cover image immediately caught Maung's eye: a young Black girl leaned casually against a graffiti-covered wall, snuggling a puppy inside her blue ski jacket while enjoying a Bomb Pop. In Rodriguez's photographs, he recognized the world he knew, one that rarely received fair or positive coverage in the mainstream media.
As he got older, Maung gravitated towards photography, recognizing its power to create connections and uplift the community. He took to the streets of his hometown with a camera and began to explore, going "All City" in graffiti parlance.
"L.A. has always been fascinating to me, especially in my teens and early 20s," Maung says. "I've always been inspired to just go places or to events in any neighborhood. In high school I used to go to Hip Hop shows and spoken word open mics. I wanted to be a part of different scenes, just being passionate about people, communities, and hoods. The camera helped me facilitate this in my own way."
Taking to heart the credo of Magnum Photos co-founder Robert Capa, "If your pictures aren't good enough, you aren't close enough," Maung understood that intimacy requires more than physical proximity. To get past the affectations and defenses many people exhibit when they feel self-conscious or vulnerable, Maung approaches people with respect, showing love and earning their trust first.
Slow Down for the Drip
"Los Angeles has so many worlds, the majority of them are working-class, everyday people. There are so many people coming from different backgrounds that aren't depicted in mainstream culture," says Sean Maung, who has been photographing people from all walks of life long before "representation," "visibility," and "diversity" became buzzwords.
Rather than adopt a "strategy," Maung simply goes with the flow, and allows the city to unfold as he makes his way through different communities. "People may have never seen a dude like me in their neighborhood and then they see I'm a photographer," he says. "In L.A. people are aware of the media, and they understand what I'm doing. They're more accepting of photographers, as long as you know how to correctly handle yourself."
In the streets, everything is built on respect. "In the most low key neighborhood, there's still people grinding hard," Maung says. "Maybe they want to become a new artist, musician, or actor. You could be in any part of L.A. and they still have the same ambitions as a kid in Hollywood. I'm naturally hyped to come across a person with a certain energy and I try to promote it in my photography."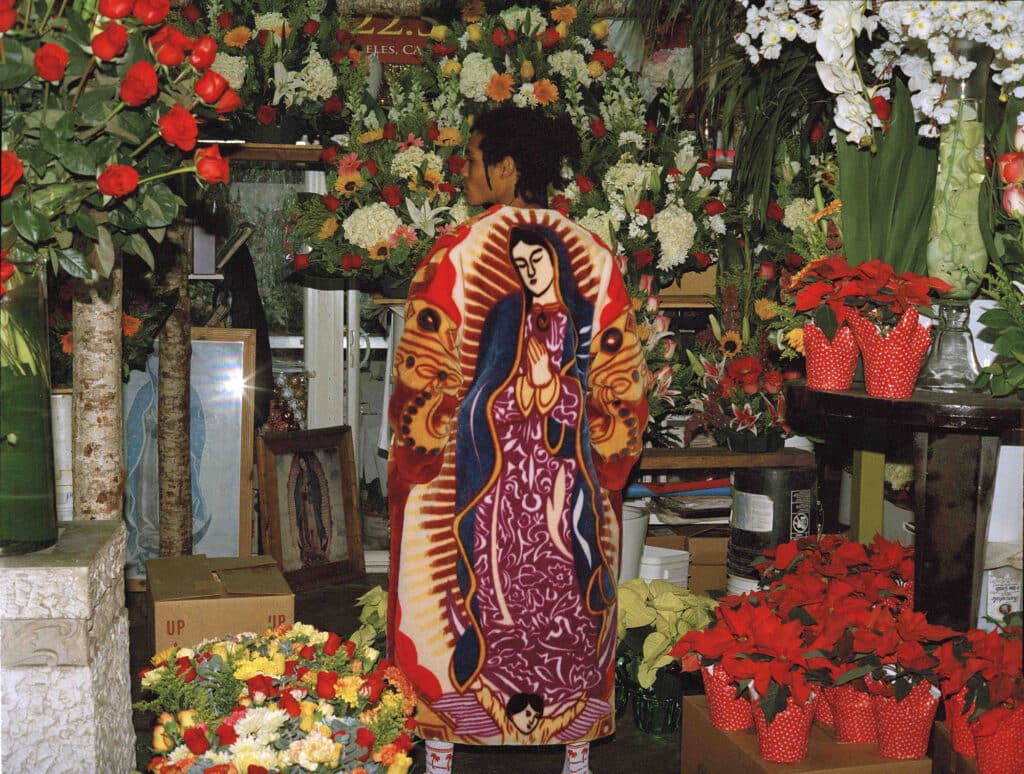 Maung's excitement is infectious. When he meets a person he wants to photograph, they feel seen and excited. "I think they understand, I see something special," he says. Rather than taking candid snaps, Maung adopts a collaborative approach, giving the people the power to compose themselves however they want.
"I'm the photographer but it's not about me. They're the person I'm attached to — it could be their spirit, their clothes, their energy. They can do whatever they want because they make the photo," he says. "It's a celebration. They have something going on. At the end of the day, a lot of people put effort into how they look. I want them to feel like, 'Yeah I look good — you should be taking my photo!'"
For more information on Sean Maug's work, go to his website.