One day in the spring of 1979, Keith Haring spotted artist Tseng Kwong Chi cutting a distinct silhouette as he stood on the corner of First Avenue and Fifth Street in Manhattan. Intrigued, Haring approached, got Tseng's phone number, and went about his day, only to call Tseng later that day with an invitation to a poetry reading at Club 57 — the fabled St. Mark's Place nightclub which was home to the burgeoning East Village art scene.
The two artists quickly became collaborators as Tseng accompanied Haring on his jaunts through New York's literal underground, traversing countless train platforms in search of prime real estate: empty wall spaces where advertising would otherwise appear. With chalk in hand, Haring crafted a powerful and profound love letter to New York City that launched his career into the stratosphere. Tseng documented it all, photographing these ephemeral works made for the people, not the industry.
Tseng's love of portraiture was rooted in his training as a painter, a passion he brought to photography when he moved to New York in 1978 and honed with the creation of the "Ambiguous Ambassador" persona for his series East Meets West (a.k.a. Expeditionary Self-Portrait Series), which began the following year. Donning a Zhongshan suit, sunglasses, and an ID badge, Tseng traveled to major landmarks, cosplaying the stereotypical Asian tourist, and making enigmatic and reflective self-portraits with a 1940s Rolleiflex.
Using photography to play with notions of image and identity, Tseng was the perfect portraitist to chronicle the 1980s downtown New York art world. His close friendships with Haring, Jean-Michel Basquiat, and Andy Warhol provided an insight and understanding of their vision and character, allowing him to create cinematic tableaux that elevated artists to the realm of rock stars — selections from which were on view at the Yancey Richardson booth during The Photography Show in New York.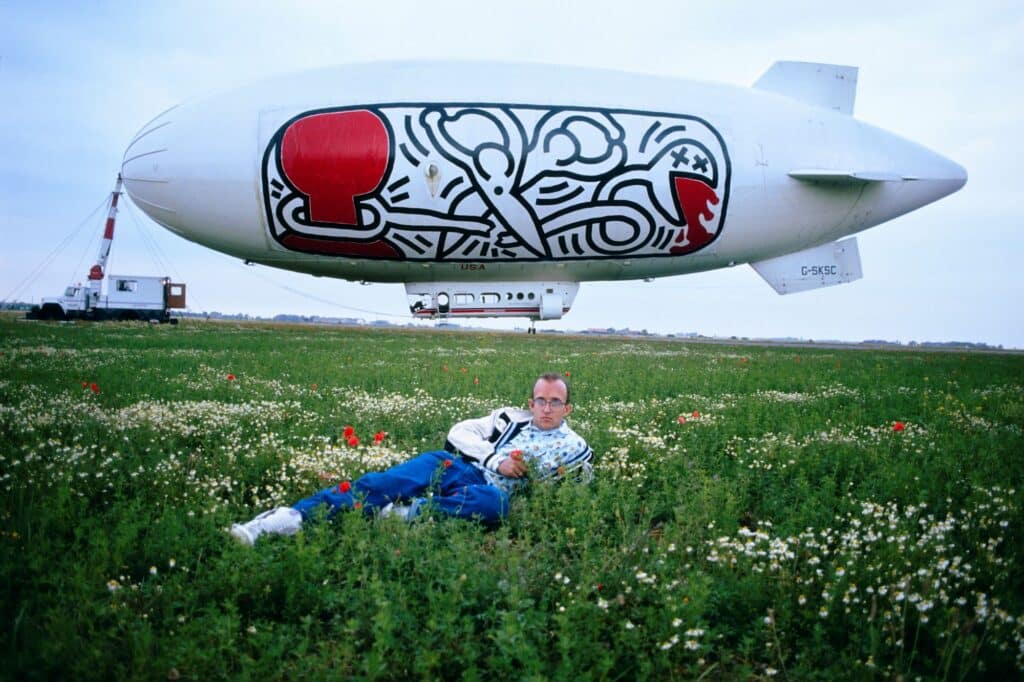 New Art, New Money
Hailing from Hong Kong, Tseng Kwong Chi was a child prodigy who studied in Paris before settling in New York in 1978 to pursue his passion for photography. He developed the "Ambiguous Ambassador" persona after wearing it to meet his family for dinner at the legendary Windows on the World restaurant, where the maître d' treated him as a foreign dignitary.
Impressed by the ways in which Chairman Mao's influence had shaped Western thought, Tseng brought the "Ambiguous Ambassador" to the 1980 Met Gala, posing alongside designers, socialites, and philanthropists with singular aplomb, bringing a splash of downtown shenanigans to the insular uptown scene. Fluidly moving through different communities, Tseng felt right at home in the 1980s art scene, just as the art world began to make headlines with record breaking sales.
Suddenly the figure of the starving artist was replaced with the rock star, a mythic figure whose name alone would demand 7 or 8 figure sales. The New York Times Magazine investigated the marketing of Jean-Michel Basquiat in a 1985 cover story, "New Art, New Money," only further adding to his mystique. It was a long-awaited moment — the seeds of which had been planted and sown for years by Andy Warhol, who wisely aligned himself with Basquiat.
A Constellation of Art Stars
With art prices skyrocketing in the 1980s, the media was transfixed by the New York art scene. Tseng Kwong Chi's portraits of Keith Haring, Jean-Michel Basquiat, and Andy Warhol perfectly encapsulated the spirit of the times, playfully using and challenging our obsession with myth by making the artists appear both accessible and larger than life.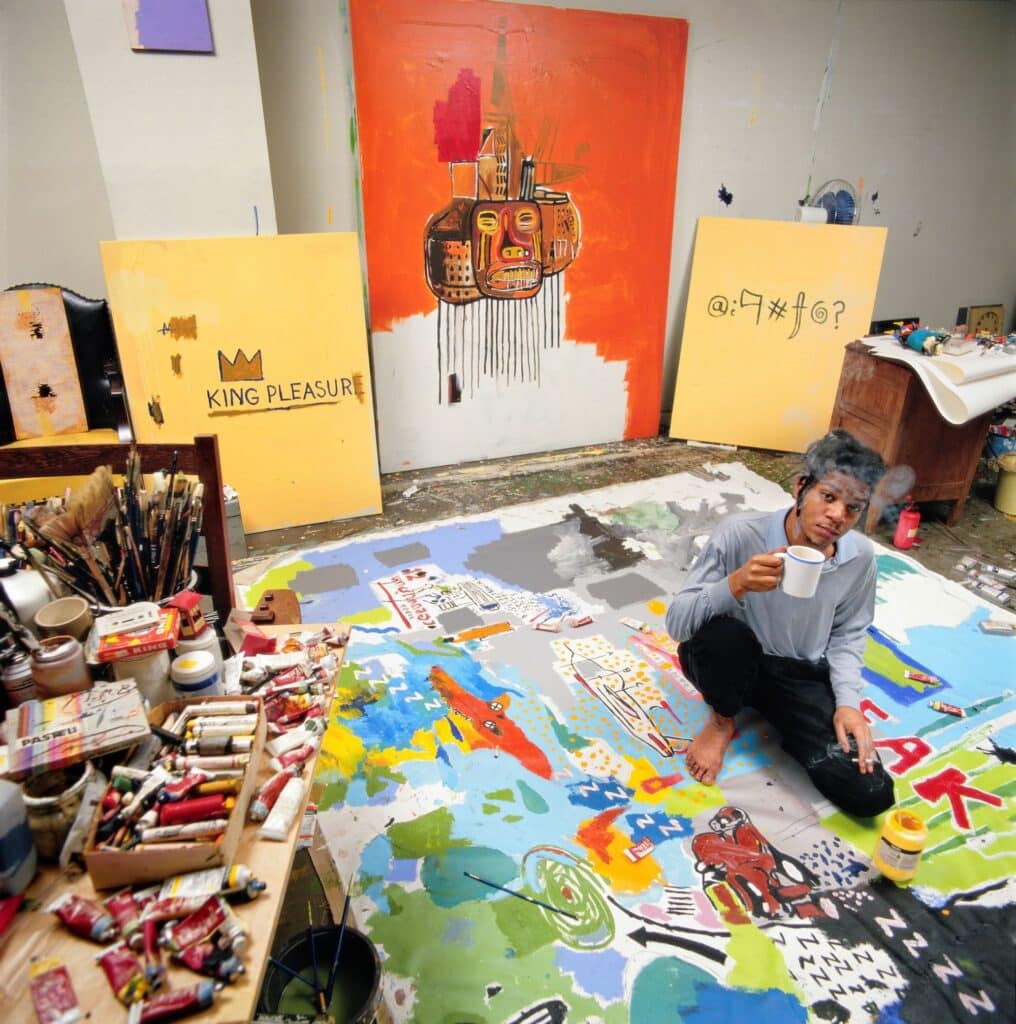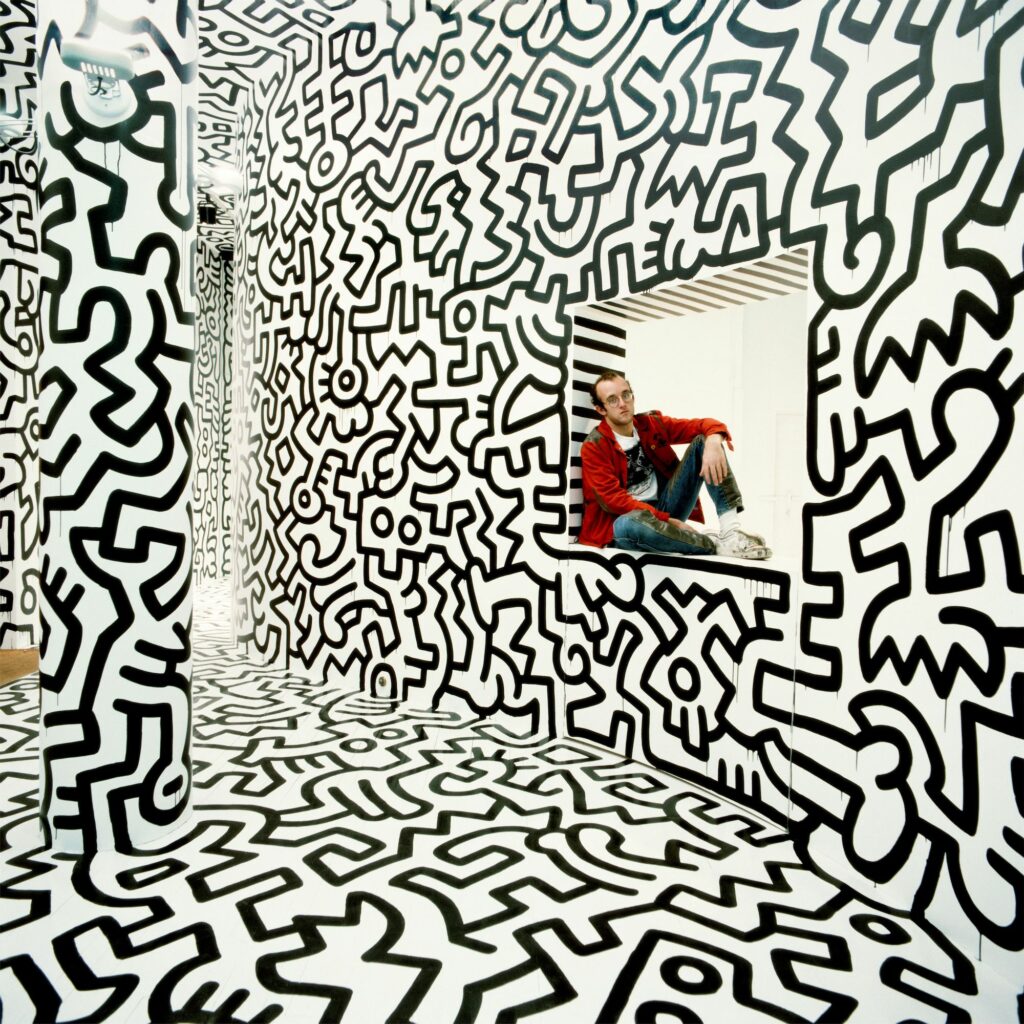 Formal yet familiar, Tseng simultaneously embraces and subverts notions of American exceptionalism. In his 1987 portrait of Basquiat, the artist is sitting atop a large canvas on the floor, enjoying a fresh cup of coffee and a cigarette, still dressed in loungewear and barefoot. He's in the studio amid the art supplies and unfinished canvas and looks utterly at peace, as though there's no other place he'd rather be.
Crafted as landscapes and interiors, each photograph offers a glimpse into the world of the artist as they breathe and live. In Tseng's 1986 photograph taken in Fred Hughes' studio, Warhol sits beneath his portrait of Elizabeth Taylor, wearing all black (with white Reeboks to match his fluffy wig), surrounded by the detritus of daily life.
But perhaps it's his 1986 portrait of Haring in the Pop Shop that is the culmination of Tseng's on-going collaboration with the artist. Haring sits snuggled inside his work, just one more figure inside the bigger landscape he imagines in his art. After their fateful encounter in 1979, Tseng and Haring worked together to amass an archive of some 20,000 photographs over the course of a decade — before they both passed from AIDS in 1990, just one month apart.
Tseng Kwong Chi's portraits can be found on the website of the Yancey Richardson Gallery, New York.