As the godfather of the Ghetto Fabulous look, Jamil GS has built an extraordinary archive of Hip Hop, street style, and high fashion since the early 1990s. Whether he's photographing Mary J. Blige, Outkast, A Tribe Called Quest, and Foxy Brown or street-casting multicultural models for fashion shoots in New York, Miami, and Los Angeles, Jamil's work has helped shape the look of Hip-Hop music and culture.
Over the past 50 years, hip hop has grown from a grassroots culture from the South Bronx to a billion-dollar global industry that continuously reinvents itself. Although it's gone pop, it continues to innovate, reinventing itself both sonically and visually. Since its earliest years, photography has created a space for artists and musicians to collaborate on images that have captivated the public imagination for decades.
With the new exhibition, open Hip Hop: Conscious, Unconscious, curator Sacha Jenkins creates a luxuriously layered visual history of hip hop's evolution and elevation on the world stage. The show brings together the work of 60 photographers including Jamel Shabazz, Janette Beckman, Joe Conzo, Martha Cooper, Charlie Ahearn, and Sophie Bramly, providing a fascinating look at photography's contributions to the culture.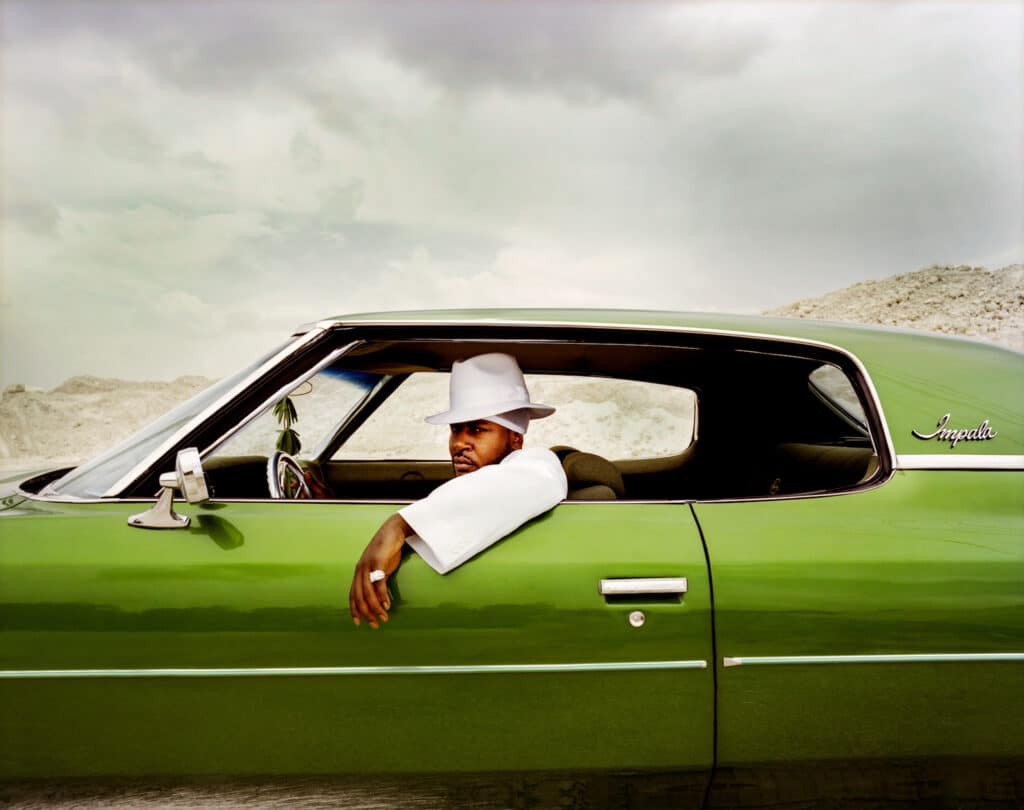 "Hip hop is forward movement, breaking boundaries, doing things in new ways, going on entrepreneurial adventures, and rebellion," says Jamil GS, who is exhibiting photographs of Trina, Juvenile, Drake, Raekwon and Ghostface. "You've got these rules and traditions, and that doesn't work for me. I'm going to try it my way. It's a mentality: staying true to yourself, your craft and your choices in life."
Verses From the Abstract
Born in Copenhagen in 1971 to Sahib Shihab, one of the founding members of bebop jazz, and Maiken Gulmann, Jamil GS fell in love with hip hop in the 80s at age 13 and devoted himself to the art of b-boying. Jamil went to local battles and shows, took up breaking and writing graffiti — until he got busted at age 16 and decided to turn his life around.
Redirecting his creative impulses, Jamil took up photography, bringing a distinctive blend of pop culture, fashion, and fine art references to his work. The seeds of inspiration were planted at a young age when he was watching cartoons, reading superhero comic books, and paging through 1970s fashion magazines. He also took cues from his immediate environment, one filled with a thriving local artist community.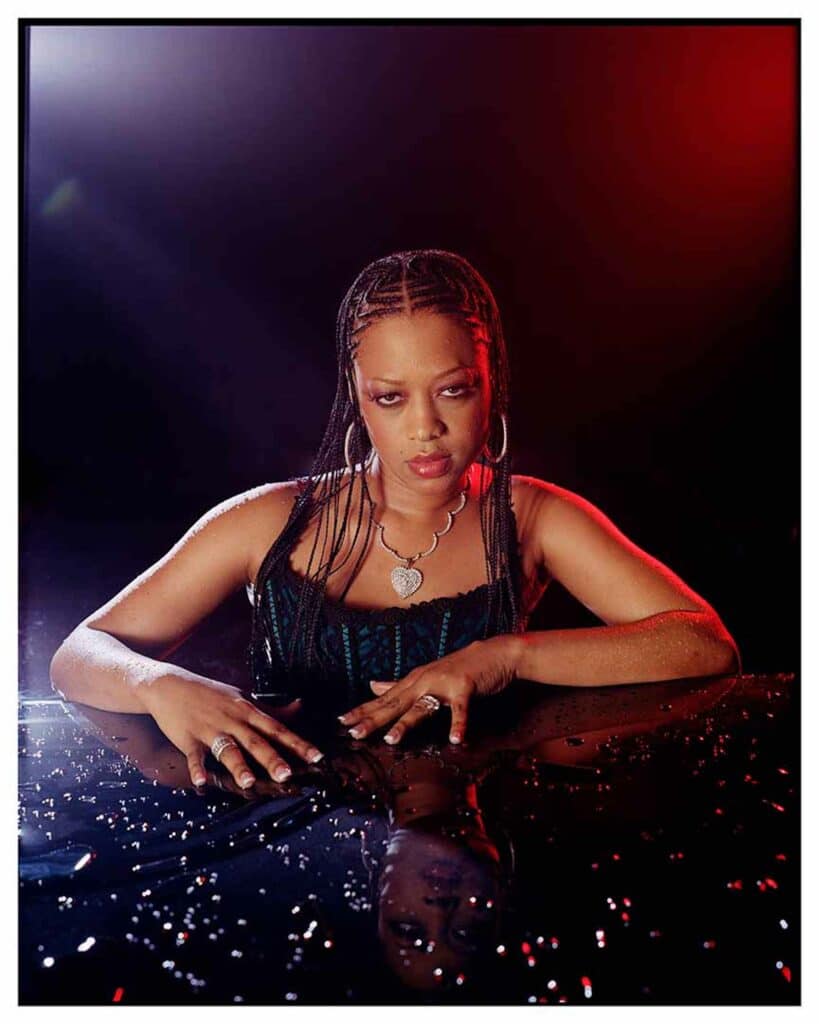 "When my parents played records, they put the covers on top of the deck, and I would be looking through their collections at the covers and it just became a part of me," says Jamil. "An album cover is a portal into that universe so it has to be momentous. The bebop era, those cats always looked sharp and dignified. When I started to create, I gravitated towards those classic images. Every shot has to stand alone like an album cover."
Electric Relaxation
In 1989, Jamil GS moved to New York — his father's hometown. Jazz musician Sahib Shihab was a Julliard alum who played with legends including Thelonious Monk, Charlie Parker, John Coltrane, and Miles Davis across the city. As it happened, he was also an amateur photographer. Where Shihab dabbled, Jamil flourished and channeled their shared love for music as the voice of the people.
Jamil's love for hip hop guided his path in new lands. "New York was the Mecca for me," says Jamil, who hit the ground with the latest albums, mixtapes, and radio shows playing on a Sony Walkman. "Every single footstep was non-stop music," he says. "I was out every single night at a club, party, or a show and there were all these talented artists with new projects out or just on the verge. Wednesday through Saturday, you could catch an act. Then on Sundays, here were jams in Tompkins Square Park. KRS-One used to do shows over there and would invite people to come through."
Following the links from bebop to hip hop, Jamil began working with indie label Payday Records, which hired him to shoot promotional photos for a then-unknown MC from Brooklyn who went by the name Jay Z. They went down to Battery Park City, hopped on someone else's yacht, and shot a series of aspirational images of luxury and wealth that would prove to be prophetic.
The Love Movement
In September 1994, i-D magazine published portraits of Russell Simmons and Chuck D by Jamil GS in an issue dedicated to international street fashion. After two decades underground, hip hop was beginning to be seen as more than a fad. Then-editor in chief Edward Enninful understood it was bigger than music: it was art, dance, poetry, performance, fashion, beauty, photography, philosophy, and lexicon — in sum, a culture (period).
"Hip hop was in the streets and the clubs, so the magazines had to catch up," says Jamil. "Hip hop was my everything so I wanted to make sure it was represented properly. I always went over budget and had to invest my own money and resources to reach the level I wanted. I'm not here just to take the picture. I'm here to create a moment that's going to last."
And that he did. Crafting the look that became known as "Ghetto Fabulous" for magazines like The Face, Trace, and Vibe, Jamil GS began creating fashion shoots with artists and models cast on the streets. Blending the hottest local trends from Brooklyn, the Bronx, Harlem, Queens, and Kingston, Jamaica with the latest prêt-à-porter collections from Paris, Milan, and London, Jamil gave high fashion an edge that was equal parts sultry, glamorous, and insouciant.
"Whenever I'm shooting people, I'm really making portraits of them — in New York, on the streets, or around friends and family, I'm seeing all this beauty," says Jamil. "I didn't really see that represented in fashion — not just the beauty but also the style, that fly shit that wasn't seen anywhere in the magazines. Fashion is highly Eurocentric and there is a lot of space for innovation. There's a gap to fill."
Hip Hop: Conscious, Unconscious is on view through May 21, 2023, at Fotografiska New York.