Pioneering LGBTQ artist James Bidgood, who died at 88 earlier this year due to complications from COVID-19, was a singular figure pushing the boundaries of photography and filmmaking at a time when homosexuality, crossdressing, and male frontal nudity were criminalized. But Bidgood would not allow bigotry, hatred, or persecution to stop him from pursuing his destiny.
In 1951, at the tender age of 18, Bidgood hopped on a Greyhound bus and arrived in New York, a city where he would make his name as an artist over the next 70 years. Bidgood remembers the sidewalks shimmering in the summer sun, the glittering concrete an apt metaphor for his fantasies of Broadway glamour and stardom—which he soon fulfilled by appearing as Terri Howe at Club 82, the fabled East Village drag nightclub frequented by Hollywood icons.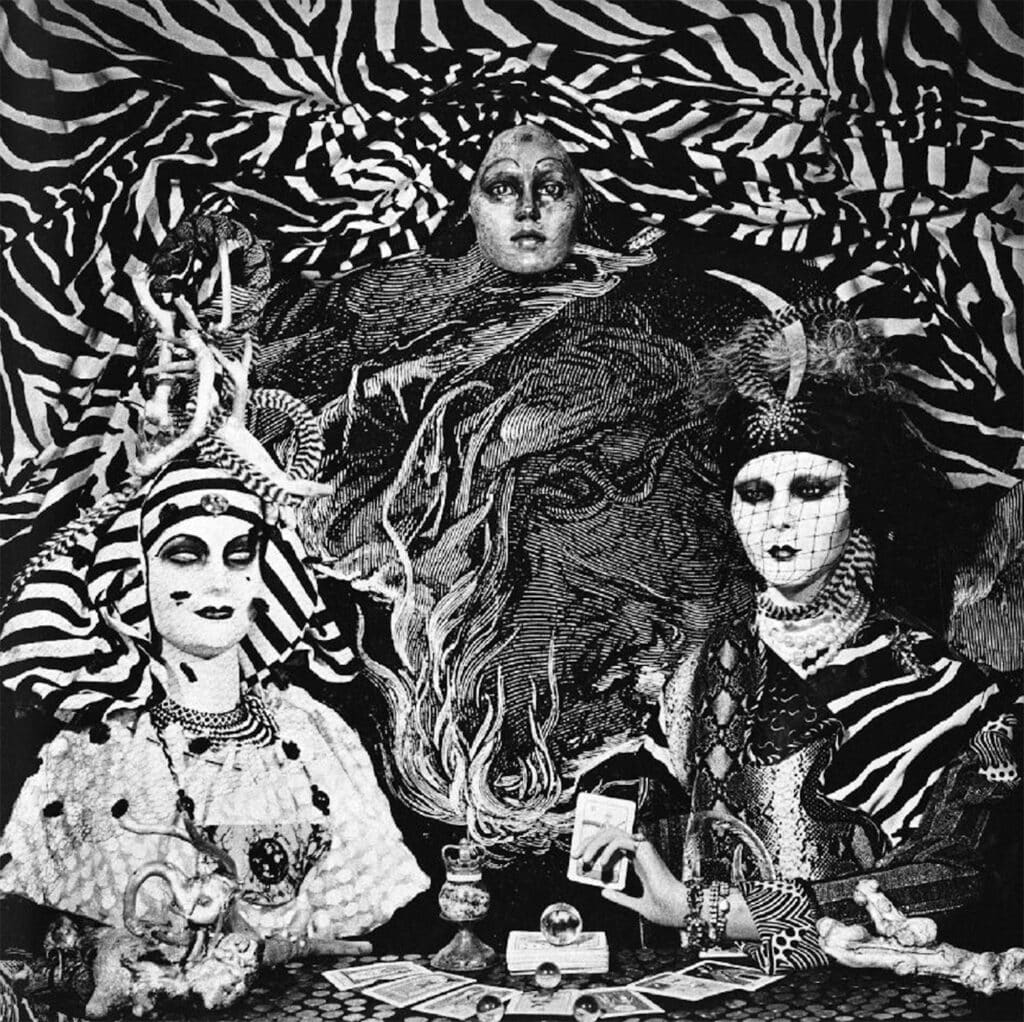 Working as a costume designer for high society balls, Bidgood created fabulous frocks for the upper crust, while secreting away bits of taffeta, chiffon, lace, feathers, sequins, and glitter for his own designs. In the privacy of his midtown Manhattan tenement apartment, Bidgood created a studio where he could produce his own mesmerizing visions of fantasy and spectacle befitting an MGM musical.
But Bidgood's early career was set amid a dark backdrop: the "lavender scare," a mass purging of gay government workers and a wave of explicitly homophobic policies during the same era as Republican Senator Joseph McCarthy's notorious anti-communist "red scare." McCarthy believed that homosexuals posed an equal risk to national security as communists and that gays were susceptible to manipulation and used homosexuality as a smear tactic to rid the government of "traitors."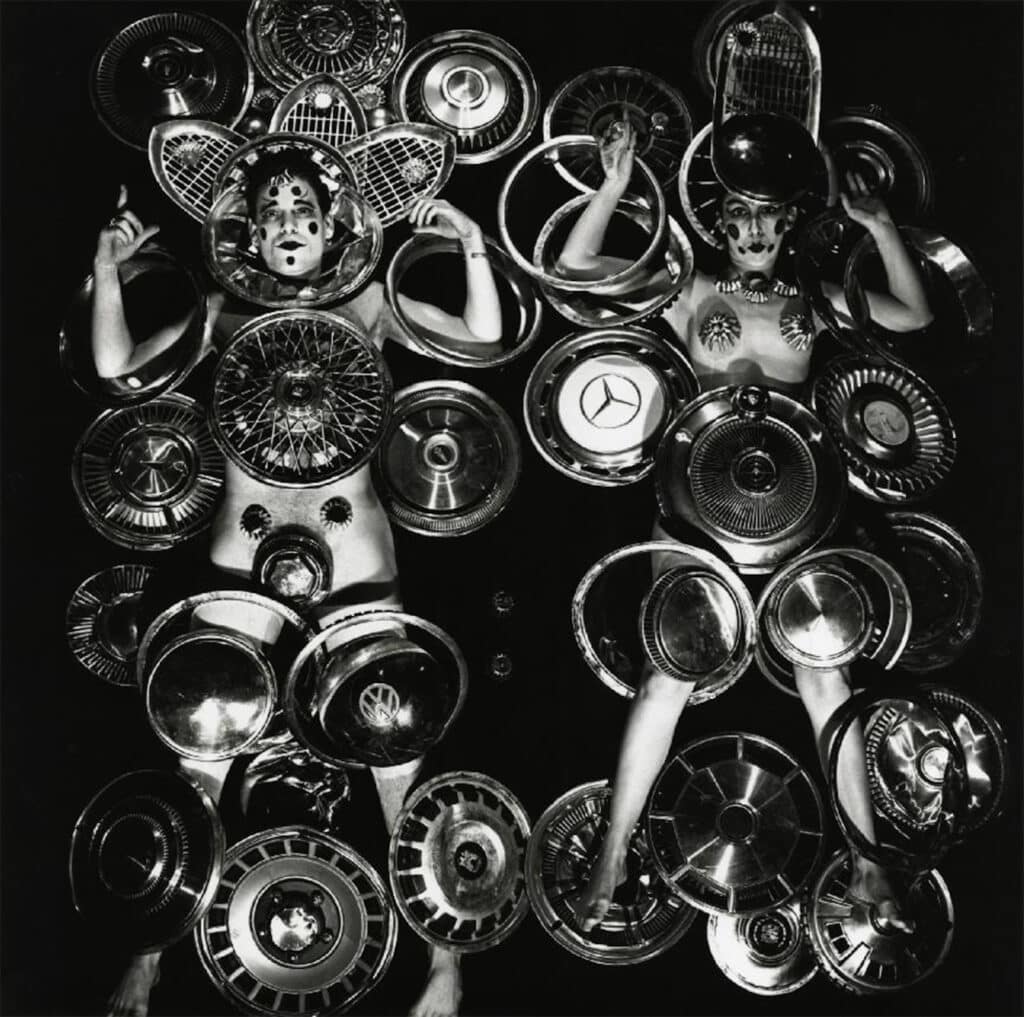 To the Top and Back Again
Working against a backdrop of institutionalized bigotry and hate, James Bidgood took to his studio to create a lexicon wholly his own. Inspired by artists like George Quaintance, Maxfield Parrish, and Hans Richter, Bidgood brought the romance, mystery, and feminine splendor to the male nude, creating fantastical scenes of pleasure and beauty published in homoerotic "fitness" magazines like in Muscleboy, Adonis, and The Young Physique of the 1960s. While photographers like Bob Mizer, Jim French, and Bruce of Los Angeles were serving up all American beefcake, Bidgood chose to photograph men as though they were posing for lavish Playboy pictorials.
Throughout his career, Bidgood maintained his integrity above all things, even going so far as to remove his name from his masterpiece, the 1971 film Pink Narcissus, after creative differences with the producer. The groundbreaking movie, which premiered in the early years of the Gay Liberation Movement, cast local hustlers in a Technicolor phantasmagoria of beauty, sensuality, and passion. While the film became a cult sensation, Bidgood toiled in obscurity until writer Bruce Benderson located him for Bidgood (Taschen), the artist's first complete monograph in 1999.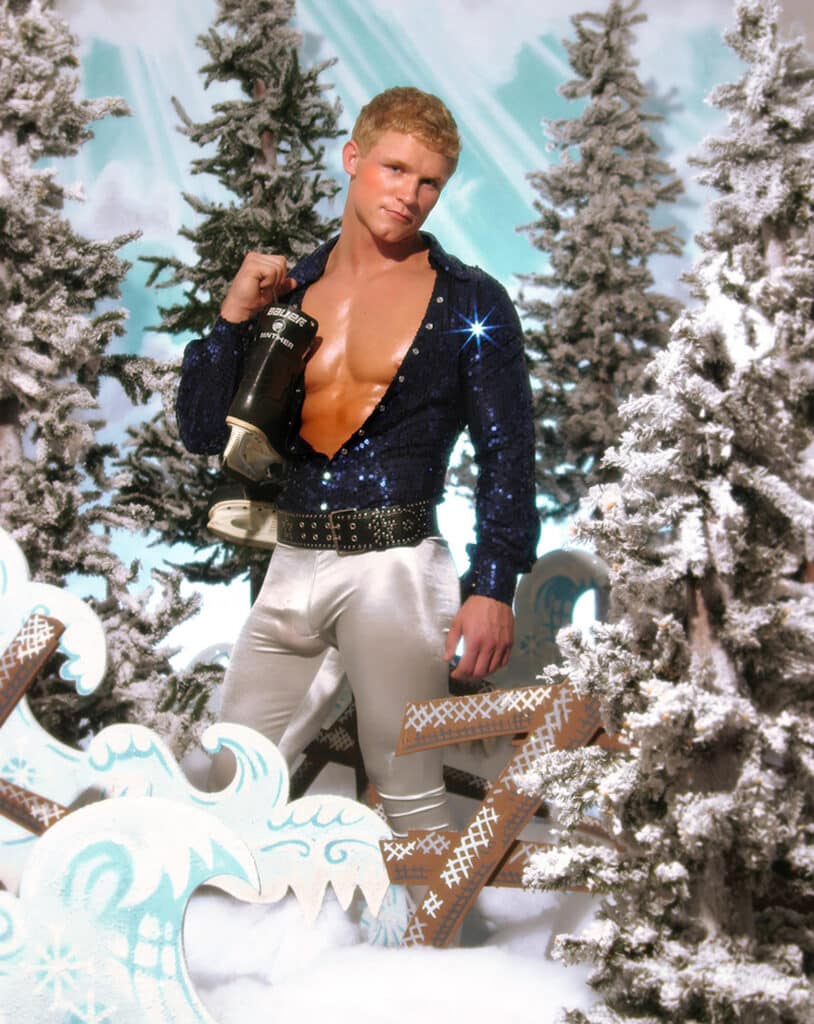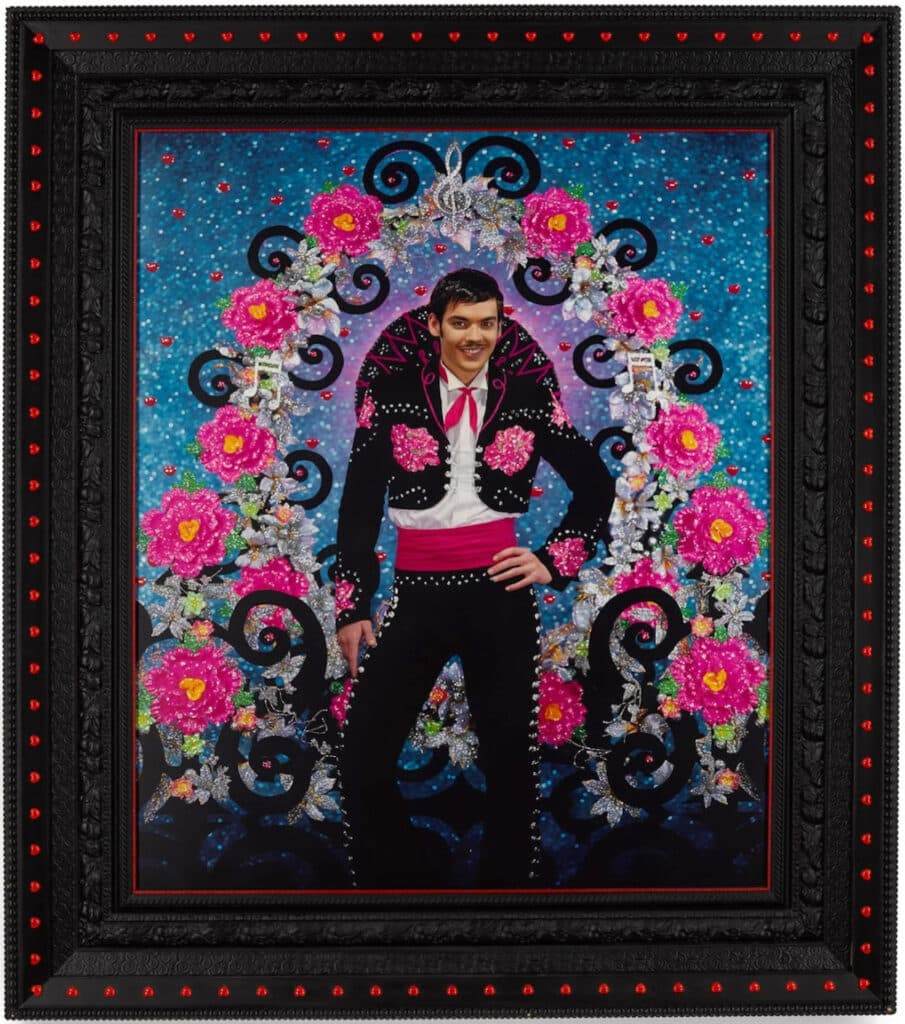 Bidgood's return to the global stage was beautifully timed, as the world had finally caught up to his fantastical allegories of homoerotic desire. Pop culture, photography, fashion, and art had converged in an explosion of glamour and pomp, as typified by artists like Pierre et Gilles, Steven Arnold, David LaChapelle, and Aaron Cobbett, all of whom drew inspiration from Bidgood's oeuvre. In a new exhibition, "The Lavender Flair", currently on view along with "Unseen Bidgood: A Memorial Exhibition, Photographs by James Bidgood (1933-2022)", gallerist Brian Clamp brings together work by these artists along with Lori Nix/Kathleen Gerber and Lissa Rivera to explore the impact of Bidgood's work on new generations of artists.
Reveries of an Icon
"Art is the perfect vehicle to have complex conversations about sexuality. James Bidgood's work and his story intersects at an interesting time in history, on the cusp of legalization of gay pornography," says photographer Lissa Rivera, who curated a major retrospective, "James Bidgood: Reveries", at the Museum of Sex in 2019. Looking back through Bidgood's archive, Rivera was able to explore the way in which the artist worked with queer subject matter under impossible conditions.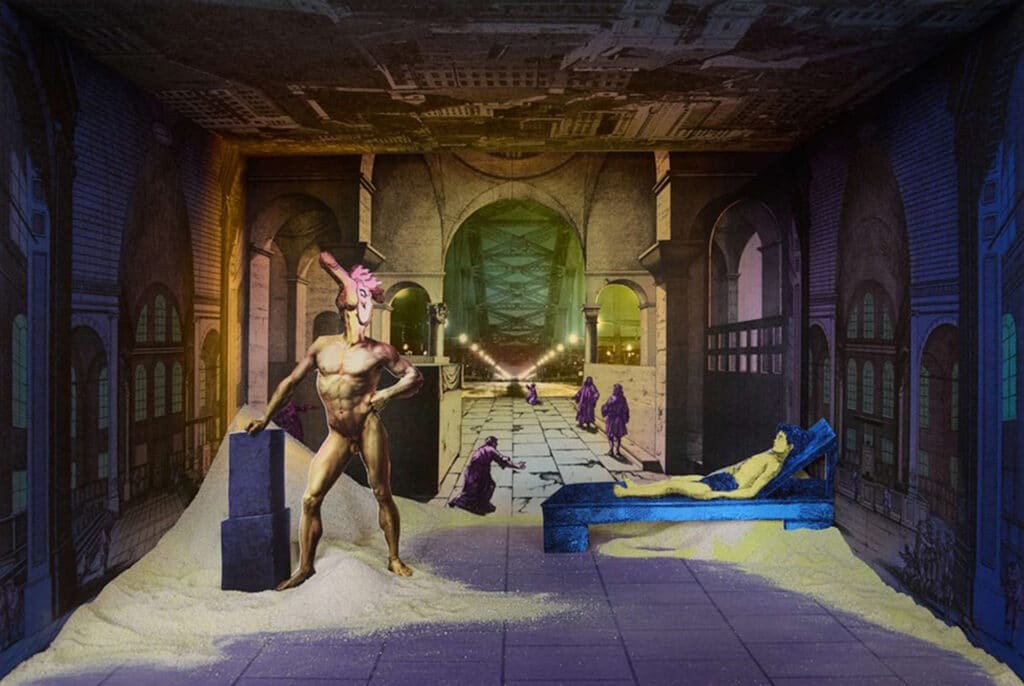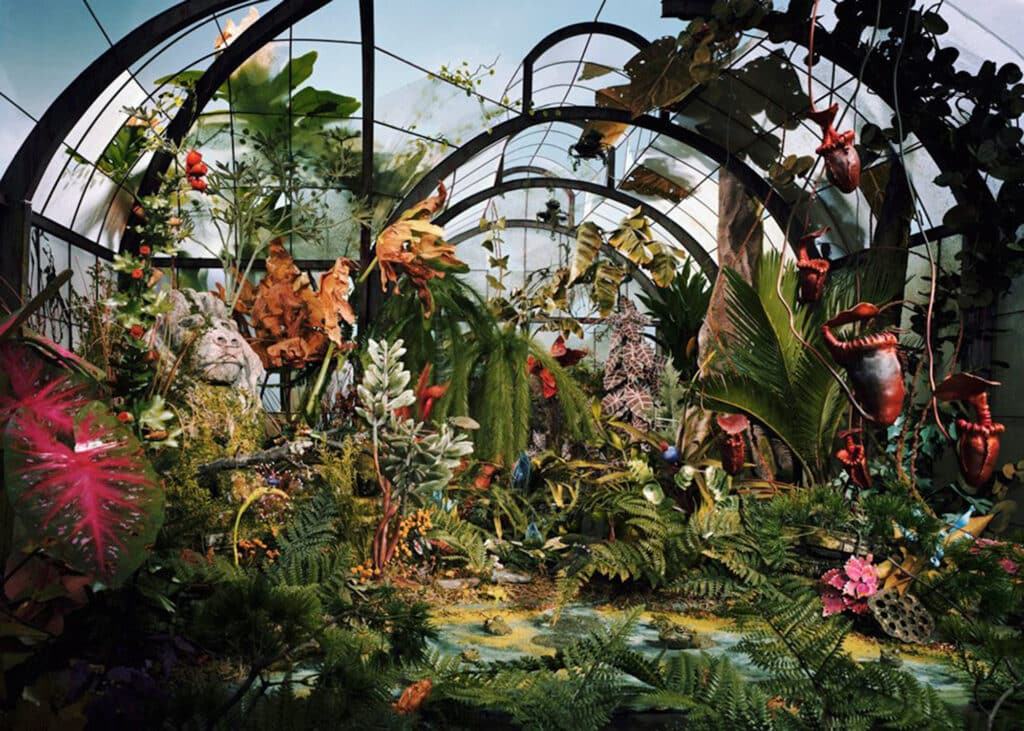 "There wasn't a social acceptance for queerness at the time and Jim was doing these elaborate, imaginative shoots in his tiny apartment," Rivera says. "It's kind of a fairy tale. He was a great talent. He could sing, act, very creative and artistic. He wanted to perform. He didn't feel any strict rules for his life to follow, it was more like, 'Who cares? I am going to do this!' He has always been so confident. Because of that confidence he has told me he never had any problems. Jim was very singular in the fact that he has always been free. He has always been out, extremely expressive, and honest."
Bigood's confidence, combined with his sense of splendor, fantasy, and romance, made him a singular force of LGBTQ visibility and acceptance at a time when culture was dominated by narrow notions of cisheterosexual norms. Bidgood's fortuitous rediscovery at the turn of the century catapulted him into the public eye just as both queer art and pornography were taking the global stage by storm, redefining the rules of art for generations to come.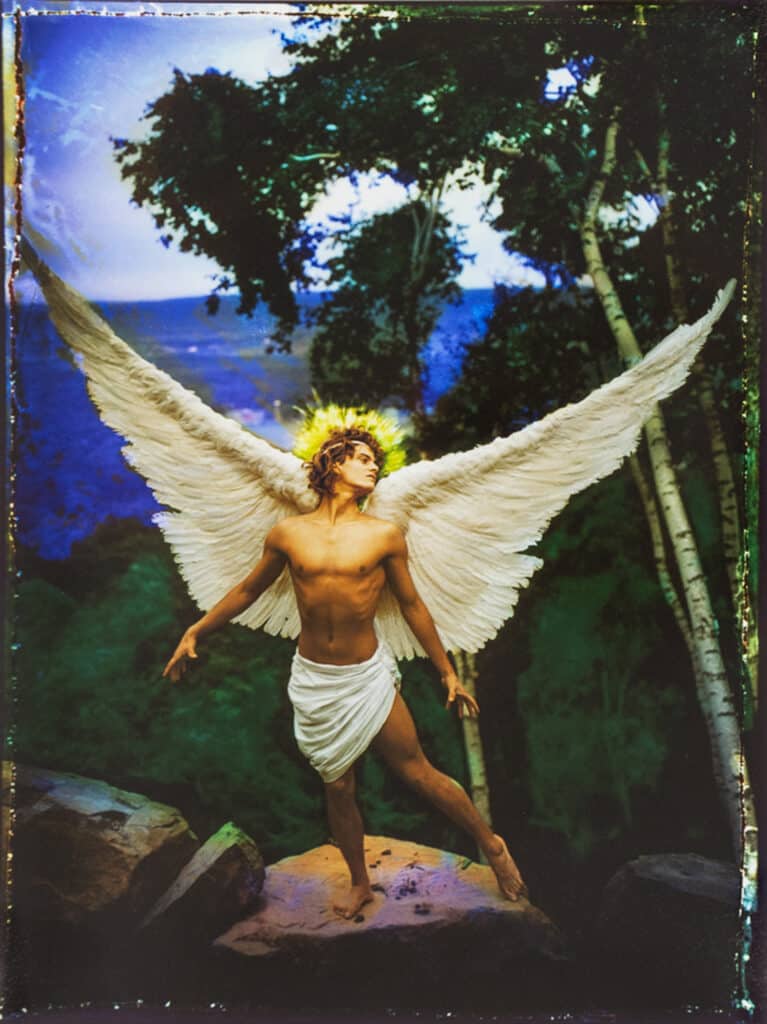 "The Lavender Flair" is on view at Clamp in New York through October 29, 2022.