For more than three decades, Selwhyn Sthaddeus "Polo Silk" Terrell has been documenting the people of his native New Orleans, preserving their distinctive contributions to music, style, and culture. A singular figure helping to shape the aesthetics of Black American photography throughout the 1980s and 90s, Terrell created a mobile portrait studio that he brought to the streets and the clubs, chronicling the rise of New Orleans hip hop and bounce music.
Accompanied by Chelsey, his trusted Polaroid camera, Terrell produced instant prints for his patrons, photographing them posed against airbrushed backdrops— painted by his cousin Otis Spears—that spotlighted Black icons, fashion brands, sports logos, hot songs, and seasonal themes. Of his archive, which includes portraits of Mardi Gras Indians, second line bands, and groundbreaking hip hop and bounce artists like Soulja Slim, Lil Wayne, Magnolia Shorty, Cheeky Blakk, 5th Ward Weebie, and Big Freedia—who most recently appeared on "Break My Soul," the lead single off Beyoncé's new album, Renaissance—Terrell says, "It's a blessing. My mom said this was already planned, that since I was born I was groomed for greatness."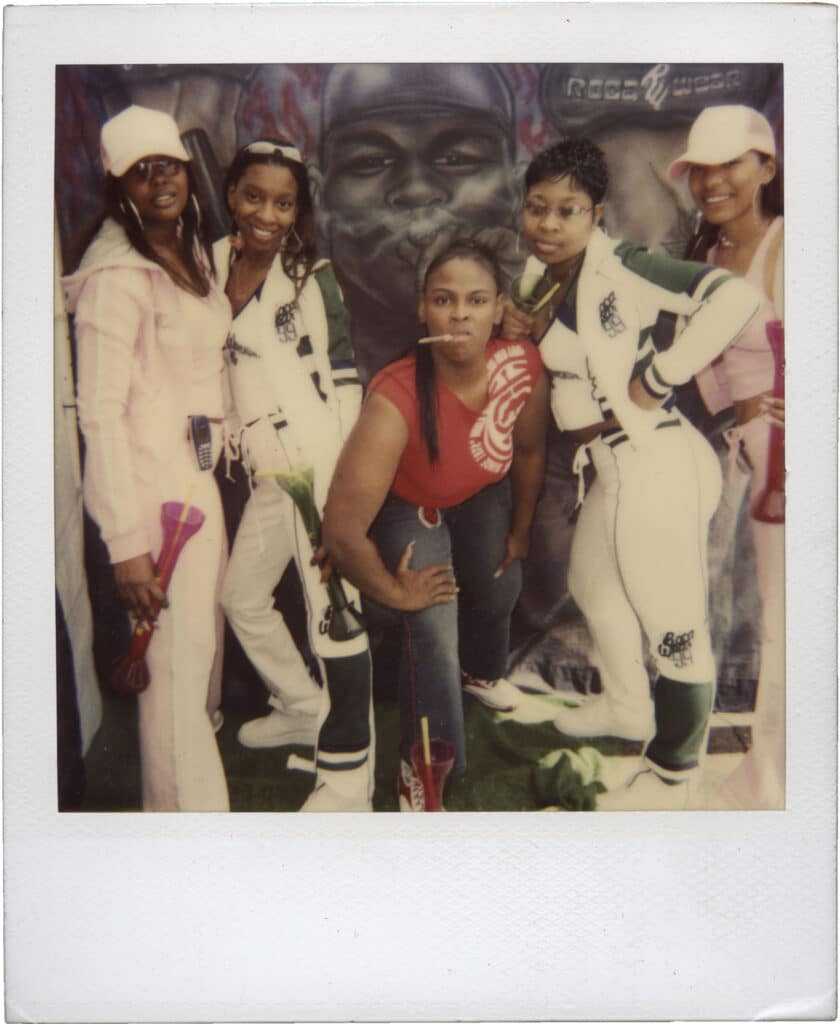 And his mother wasn't wrong. Now 58, Terrell has become an integral member of the community, his photographs tracing family lines across multiple generations and preserving the memories of those who have since passed, many before their time. Now a grandfather himself, Terrell is sharing his work with old and young alike in his new exhibition, Picture Man: Portraits by Polo Silk, which brings together more than 35 images made between 1987–2007 which illustrate his contributions to photography, culture, and history.
"Everybody Knew Everybody"
Growing up in the 1960s and 70s in New Orleans, Selwhyn Sthaddeus "Polo Silk" Terrell grew up during a golden age. "That was a time when villages raised the family. Everybody knew everybody. If a neighbor saw you doing something [wrong], they were able to discipline you," he says. "Kids played on the streets, jumping rope, playing football, baseball, and cool cans. You would sit up on the outside of your porch late nights and be at church on Sunday. It was an amazing time. It was special."
Terrell's love of photography began at home when he was a young boy. His grandmother, mother, and aunts regularly framed portraits of loved ones and hung them on the walls, creating impromptu galleries and archives of their ancestors. "Something always pulled me to those pictures," Terrell recalls of those formative years when portraiture was used almost exclusively to record milestones. He was also drawn to popular magazines of the day like Ebony and Jet, which chronicled Black American culture and life, as well as Sports Illustrated, whose splashy use of photography made the stories infinitely more engaging and accessible.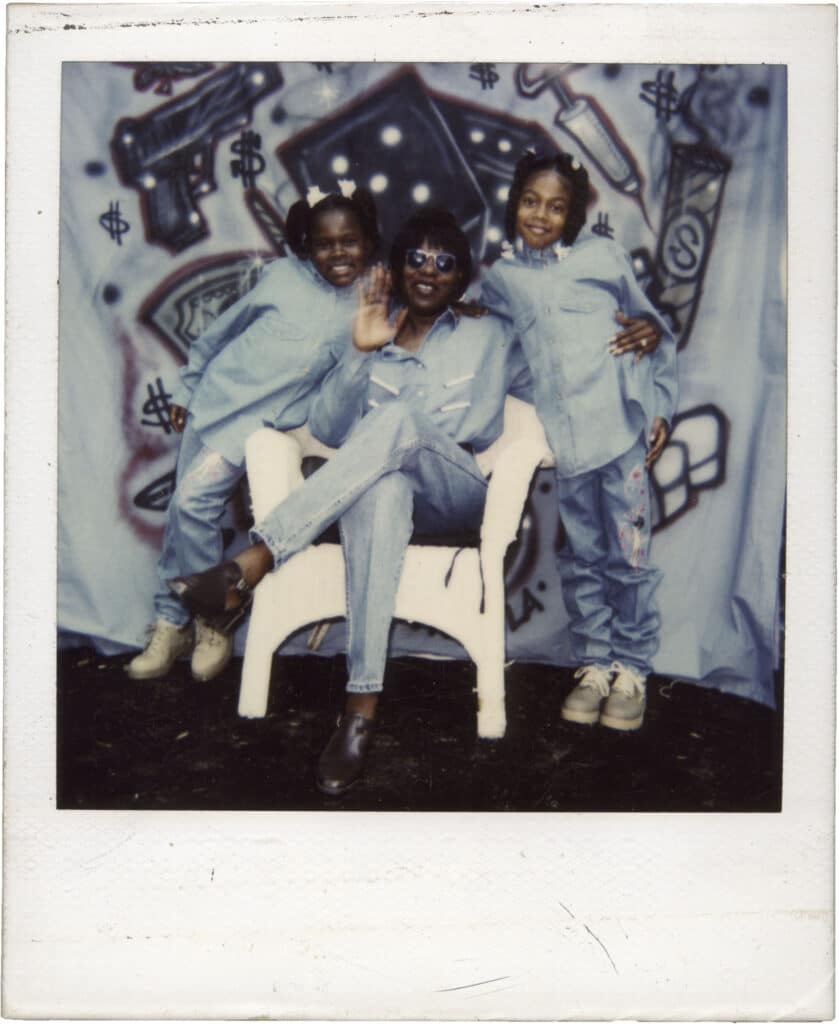 Terrell never thought he would become a photographer, but fate had other plans for the teen as he came of age. After taking a photo class at the Boys Club, he became serious about making pictures in 1986—just as hip hop started to dominate the local scene. A local rapper named Warren Mayes had his own club, which featured a set up for pictures. That's when lightning struck. Terrell and his friends had started a teen club named Club Adidas on Canal Street, and realized they could do the same thing. They set up a room in the club for photo shoots, designed to resemble a bedroom with shoe boxes, rap magazines, hip hop posters, a bookcase, and a wicker chair to pose in. They added a backdrop and the room was complete. Terrell started making portraits and never looked back.
Lo-Life
Hip hop was quickly becoming the voice of a generation. Terrell tried his hand at rapping, but soon realized it was not meant to be. "I was in the mirror thinking I'm LL Cool J—then I met my friends like Soldier Slim," he says. "I'm not a rapper. I'm going to stick to photography."
But no matter what form it took, hip hop culture was about style and pride. "Rap was braggadocious," Terrell recalls of the artists who gave luxury brands street credibility. While Dapper Dan created couture leather ensembles appropriating Gucci, Louis Vuitton, and MGM logos, Terrell adopted a style of his own, donning Ralph Lauren's Polo gear from head to toe and giving it the perfect touch of cool. Continuing in the long-standing Black American tradition of flipping upper class status symbols into the hottest street styles, as brilliantly documented in the recent book Black Ivy: The Birth of Cool, Terrell became renowned for his iconic looks—adopting the name "Polo Silk" as a statement all its own.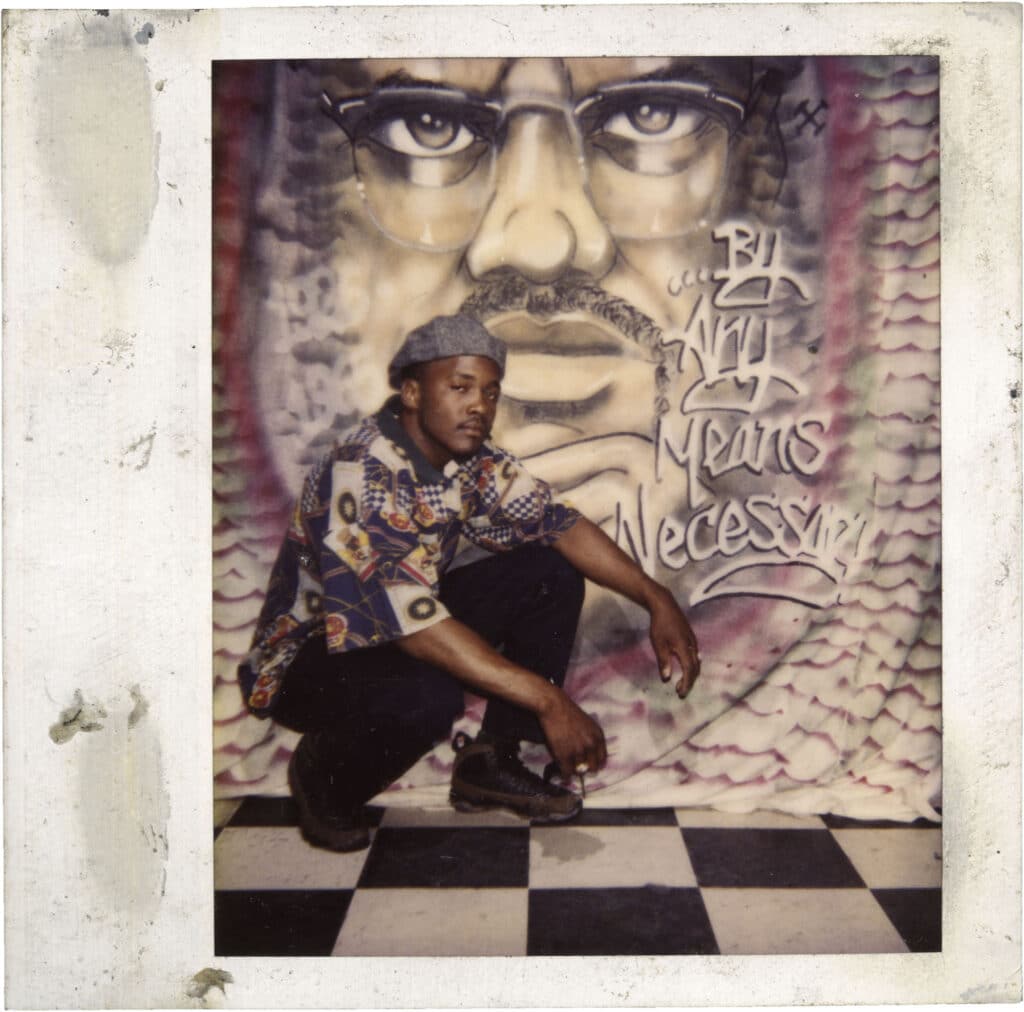 "Coming from the projects, we didn't have much," Terrell recalls, noting how his parents often worked two or three jobs just to pay the bills. It was important to present your best self when you went out for a night on the town. "I came up in an era where Mom and Dad worked hard all week and on the weekend, we watched them dress up to go out to the club. We got hip hop from New York but New Orleans always put its own spin on things. When you could get Polo, you could stick your head out because it was good; it was upper echelon clothing that made you feel special."
Preserving the Past
Growing up in New Orleans, Selwhyn Sthaddeus "Polo Silk" Terrell's roots go deep. His father was a member of the Young Men Olympians and other family members of the Masked Indian club. It was natural that his photography practice became an extension of his love for the community that raised him to become one of the most influential artists of his generation. Over the past 35 years, Terrell has traversed the tight knit city, interacting with people from different neighborhoods and creating a space that brought out the best the city has to offer.
The author of the 2017 book Pop That Thang, a pictorial history of the music and people closest to his heart, Terrell puts in the work. His days begin at ten in the morning and may go until the sun comes up the next day, hitting up the clubs five or six nights a week. By working such hours, Terrell has created an archive that extends beyond mere art, becoming a record of the people before Hurricane Katrina destroyed countless lives. The devastating storm killed and displaced thousands, literally washing away the photographic history of people whose homes were destroyed in its wake.
At the same time, the drug epidemic has taken a tremendous toll as waves of addiction, gun violence, and incarceration have torn families asunder. Terrell's portraits stand as a testament to all that was lost. "I call it a blessing and a curse because there are so many people that I have photographed that are not here now," he says, pointing to New Orleans' stats as the murder capital of America in 2022. For the past 20 years, the city has been well above the national average, making Terrell's photographs all the more significant.
After one of his good friends passed, Terrell made a bracelet with his photographs for his friend's mother to honor her on Mother's Day. "I knew she was taking it hard," he says. "It makes it all worth it, putting that smile on her face. After I did that for her, I went to a couple of other mothers who lost everything because of Katrina, and gave them bracelets with their children's pictures. This is a strong, resilient, loving city. A lot of people, I'm like family to them. The people gave me the opportunity to photograph them and they got me to where I am. I'm always going around telling people, 'Thank you,'" says Terrell, who has been there since the very beginning and isn't done yet.
Picture Man: Portraits by Polo Silk is on view at the New Orleans Museum of Art through January 8, 2023.