Long a subject of controversies, boudoir photography has now become a much sought-after photographic genre. Capturing the intimacy of the subject, boudoir photography highlights the beauty and sensuality of the body in an elegant and suggestive way. This intimate, simple, and slightly provocative approach to portraiture finds an increasing following among models and photographers alike.
Indeed, to photographers, boudoir photography represents an opportunity to develop an original, creative style, as well as opens new professional pathways. However, to build a successful career in boudoir photography, it's essential to know how to let the body reveal itself to the lens. To that end, one must know the ins-and-outs of choosing the shooting location, prepping, posing, and several other steps.*
What is boudoir photography?
Boudoir photography is a niche genre in portrait photography, specializing in capturing the model in intimate settings. Traditionally, the model is female, and the photographer aims to highlight her sensuality and femininity. Although boudoir photography emphasizes the beauty of the body, unlike in nude or glamour photography, nudity is suggested, rather than shown.
The aim of boudoir photography is to celebrate sensuality in a simple, elegant way, without objectifying the model's body. The photographer takes a real-life approach in an effort to capture intimacy in a natural way. 
Foregrounding the body, boudoir photography can be empowering. Pushing the models out of their comfort zone, this style of photography may facilitate acceptance of their own body and its beauty, regardless of gender, age, and body type.
While most boudoir photos portray women, the genre is not their exclusive domain. Boudoir photography featuring men or couples is also very popular, whether as a gift or to celebrate important events (birthdays, Valentine's Day, engagements, weddings, etc.).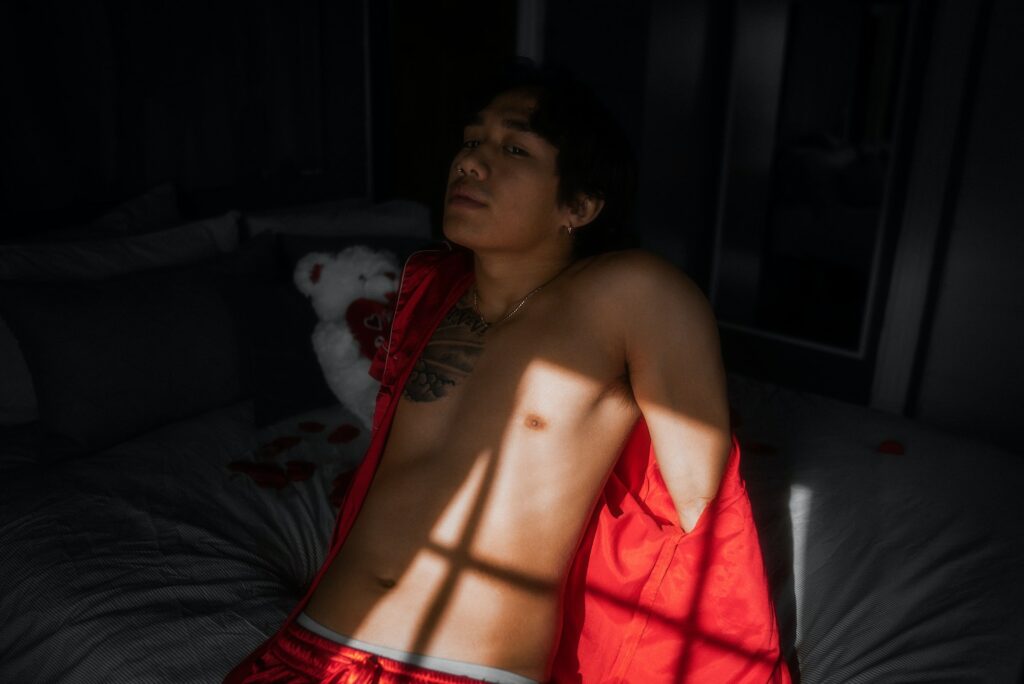 Where does boudoir photography come from?
Boudoir photography is said to have originated in France in the 1890s with the release of the first boudoir photo album, considered lewd and obscene at the time. Although nudity in photography was still forbidden at the time, the genre became widespread in the 1920s, thanks in particular to photographer Albert Arthur Allen's photos of women, considered scandalous.
It wasn't until the 1940s, during World War II, that boudoir photography became popular. The U.S. Army used pinups as propaganda to encourage young Americans to enlist and fight for an ideal of womanhood.
In the 1960s, beauty icons such as Marilyn Monroe and Sophia Loren used boudoir photography as a tool for female emancipation, embracing their bodies, femininity, and sensuality, albeit still partly objectified. 
This mission to emancipate women's portraiture continued in the 1970s, when boudoir photography became an art form in its own right, no longer reserved for celebrities, but for "anonymous" women, allowing them to show off their sensuality. Today, boudoir photography continues to fulfill this desire to love and accept one's body and to be in control of how it is seen.
Boudoir photography: before you get started
Before your first boudoir photo shoot, you need to know the best conditions for photography:
• Where to shoot boudoir photos?
• What are the best conditions for boudoir photography?
Where to shoot boudoir photos?
Boudoir photos are usually taken in a bedroom setting, whether at home, in a professional photo studio, or a hotel room. They can also be taken in a secluded outdoor setting. The choice of location depends on your imagination, your project (whether as a client, professional photographer, amateur DIY boudoir photographer), and your comfort level.
The choice of location should first and foremost be determined by where the model (whether you or a client) feels most at ease. The model's comfort is key to creating successful, natural photos. While the bedroom usually offers the most comfort, boudoir photos can also be taken in another space (kitchen, bathroom), in a luxury hotel room, or outdoors (beach, garden, etc.).
Another important criterion is the size of the location: it must be spacious enough to accommodate all your equipment and allow you to move freely around the model to capture different poses unobstructed.
The layout is also very important. The location must be appropriately furnished (bed, sofa, chair, vintage furniture, a free-standing mirror) to recreate the familiar decor of an intimate room (reminiscent of a boudoir). However, while you need enough furniture to fill the frame, you don't want to overload the room with visual elements and risk sidelining the model.
For best results, make sure to clear any objects that might clutter the image, and keep the background simple enough to help foreground and compliment the model.
What are the best conditions for boudoir photography?
As in portrait photography in general, maximize the use natural light as much as possible. Portraiture in natural light guarantees good exposure and consistent contrast. What's more, natural light enhances the sense of intimacy in your boudoir photos. Direct sunlight, however, might be unflattering and will deepen the shadows.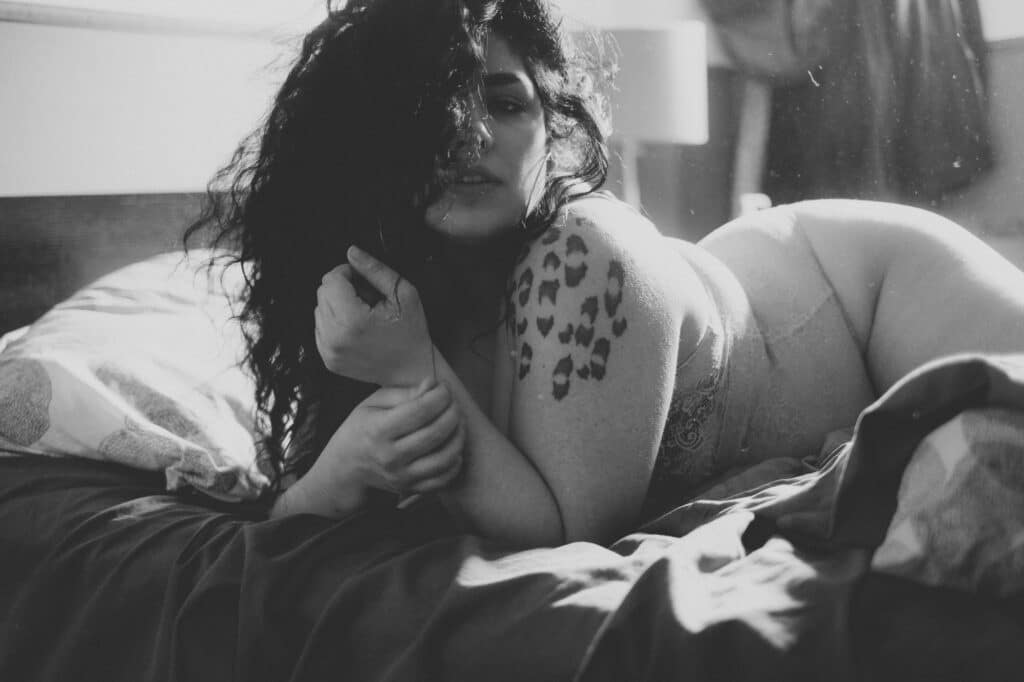 Shoot on cloudy days, when the sunlight is evenly dispersed. If the light is too strong, you can filter it through lace curtains or use reflectors to obtain softer light. However, you may also play with harsher light to accentuate certain features or shadows. In this case, shoot during the golden hours, best at sundown.
What equipment to use in boudoir photography?
Boudoir photography, like flower photography, doesn't require any special equipment. You can take beautiful photos with your smartphone, an SLR, a hybrid, or a film camera. Your choice of camera will depend on the type of your boudoir photo project.
However, to have a total control over your photos, we recommend using an SLR or a hybrid model, with the manual mode and which accommodates different lenses. You will thus be able to finetune your settings and obtain optimal results.
The choice of the lens is more important than the choice of the camera to capture the detail of the model's body and of the surroundings without either getting too close or pulling too far away. A lens with a fairly short focal length, such as 24–70 mm or 35–80 mm, is ideal for boudoir photography. Experiment with different focal lengths to find one best suited to your project.
Since light is essential in boudoir photography, you can use any number of accessories to compensate for excess or low light, or to enhance the style to your photos:
• Spotlights, to compensate for a low light conditions. For more creative boudoir photos, you can use LED lights in different colors, flash, or strobe lights.
– A reflector, to diffuse and redirect light for perfect illumination.
– A fan, to render the model's hair or clothes more dynamic, and in the event of extreme heat (due to light or weather) to help keep the temperature at a comfortable level.
Want to upgrade your gear? At MPB, you can sell or trade in your old camera gear and buy MPB-approved used gear perfect for your boudoir photography.
Boudoir photography settings
Boudoir photography focuses on the suppleness and softness of the model's body. So, to get the right shot, you need to control the amount of light entering your camera. This means setting up the exposure triangle: aperture, ISO, and shutter speed:
• The aperture should be as wide as possible (f/1.4; f/1.8; f/2.8 depending on your lens) in order to achieve the smallest possible depth of field and make your model stand out against the background, as well as to soften the appearance of the subject's skin.
• ISO: a wide aperture will keep the ISO low and give you optimal sharpness. Although ISO 100 offers an ideal exposure, don't hesitate to increase it depending on the available light.
• As a general rule, the shutter speed should be at least 1/100s. However, since there is little movement in the photo, exposure time shouldn't be a problem (unless you're looking for artistic effects).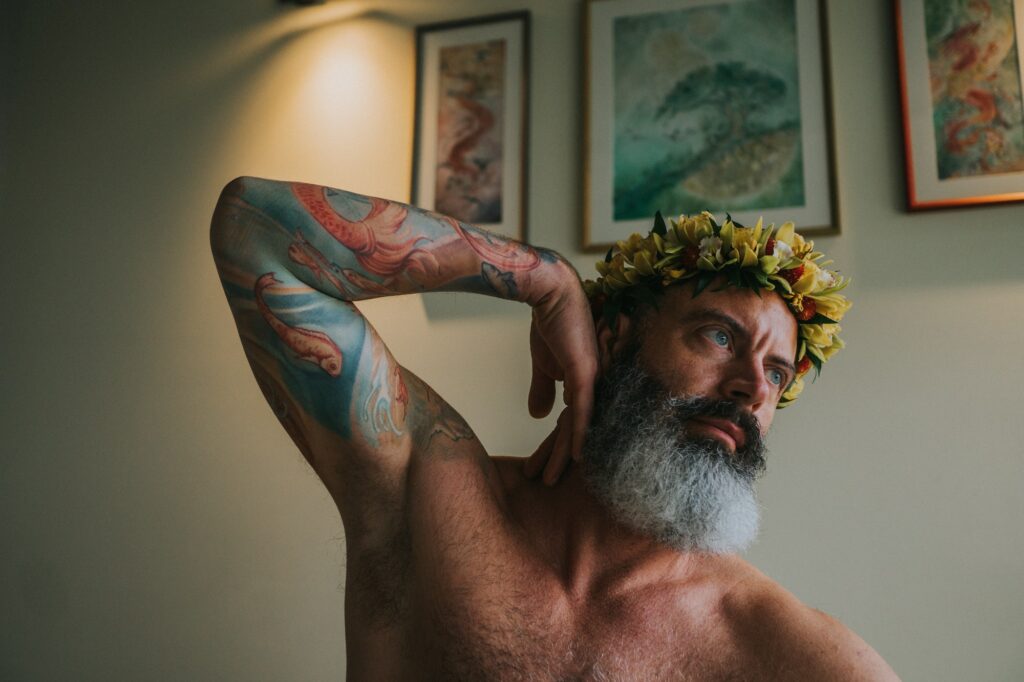 If you're using an SLR or a hybrid camera, make sure you're in Manual Mode to finetune your boudoir shots. Likewise, shoot in RAW format to obtain an uncompressed image and preserve all the details, especially if you're planning to retouch your photos.
Familiarize yourself with each setting beforehand and test it. On the day of the shoot, use whatever works best for you and suits your boudoir photo ideas, whether underexposure, overexposure, etc.
How to make your boudoir photo shoot a success?
Once you've found the right location for your boudoir photo shoot and have set up your camera, you are ready to arrange the session with your model. The shoot should be fun and relaxed to achieve high quality images.
Preparing and communicating with your model
Boudoir photography often pushes the model out of their comfort zone: it can be quite intimidating to display one's body in such an intimate setting. It is therefore important to create a relaxed atmosphere and make the model feel at ease.
Communicate with your model ahead of the shoot and at every stage to build a relationship of trust and ensure a positive, reaffirming experience.
Before the day of the shoot, take the time to discuss your model's own wishes and ideas, and explain the boudoir photo shoot in detail: outfits, poses, photo angles (close-ups, wide shots, etc.), body parts to be highlighted or concealed, etc. Planning the poses is important, as is setting the boundaries and determining what's off-limits to the photographer.
Open communication allows you to figure out what kind of photos you would like to have and gauge your model's reservations and desires. Their feedback will guide you in working out your angles and frames of composition, and allow you to get the most out of the experience and take away beautiful photos.
Choosing the right outfit
There's no prescribed style of dress for boudoir photography. While the genre suggests a certain type of intimate, sensual garment, such as lingerie, this is not the only option. What's important is that the model wears an outfit in which they feel comfortable and which will show them off to best advantage. Classic outfits for boudoir photos include:
A panty/bra set,
A cami set,
A bustier,
A nightdress,
A loose shirt unbuttoned at the top,
A white bedsheet, suggestive of getting out of bed,
Another simple outfit, for example if the model is pregnant (to keep the focus on the belly).
Ask your model to bring several outfits to see what works best (by having them pose in front of a mirror) as well as to infuse variety into your boudoir photos. Remember to coordinate patterns and colors for a more harmonious overall look. Before the shoot, make sure the model wears loose-fitting garments that won't leave marks on the skin.
Depending on your vision, any outfit can be accessorized with jewelry, gloves, personal items (books, guitar, soap, etc.), pumps or heels, and so on.
Last but not least, discuss with your model a beauty routine for the day (hair and make-up), which they can either do themselves or have done by a professional. Likewise, if the outfit is very revealing, suggest that the model shave or wax the areas likely to be foregrounded.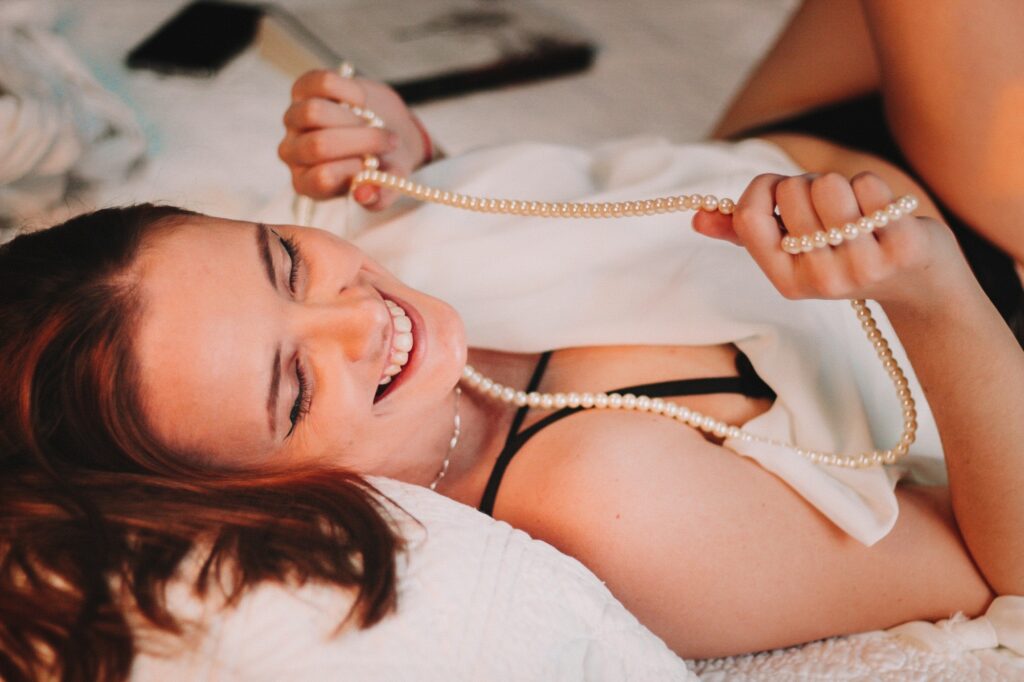 Choosing the right poses for a boudoir photo shoot
The paradox of boudoir photography is to obtain images that look as natural as possible, capturing the model's inner self, by shooting a fairly large number of photos. You need to pick among an array of poses traditionally used in boudoir photography and adapt them to your model (male, female, couple, pregnant woman, different body types), and figure out in which setting the model feels most comfortable.
Use "flow posing" to allow the model to relax and capture the natural movement from one pose to the next. This method allows the model to feel more at ease and take their time between each pose, avoiding a rigid, forced sequences. At the same time, it gives you the opportunity to get more "live" photos, softening impression of posing.
To start off, you can suggest some classic poses to ease the model into the role. Have them pose on their knees, with the feet tucked under; reclining on the bed; in front of a mirror; seated at the edge of the bed, etc. Once you have built a zone of comfort, you can move on to more intimate or artistic poses: arching the back, with toes pointed upward; reclining on one side, with one knee bent; and so on. Putting one arm or leg over the other creates visual triangles, which adds volume and makes the photo more appealing.
Before and during each pose, make sure your model is comfortable and feels beautiful. You can also prepare visuals with sample poses to help guide your model and decide together what works and what doesn't. It's important to respect the model's boundaries and never push too far.
Don't neglect the hands and the eyes
While boudoir photography focuses heavily on highlighting the body as a whole, don't neglect the model's hands, face, and, above all, eyes—which reflect the model's personality and lend meaning to the photos. The mouth, for example, can be slightly open, or the model may be biting their lower lip.
Hands and arms should not remain idle. For example, arms extended alongside the body will weigh down the silhouette and detract from the body's sensuality. Suggest that the model play with their hair, place their fingers on their neck, behind their head, or covering areas of the body the model feels shy about.
When it comes to the gaze, which encapsulates the attitude and emotion, ask your model to look either straight into the camera, following the arch of their nose, or over their shoulder. The model may be prompted to gaze with intensity, suggestively, innocently, lasciviously, etc. Don't hesitate to give them visual directions to help them attain the register you're aiming for.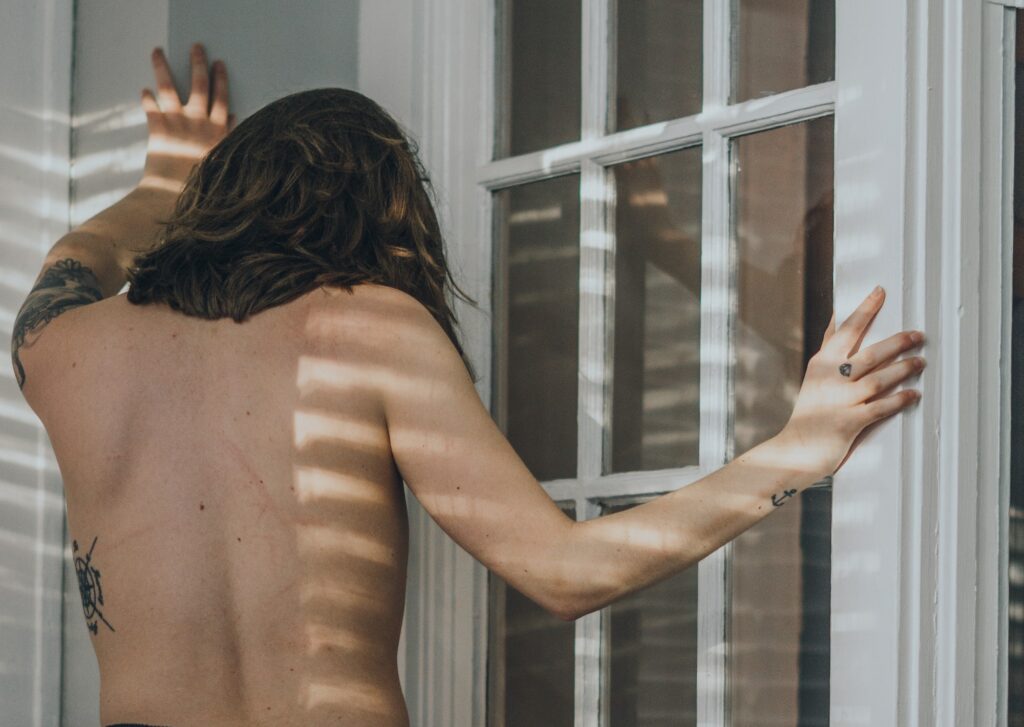 Using accessories
Accessories can make a boudoir photo shoot more creative and original. Pearls or feathers can add a more refined touch; a pillow or a guitar can conceal body parts; soap bubbles, rose petals, or a flute of champagne when photographing in the bath can add a touch of luxury and festiveness; and so on.
However, the accessory should always highlight the model's body rather than distract from it. Also, make sure that the accessories chosen match the model's personality, and that model has agreed to use them.
Hone your framing and composition to bring out the model's best features
The aim of boudoir photography is, first and foremost, to bring out the model's most flattering features, and thus create an empowering image. These might be: the model's face, legs, back, chest, etc.
To get perfect boudoir shots, hone your framing and vary the angles (close-ups, wide shots, shots from behind, bird's-eye view, etc.) to foreground the model's the face, the bust, the whole body. For example, in wide shots, be sure to capture at least three-quarters of the model's body, to fill the field of view and get a more flattering image.
If the model's face is in your field of view, make sure the gaze is always in focus to reinforce the emotion of the photo.
Working on the composition of your boudoir photos also helps you tell a story, a narrative that ties all the photos together.
Be creative
Analog black-and-white boudoir photos (with black lingerie against a white background); an interplay of colors (whether with clothes, lighting, or furniture); a play of shadows or silhouettes; the use of mirrors—all set an original stage to offer unique and memorable photos to your model, whether intended as gifts of keepsakes.
Processing and retouching your boudoir photos
Once your boudoir photo shoot is over, you can select photos for retouching and enhance them using photo-processing software (Photoshop, Lightroom, etc.).
Retouching is not a requirement, but it can help you to:
• Correct or erase flaws or imperfections, especially if requested by the model,
• Adjust contrast,
• Adjust brightness,
• Finesse white balance and color saturation.
Play around with the settings to achieve the desired result, but be careful not to overdo it. Lastly, for best results, remember to retouch your photos in RAW format.
You have now learned the ropes of boudoir photography and can go ahead and create beautiful, memorable photos with your model. The key is to create a safe, laid-back atmosphere and offer your subject an unforgettable experience.

*Article produced with the expertise of MPB, the global platform to buy, trade and sell photography or videography gear.