A full veil covers a woman's entire face, except for her eyes. The bright red niqab is emblazoned with the Superman logo, like a superhero costume. Behind her, the ochre landscape evokes Mous Lamrabat's origins. Born in Morocco, the photographer grew up and studied in Belgium. Describing himself as a "citizen of the world," his dual culture is his direct inspiration. Represented by Casablanca's Galerie Loft, this is the artist's first exhibition in France.
Lamrabat grew up in Ghent in a very traditional environment, steeped in the 1990s' pop culture. This rich and outlandish decade in popular culture, especially where music and hip-hop are concerned, was his main source of inspiration. "Everything was extravagant. At the time, brands weren't interested in rappers. Rappers had to create their own style, and it was almost even more trendy. It's as if they created fashion from nothing."
An ode to love
Mere 28mm separate interior designer from photographer. It was after seeing artist JR's documentary, 28 millimeters: Portrait of a Generation, that Lamrabat decided to abandon his studies in design and take up photography. "I said to myself 'tomorrow I'm going to go to the market and buy a camera'. It was a Nikon F99, worth about €40. It was a film camera, I had no idea what it could do, but I couldn't afford a digital one."
Lamrabat is a self-taught photographer, thanks to the Internet. Although he didn't study photography, he has always loved fashion and clothes. True to his background, he appropriates the conventions only to better subvert them. So, even at the opening, his cap bears not the Nike swoosh but the Arabic symbol for "love." "People are looking for meaning in my photos. The message is love, always love," Lambrat asserts.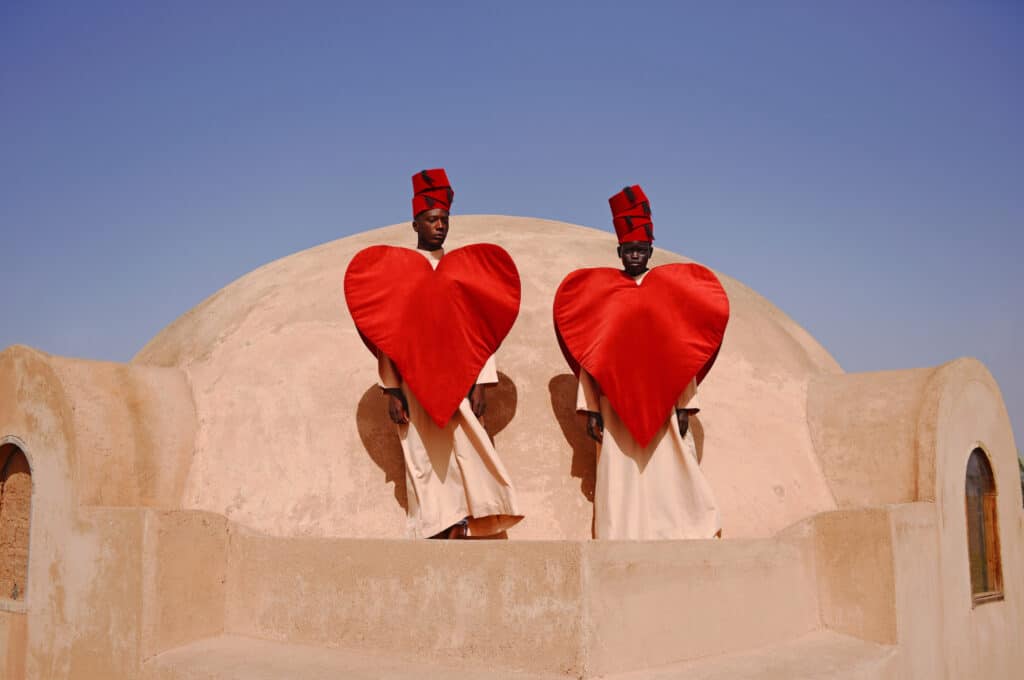 He often strolls around his own exhibitions. "People don't know who I am, so I listen in on their conversations. I learn a lot about my own work from other people! I never give explanations, otherwise it's too confusing." There are no informative foldouts, labels, or pamphlets: his work stems above all from the need for self-expression: whether as a fashion or art photographer, it makes no difference. Through art, he can present himself the way he really is: "As I matured, I realized how much my work resonated with other people and their personal stories. Today it's almost become a responsibility to carry on."
Luxury, fashion, and cultural identity
In one image, a clown poses with his face framed by his hands encased in a pair of Louis Vuitton boxing gloves. "I bought them in a souk," laughs Lamrabat. It must be said, the photographer's native Morocco is home to the manufacture of the highest number of counterfeit products in the world. This hasn't kept Lamrabat from collaborating with such brands as Yves Saint Laurent Beauty, Burberry, Chanel, and WhatsApp. Once a McDonald's employee, Lamrabat now uses the fast-food logo in his creations: as a henna tattoo on the back of a model's hands or molded into earrings, the emblematic double arches are hijacked and combined with traditional Moroccan objects.
Christian Caujolle, artistic director of Galerie du Château d'Eau, describes the photographer's work as "seriously playful, playfully serious." Mous Lamrabat is well aware that the world of fashion and luxury has changed radically over the last thirty years: Luxury houses have morphed into giant corporations, with logos as important as designers' names. The artist humorously defuses questions of globalization and fashion standardization. His aim is to show that identity, albeit modified by societal changes, lives on.
Mous Lamrabat, exhibition at Galerie Le Château d'Eau, June 2 to August 27, 2023.