Photographer, photojournalist, and professional diver Alexis Rosenfeld wanted to share with Blind the tremendous photographic, scientific, and human adventure he has embarked on with UNESCO and the Fondation 1 Ocean: the world's largest animal migration off the coast of South Africa.
A member of Jean-Jacques Cousteau's last expedition to Madagascar, he took part in the epic adventure of Marseille-based Comex (Compagnie Maritime d'Expertises) as well as participated in the discovery of the wreck of Antoine de Saint-Exupéry's plane. Using text and image, he tells us about his latest adventure in marine biodiversity.
In this third and final episode, Alexis Rosenfeld recounts a unique and rare encounter with a whale giving birth to a baby calf. A moment of grace and emotion at the heart of the world's largest animal migration.
Catch up on Episode 1 and Episode 2.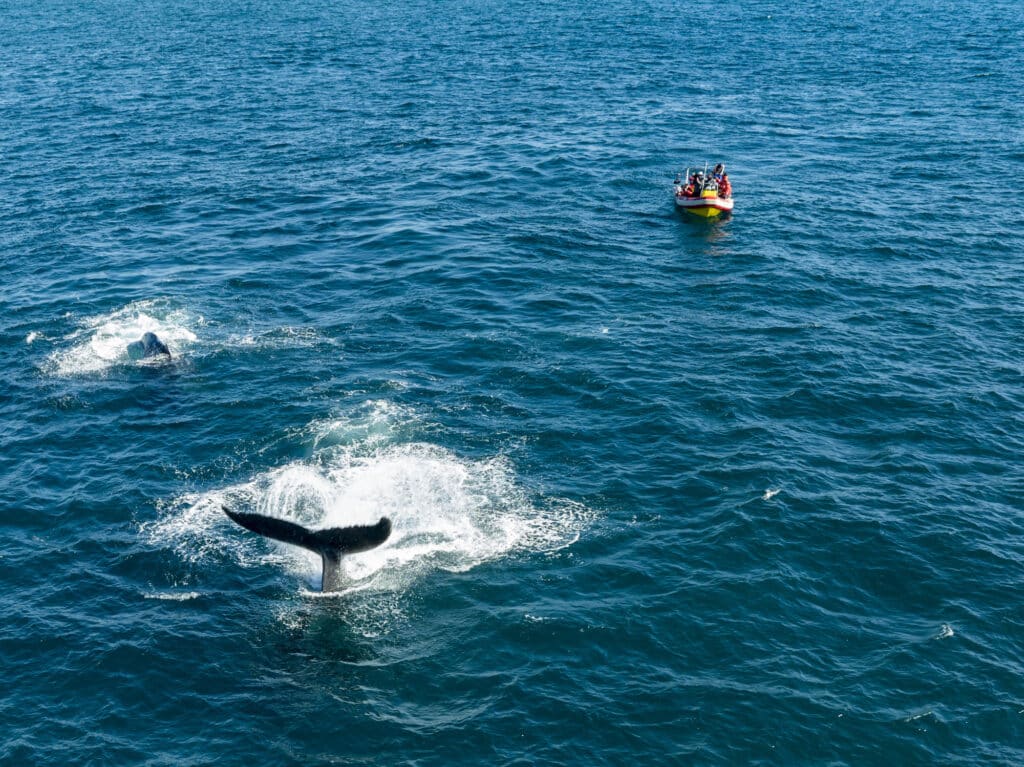 Monday, July 25, 2023. Log entry no. 3: An unforgettable encounter
If you're a photographer it's really important to have a quest. Photography is there to bear witness to your quest, to bring it to light. I've embarked on several over the course of my career, whether it was the search for the wreckage of Saint-Exupéry's plane or, now, the more personal challenge of capturing the birth of a baby whale.
When we stumbled upon a newborn whale calf, its umbilical cord was still intact. The first question was, "What do we do now?" The whole UNESCO team was there as well as 1 Ocean members: we're looking at this infant whale, pale, fragile, its skin still wrinkly. The animal was minuscule compared to its mother: it must have been born mere hours ago, and I felt like I was touching the symbolic essence of life.
Our presence soon raised an ethical dilemma. What I really wanted to do is to get into the water and photograph this baby whale. We were able to see the mother fussing over it, as if embracing it, enfolding it, helping it to breathe by gently nudging it above water. She spread her fins, turned over on her back to cradle the infant on her belly. The moment was magical, almost unreal, as if plucked from an animated film.
There was something deeply moving about watching a mother whale use her fins to nurture her newborn. The event was so tender, it made us want to give this baby whale a name.
Thomas was shooting video, I was doing drone photography. The mother acted like a doting nurse in a maternity ward—comforting and warming her calf, who was splashing around clumsily. It was fun to watch. From our bird's-eye view, the scene was nothing short of majestic. The urge to get closer was hard to resist, but we respected their space, aware that this could be the calf's last peaceful moments before confronting the harsh realities of ocean life, the fishermen's nets, and the ruthless law of the food chain…
Diving in and taking a photo was not an option at that moment. The mother was slowly swimming along with her infant, and shooting photos would have meant disrupting this incredible moment of intimacy. As a photographer you tread a fine line between intrusiveness and observation. If predators had been involved, my decision might have been different. In a situation of tension, my presence would have been rendered virtually invisible.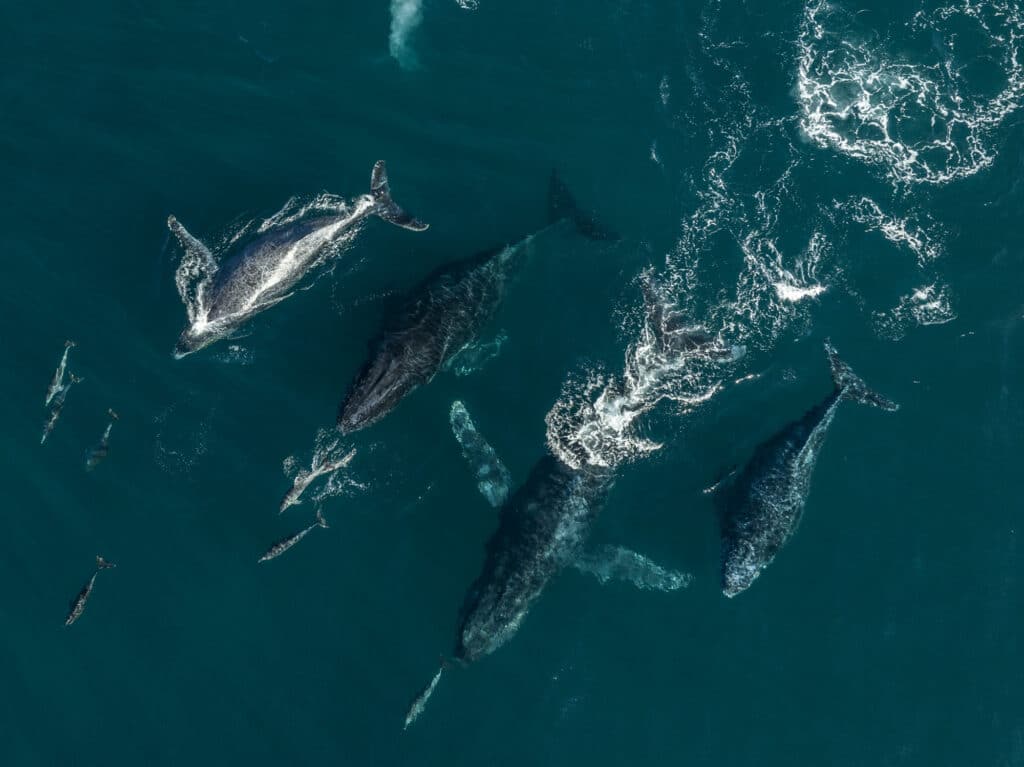 Another remarkable encounter came when photographing a dolphin hunting a sardine, which was a feat of technical prowess. I wanted to see up close how dolphins feed themselves. I wasn't sure it would be possible because they are very fast. Dolphins can exceed speeds of 50 km per hour, so you need to have quick reflexes and meticulous camera settings. You're shooting in murky water, which adds another twist. Equipped with multiple cameras and different lenses, I shot in burst mode with tracking autofocus. I spent an hour in the water, concentrating on their movements and anticipating their passage. The dolphins don't pay any attention to you, you don't exist, they fly by at breakneck speeds: I didn't see the shot even as I was taking it!
In the end, our mission yielded results that far surpassed our expectations, both cinematically and photographically. Once the second part of our mission is completed in January, the release of our 52-minute wildlife documentary on Arte will be something to look forward to. I think it's just wonderful that we are still able to celebrate these miracles of nature and have the privilege of documenting the awe-inspiring adventure of life underwater.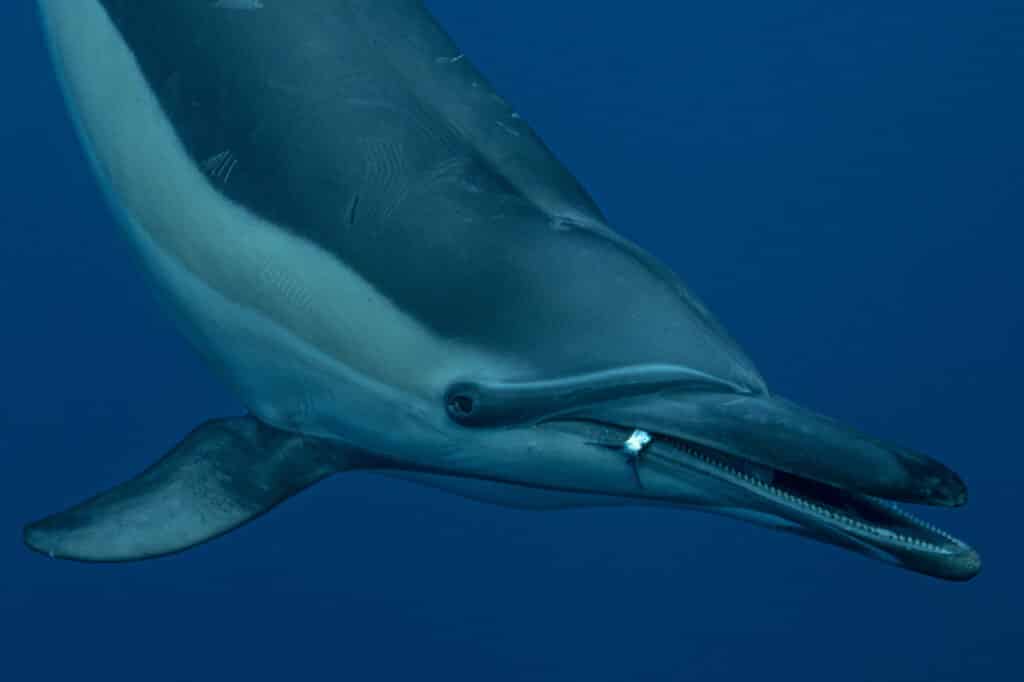 The mission, led by the 1 OCEAN team and UNESCO, is followed by a documentary team from the French TV channel ARTE. Two documentaries will be produced by John Jackson and Thomas Labourasse with the support of Lacaz'a Productions.