I'm sitting in a tiny plaza outside the Apple Store on 9th Avenue, directly across from the new Gucci store in the Meatpacking District. I watch girls in expensive sunglasses and low buns walk by in front of tech guys in dress sneakers and backpacks. On the plaza's tabletops are plastered purple and black signs for "A District Defined: Streets, Sex, and Survival."
The show, assembled in part by the Meatpacking District Business Improvement District, presents images of queer and underground life in the Meatpacking District of the 1980s and 1990s, when there were indeed meat markets, but also gay clubs, sex clubs, gay sex clubs, and sex work. It has all since been erased by the gentrification that swarmed the area during and after the mayoralty of Rudolph Giuliani in the 1990s. When there was once blood on the cobblestones from sides of beef, there's now the click of a $700 heel.
I hear filmmaker Kristen Lovell's voice in my head. Her film The Stroll, about the transgender sex workers of the Meatpacking District's pre-Giuliani past, herself included, debuted on HBO Max in June, Pride Month in the U.S. We spoke a few days earlier. "Why do you think they didn't do [an exhibit like this] sooner?" I asked.
"Well, because they have no choice now," she says. "So now they're like, okay, it's time for us to give back to this community. And I hope it's more than just this Pride. I hope it's a conversation that they continue to have and continue to uplift and figure out ways to make it more inclusive to the community," she says. "This should be a safe space now, for trans people to come to and enjoy just like everybody else, and an acknowledgement of that history."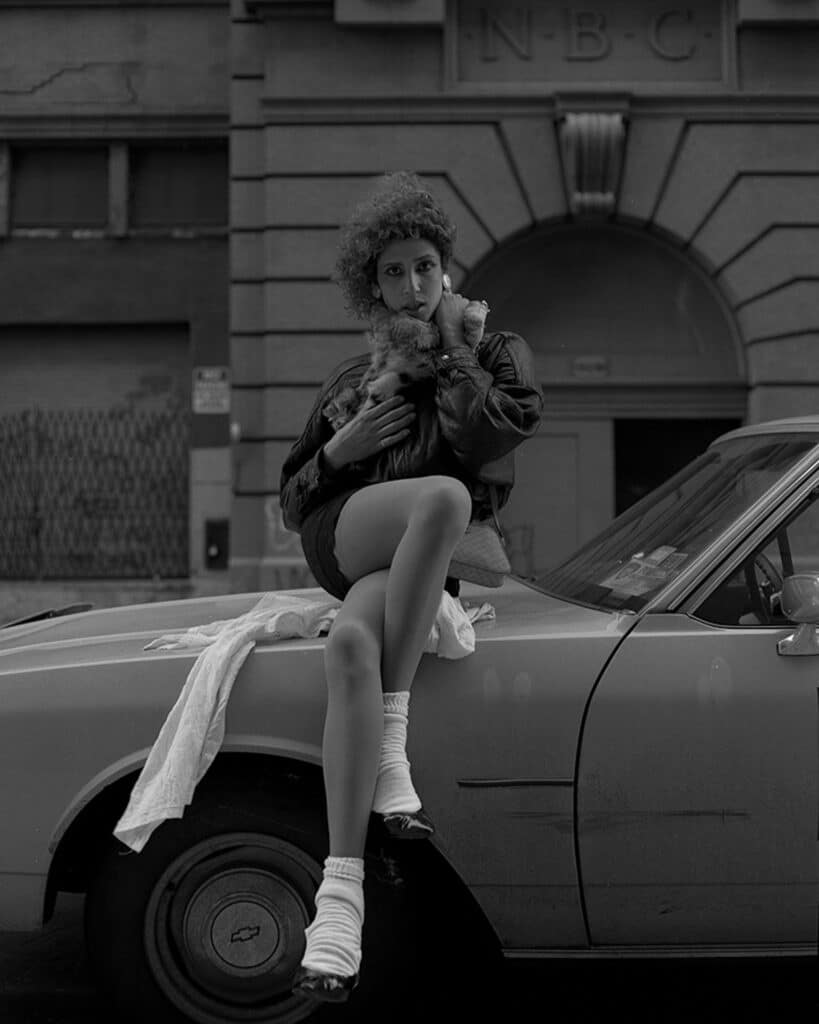 In the intimacy of a community
"A District Defined: Streets, Sex, and Survival," brought together the work of photographers Lynsey Addario, Katsu Naito, Joseph Rodriguez, Catherine McGann, Lola Flash, t.l. litt, Jill Freedman, and Efrain Gonzalez to show images of this time. Sex work, sex parties, and sexuality in general were an active part of the exhibition.
Some of the work on view is by renowned photojournalist Lynsey Addario. Addario was invited into the lives of sex workers after a spate of sex worker murders in the area was reportedly dismissed by Giuliani. "The Associated Press was looking for someone to basically embed in this community and paint a more intimate picture of who the trans sex workers were, what were their lives like, and humanize them rather than like, 'these people are throwaways,'" she said. "I think what I was trying to do is just put a face to the people I was photographing and put some heart into it."
In her work, Addario was invited into the girls' homes before they worked The Stroll at night, then spent time with them on the street, capturing in her images the glow of the bathrooms and street lamps that illuminated them.
Lola Flash, whose work is in the collections of the Whitney and the Museum of Modern Art, remembered the days of lesbian venue the Clit Club, at 432 W. 14th Street. Her images in "A District Defined" were of women she met at the venue, and the pictures used to run in a slideshow at the club. She remembers concerns of being photographed in a time when more people were in the closet, not wanting others to know they were gay.
"I would say, well, you'll be blue or green or purple people won't recognize who you are," she said. And there they were in the exhibition, in an array of hues and silhouettes, faces obscured but alive in color. "Whenever you look at queer history or even straight history, women are often left out, or their stories are misconstrued. And for Black women, especially Black queer women," she says. "I felt like it was really important for me to have images in that show to represent the Black and Brown lesbians that were like having a lot of fun in the Meatpacking District back in the day…when you think about being queer and going to a queer club, it's kind of it's like an act of defiance."
Efrain Gonzalez, who has been documenting New York's underground since the 1970s, was heavily influenced by the work of Brassaï, Weegee, and W. Eugene Smith. He was a regular Meatpacking denizen for many years, photographing everything from leather clubs to sex parties, sex workers to fetish clubs. Mostly in black and white, his images offer a glimpse into life in what were then the fringes of Manhattan.
"You know, it's not something that you normally see in the New York Times," he said. "It's not really something that is commonplace. It's all underground cultures. But now underground cultures are coming out. And my photographs are now so old they're now a historical document of what the Meatpacking District was like…it's like planets aligning."
A tribute to queer life
The Meatpacking's moments and people were so alive on the walls of the exhibition. In the elegant black and white portraits of sex workers by Katsu Naito, in the high contrast slices of life at parties photographed by Catherine McGann, in Gonzalez's and Freedman's inside peeks of sex clubs. In a time when queer life and sex work are so regularly demonized, it was powerful to see these lives preserved on walls in the neighborhood they used to frequent, a neighborhood in which they were regularly policed and later forcibly removed.
A neighborhood they were often designated to because the rest of New York wouldn't have them. Every person I spoke to about the exhibition, who frequented the Meatpacking at the time, told me they loved the show, that they were so happy with it, that they hoped lots of people came to see it, that it was so important to see queer life and sex work celebrated on its walls.
And while I absolutely agree with the latter, I also think they deserved more. I think they deserved context that designated what we were seeing, why we were seeing it. I think they deserve their history written on the walls, and captions proudly declaring subjects, as with any historical and artistic exhibition of merit. And while there was a nice zine to accompany the show with a moving introduction by activist Elisa Crespo, I almost missed it on the way in; it was filled with information and interviews, but it required a good sit.
The work demands, the lives demand, a more urgent and direct storytelling that's easily, visually accessible. Something that can't be ignored or thrown out by accident. I think they deserved a show that lasted longer than a few weeks during and after Pride month. I think they deserve to be remembered the rest of the year, and every year, their stories told more fully, a more regular if not permanent dedication to the lives since driven out.